Ancient Temple Gems from Belatra Games is a high volatility video slot. The game is played on a 5×5 grid, but it has an interesting mechanic where most of the game board can't be seen. Initially, you only see the full bottom row, then three squares of the row above that, and a single square on the row above that. However, each winning combination uncovers more squares and triggers a respin, so it is definitely possible to get the whole game in play. If you do manage to clear all the squares then you trigger the free game feature.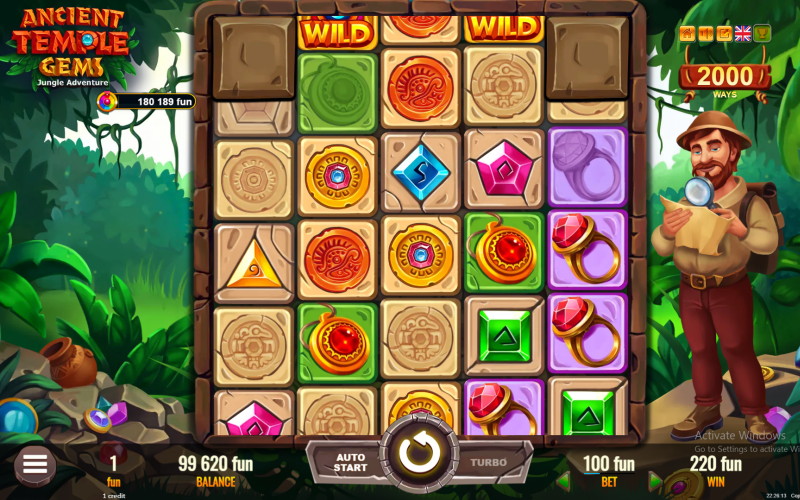 The nice thing about this rock clearing mechanism is that while you initially start off with only 12 win lines, each time you hit a combination and open up more symbols, the number of ways you can win increases exponentially.
This makes hitting multiple combinations in a row a lot easier because each subsequent respin opens up way more win lines.
Adventure Theme
The theme of this slot is adventure. You play a treasure hunter who is keen to explore an ancient temple and discover valuable gems that may be hidden inside. Who knows what sort of crazy treasures an ancient civilization might have buried or hidden inside their sacred temples?
Exactly which ancient civilization's sacred place we are defiling in our quest for base material goods is not clearly explained by the makers of the game, but the whole thing has a very Indiana Jones type story line. Judging from the heavy foliage in the background this is set in some sort of jungle or heavy forest as well.
Symbols
| | 3 | 4 | 5 |
| --- | --- | --- | --- |
| Orange Cup | 2 | 4 | 10 |
| Red Ring | 1.6 | 3.2 | 6 |
| Red Amulet | 1.2 | 3 | 4 |
| Yellow Talisman | .8 | 2 | 3 |
| Blue Talisman | .6 | .8 | 2.4 |
| Orange Talisman | .2 | .3 | 2 |
| Purple Pentagon | .2 | .4 | 1.6 |
| Yellow Star | .2 | .4 | 1.6 |
| Blue Square | .2 | .4 | 1.6 |
| Green Square | .2 | .4 | 1.6 |
Symbols need to go sequentially from left to right but placement on the reel doesn't matter. There is also a wild symbol that can substitute for any of the symbols in the above table.
Free Games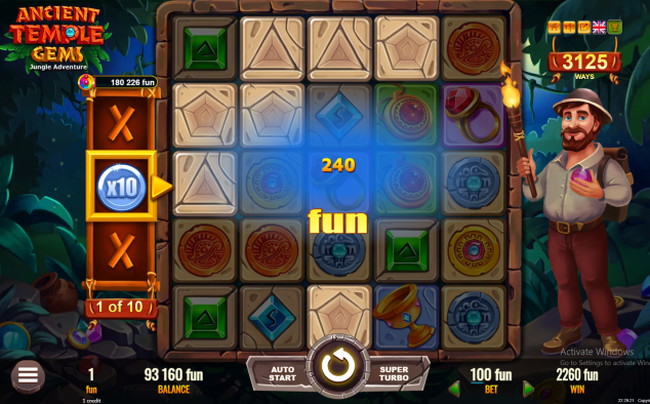 If you manage to completely clear out all the symbols in the base game, then you are awarded free spins. The free games are played on the entire 5×5 grid and come with a sixth 1×3 reel which can award multipliers and additional free games.
With the right multiplier in play, even a small hit can become a big jackpot.
Conclusion
Ancient Temple Gems is a pretty decent slot. The feature by which you start off with only a small amount of the grid revealed, but you uncover more of it with each combo you hit is pretty neat.
It also sort of replicates the experience of exploring an ancient temple so it is relevant to the slot and its theme. The overall gameplay is pretty good as well.
The graphics and gameplay are decent. They don't really stand out, there is no real wow factor, but they aren't lacking in any way. They are just what you would expect from a modern video slot. This isn't to take away from the good work that the people of Belatra Games have put into developing this slot, but rather to acknowledge that the bar is already set pretty high.
The design and graphical effects are adequate and the background music and sound effects are decent as well.
One issue is the high RTP. Most video slots are more in the 95%-96% RTP, and once you start going down to the really low 90s this is something that the end user is going to feel during their gameplay and it will be a less satisfying experience for them. There is really no need to have such a high house edge on a video slot.
Slot Stats
| | |
| --- | --- |
| Software | Belatra Games |
| Release Date | 13th September 2022 |
| Reels | 5 |
| Rows | 5 |
| Paylines | 3125 |
| RTP | 91.17% |
Other Slots From Belatra Games