B Gaming is a software development firm that supplies online casinos with games. The B Gaming brand is fairly new, established in 2018, but they already have an impressive portfolio of over 90 titles. And they don't just produce video slots, they also create video poker and card games, as well as lottery products.
Streaming Partnerships
One of the ways that B Gaming is promoting their games is through partnerships with online streamers. This is a very avant garde method of promoting your games, but it is an intelligent use of new technology and entertainment streams. It is also a good way to engage with different demographic groups than traditional advertising methods.
Streamers are people who broadcast themselves playing games over the internet. Many of them pick up cult followings and top streamers can attract thousands or tens of thousands of viewers every time they play. This is a great opportunity for a software development firm to promote brand recognition and to introduce their products to the streamers viewers.
Earlier this year, B Gaming had a $15,000 contest called 'The Streamers Race'. In order to qualify, streamers had to play one of three B Gaming slots:
Bonanza Billions
Lucky Lady Moon Megaways
Aztec Magic Bonanza Megaways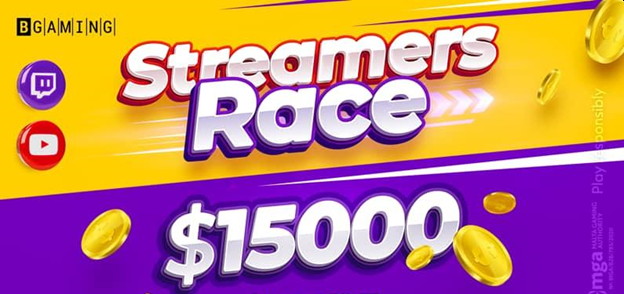 The streamers could play at any online casino of their choice. Winners were decided on the basis of a number of different categories, such as who could hit the biggest multiplier or who could capture the most exciting moment.
B Gaming's Slot Reveiws
B Gaming's Games
Despite being a relative newcomer to the IGaming scene, B Gaming has still managed to produce some smash hits, such as Elvis Frog in Vegas. And the title of that slot tells you pretty much everything you need to know about it. There is a frog, he's in Vegas, and he is Elvis. If that is not a recipe for a successful video slot, then we don't know what is.
Elvis Frog in Vegas is a 5×3 video slot with an Elvis wild and a Star scatter, three of which will trigger a round of free spins. There are also coin symbols, and if you get six of them you get to play the Coin Respin minigame. It also has a feature during the free spin games where the second, third, and fourth reel all combine to make one gigantic symbol. Thank you, thank you very much.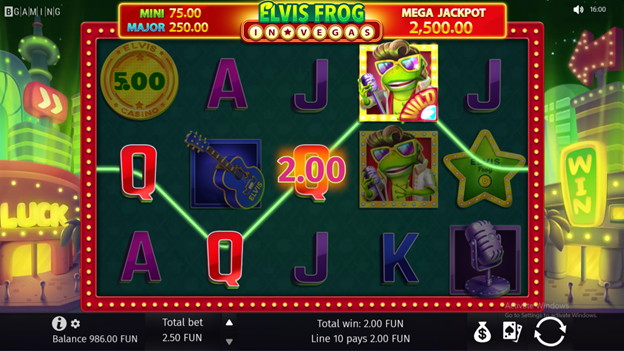 Another popular slot that B Gaming produced was Big Atlantis Frenzy. One very interesting feature of this slot is that you can change the size of the game reel, playing 5×5, 5×4, or 5×3 reels as you desire. This allows players more choice over the game board and alters the number of paylines as well.
In addition to the variable game board size, Big Atlantis Frenzy also has bonus symbols which can trigger free spins, wilds that can substitute for base symbols, fish symbols that bring cash payouts, and a buy bonus feature.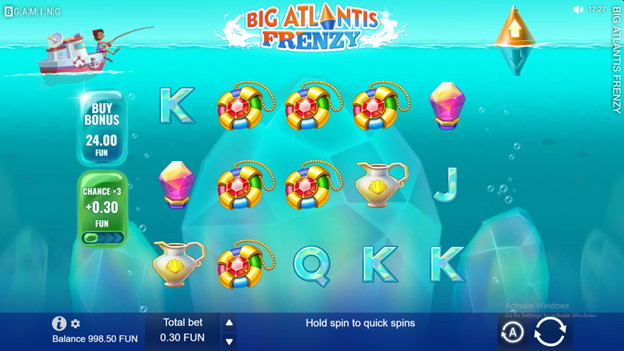 Putting Players First
The philosophy at B Gaming is one of putting players first. Through a keen analysis of consumer preferences, they have been able to make games that people really enjoy playing. This means games with a relatively high RTP, to allow for more enjoyable playing sessions and a slightly higher % of winning sessions for the end user.
Another factor that the team at B Gaming is always stressing is the importance of quality when it comes to the design. Paying attention to small details can end up having a big impact at the end of the day. The first thing that a customer is going to notice about a slot game is the art and the graphical effects. But that is only the first step. Afterwards it is the game play and different features that will really keep and maintain their focus.
Capitalizing on the Crypto Casino Market
Cryptocurrency has been one of the big disrupters of the 21st century, and the online casino industry is certainly one of many which has been impacted in a big way. Crypto casinos are very popular, and B Gaming is leading the charge in producing crypto games and supplying crypto casinos. One of their partnerships with online casinos is with online casino pioneering firm BetBit.
There are many advantages to using cryptocurrency for online gambling. On the provider's end, there are minimal fees associated with processing a crypto deposit, and there is no risk of a chargeback either. It is also easy to process payments internationally to anywhere in the world.
There is also a level of anonymity with crypto deposits that some users may find valuable, both in terms of anonymity with the online casino and without subjecting your bank account to the scrutiny of your wife or anyone else for that matter.
With the crypto casino market growing by leaps and bounds every year, there exists tremendous opportunities for software developers who capitalize on this growing market. B Gaming is also hoping to bridge the gap between crypto and traditional online casinos with their new package of 'fast games' that originated in the crypto world.
Taking concepts like provably fair technology and bringing them from the world of crypto casinos to ordinary online casinos allows players to have a greater confidence in the integrity of the games they are playing.

An Experienced Team
While B Gaming itself may be relatively new to the online gambling industry, their team is filled with individuals who have considerable experience creating software for the online casino industry. Some members of their team are veterans who have been in the game for more than twenty years. Having such a depth of talent allows them to strike just the right balance with their games in terms of gameplay features, graphical design, and mathematical models.
Another area where B Gaming differentiates itself from the rest of the casino software development field is in brand based slot promotions. The online casino industry is heavily competitive, and promotions are a great way to improve brand loyalty and fight for market share.
Through collaboration with their online casino partners, B Gaming provides a variety of targeted promotional offerings such as free spins on a particular slot and other customized offers.
Their Game Production Philosophy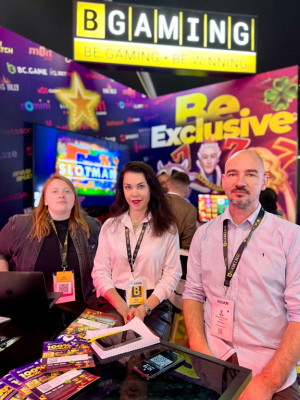 At B Gaming, designing popular video slots is as much a science as it is an art. Through a careful examination of market data, coupled with their team's depth and breadth of knowledge surrounding the world of online gambling and demand of consumers, B Gaming designs games that are carefully crafted to have popular appeal.
Through implementing complex and variable gameplay, as well as serving to not only produce games but also build experiences for users, they can end up delivering products which are eye-catching and fun to play.
Another area where B Gaming are implementing change and leading the industry is with multiplayer games. If you think about it, online gambling is really the only gaming genre where players are almost exclusively in single player mode. So why shouldn't online gambling implement more multiplayer games as well?
There is already poker which is very popular, and live dealer games to have a multiplayer element as well, but there is substantial room for growth in multiplayer online gambling games. B Gaming's Space XY, a multiplayer crash game, has been incredibly successful and shows how much demand there is for this new type of gaming.
Conclusion
For a relatively young firm, B Gaming has already accomplished some remarkable things. They have led the charge in developing video slots for crypto casinos, and are at the cutting edge of technology when it comes to the crypto gambling sphere. They have managed to produce an excellent portfolio of games with smash hits, and developed an impressive list of partnerships over the years.
To date, B Gaming's games are in over 700 online casinos, and growing rapidly. They are constantly seeking out new markets and obtaining new licenses for their games and their gaming software. Their expansion to date has been rapid and extensive, and it will be interesting to see what this company does in the years to come.