Leap Gaming specializes in creating premium virtual games for various markets, including online, mobile, and retail. With almost a decade of experience in 3D gaming development, the company has conducted extensive research to provide exceptional virtual sports experiences.
They offer a portfolio of engaging and innovative virtual sports betting and casino content presented with cutting-edge user interfaces. Additionally, Leap Gaming has expanded into the slots market, producing beautifully designed and immersive games to cater to all markets. The company is poised to become a major player in the industry.

Leap Gaming Slot Reviews
About Leap Gaming
Leap Gaming is a dedicated developer of top-of-the-line gaming applications, with an impressive portfolio of titles offered by numerous operators. The team is committed to producing exceptional results for each game, investing extensive time in researching real sports betting to optimize their virtual counterparts. The use of stunning 3D visuals further enhances their products, resulting in a winning formula.
Furthermore, the provider holds an active license issued by the highly respected Malta Gaming Authority, known for its stringent regulations and expectations of casinos and developers alike. This is further evidenced by the MGA badge displayed on the developer's website, solidifying our positive impression of their work.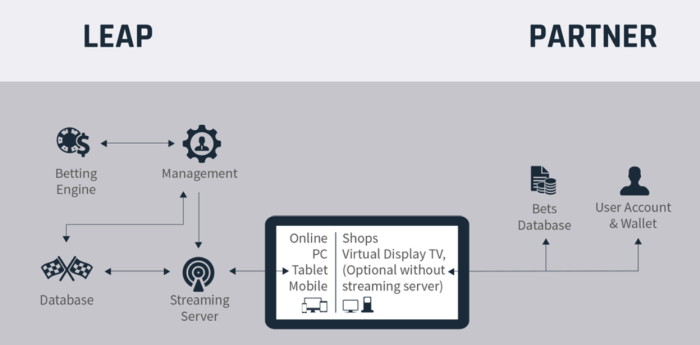 Leap Gaming's team is adept at producing a wide variety of gaming options with equal proficiency, ranging from instant and scheduled sports to lotteries, slots, and table games. This explains why Leap Gaming has gained popularity among players globally.
Game Selection
Leap Gaming's game selection boasts a wide range of virtual sports options that are sure to captivate enthusiasts. You can choose from either scheduled or instant sports games, the latter allowing you to play at your convenience. For instance, take the Instant EuroLeague Legends virtual basketball game, where you can pick your match and place your wagers whenever you like.
You can bet on match outcomes, game lines, and halftime results, with all bets recorded on your bet slip, where you can adjust the amount you want to bet before submitting and launching the game.
A Sneak Preview of Leap Gaming's Popular Games
Below we have given you a sneak preview of some of Leap Gaming's newest slot games launched and some of their more popular games:
Among their most popular offerings is Unicorn Forest, a magical game set in a forest where players can catch glimpses of unicorns and win great prizes. With an above-average RTP of 96.14% and high variance, Unicorn Forest features colossal wilds and a free spins round, making it both exciting and lucrative. The game's mechanics are simple yet engaging, allowing for an enjoyable experience.
Step into a magical world with Unicorn Forest, a one-of-a-kind 3×5 slot with 10 paylines. This beautifully designed enchanted realm offers a serene and romantic adventure, but don't be fooled by its peaceful setting. There is plenty of action on the reels with unicorns, fairies, a prince and princess, and other magical creatures offering super lucrative features.
Experience the thrill of the Big Wilds feature as wilds expand to 2×2 or even 3×3 on the grid. With scatters triggering free spins and even more wilds, this captivating game will mesmerize players from the very start. Unleash the magic of Unicorn Forest and get ready to be enchanted by its charm.
Nexus Maxways is a ground breaking game that boasts a unique dual WAYS expansion mechanic. At the beginning of each game, all reel symbols are absorbed into the electrical line named Nexus, which separates the upper and lower reels.
What sets Nexus apart is its ability to offer an unprecedented number of paying WAYS, with up to 262144 MAXWAYS achievable from just two consecutive wins. This game offers the fastest route to a significant payout, making it an exciting prospect for any gamer.
During the FREE Drops Bonus game, players can enjoy the full potential of 262144 MAXWAYS, further maximizing their winning potential. Additionally, the bonus game features Locking Wilds, allowing players to accumulate stacks of wilds for an epic gaming experience. Try Nexus today and discover a new level of gaming excitement.
Experience the awe-inspiring graphics and lifelike animations of the captivating video slot, Shields of Troy. Immerse yourself in the tale of power, bravery, and triumph as you venture through the legendary city of Troy in Ancient Greece.
The symbols in this epic game embody everything you would expect from Greek mythology, including impressive swords and shields, as well as the famous wooden Trojan horse. For added excitement, we have included a highly profitable feature called the "Increasing Wild Multiplier," which adds a multiplier to each spin, culminating in the final 10 spins, which reward a massive 10x your initial bet for every wild!
When activated during either regular or Free Spins, the multiplier will race across the screen, producing thrilling results. This epic game is both captivating and rewarding, and once you've given it a spin, you'll be hooked on the desire to win!
Banshee is the latest and most advanced gothic-horror-themed slot from Leap. Set on a classic 5×3 reel matrix with 20 fixed pay lines, 'Banshee' features four main characters who are the highest-valued reel symbols. Each character embodies a female Banshee, one of folklore's most malevolent figures who steal a man's life force while he sleeps.
The unique Game Features include a Prince of Darkness Bonus, a Free Games Bonus, and an inventive Gamble Feature that allows players to risk their Free Spins for a chance to win even more Free Spins.
Conclusion
In conclusion, Leap Gaming software is a leading provider of innovative and exciting gaming solutions. Their gothic-horror-themed slot game, 'BANSHEE', showcases their advanced technology and attention to detail.
Leap Gaming software's dedication to delivering top-quality gaming experiences is evident in its impressive portfolio of games which is growing rapidly.