Push Gaming is a software provider with over one hundred employees. Founded in 2011, they have created more than 20 games, which are available in more than 25 languages, at more than 200 online casinos. Some of the casinos that offer their games include heavy hitters like LeoVegas, Casumo, and 188 Bet.
Licenses

They are licensed by the UK Gambling Commission and the Malta Gaming Authority, as well as the Alcohol and Gaming Commission of Ontario, and (ONJN) Romania. Their business addresses are in the United Kingdom and Malta.
Business Strategies
Over the years Push Gaming's business strategies have evolved. While they originally planned to bring games that have proven to have mass market appeal in brick and mortar casinos to the online world, they eventually decided to branch out into an entirely new direction, building their own unique games for online casinos.
Push Gaming's approach has always been player-centric. They want to design games with novel features that people haven't seen before and create new interactive experiences to provide more value to customers.
By creating games with the potential for massive jackpots and offering top-notch visual effects, they hope to deliver a product that has long-lasting popularity with players.
A Focus On Regulated Markets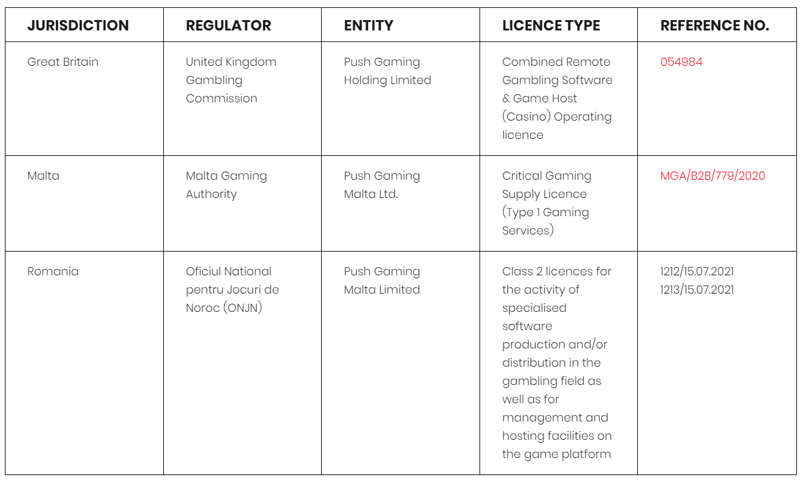 Another aspect of Push Gaming's marketing strategy has been to focus on regulated markets. They started out by offering their products in the European regulated markets such as the UK, Germany, and Sweden and they have recently branched out to Romania and Ontario.
Ontario is a particularly exciting market because this province alone has a population of 14 million and Canada is among the top nations for online gambling. In addition to having a foothold in the North American market already, they are eager to expand into the blossoming US regulated market, eyeing in particular New Jersey and Michigan.
There is no question that as regulated gambling continues to spread across America the opportunities for providers and software developers will be tremendous.
In addition to their desired continued North American expansion, Push Gaming is also looking to further capitalize on the European market, with plans to offer games in Italy and other regions as well.
Games
Although its portfolio is still fairly modest, Push Gaming has already managed to create some excellent titles like Razor Shark, Land of Zenith, and Booty Bay. With their focus on producing high-quality games that offer substantial entertainment value to players, Push Gaming is consistently producing some great video slots.
Push Gaming is the brain trust behind the popular Fat series. They have produced four titles in this series, Fat Rabbit, Fat Santa, Fat Drac, and Fat Banker.
Historically, Push Gaming has opted for a quality over quantity strategy, developing new innovative features and different gameplay elements rather than simply pumping out the same 5×3 slot with a facelift. By always keeping in mind the question "what do players really want" they have been able to produce games that really appeal to customers.
In 2020 they launched their own distribution platform after acquiring Game Server Integrations, enabling them to supply their games directly to online casinos. This marked their transformation from a simple games studio into a full-fledged gaming tech supplier.
Push Gaming Slot Reviews
Streamer Marketing
One marketing avenue that Push Gaming has been exploring is establishing partnerships with streamers to promote their products or to have a little fanfare surrounding game launches. Streaming is a relatively new aspect of internet gaming in general.
By giving the viewing audience an opportunity to watch their games being played, Push Gaming has been able to increase its brand exposure and attract new customers who might otherwise not have played their games.
Commitment to Responsible Gaming

As a company, Push Gaming has always been dedicated to the ideals of responsible gaming. With the increase in the regulatory environment that controls how much players can deposit and lose, it has never been more important to focus on recreational small-time players as opposed to VIPs, and Push Gaming's marketing strategies reflect that reality.
Player protection and minimizing any risk of player harm have always been at the forefront of Push Gaming's priorities. They believe that the gaming industry must actively commit to responsible advertising, and to taking proactive steps to ensure that players are not putting their financial health in danger.
Award Winning Firm
In 2018, Jamming Jars was awarded 'Best High Volatility Game' at the Videoslots Awards.
In 2022, Push Gaming won Slotbeats coveted Slot of the Week title with Bison Battle.
In 2021, they were awarded Online Slots Game of the Year at Sigma Europe for Jammin Jars 2.
Conclusion
Push Gaming is a boutique firm that has transitioned nicely from a simple gaming studio to a gaming tech supplier for online casinos.
By focusing on innovation and developing new gameplay features, they have kept their slots fresh and interesting and challenged the casino gaming software development industry as a whole to keep up.
As they continue their expansion into new regulated markets and increase their offerings it will be interesting to see what they come up with next.