If you have a craving for something sweet, then Jelly Reels is the perfect slot game for you. This delightful creation by Wazdan takes players on a whimsical journey through a candy and jello-filled land.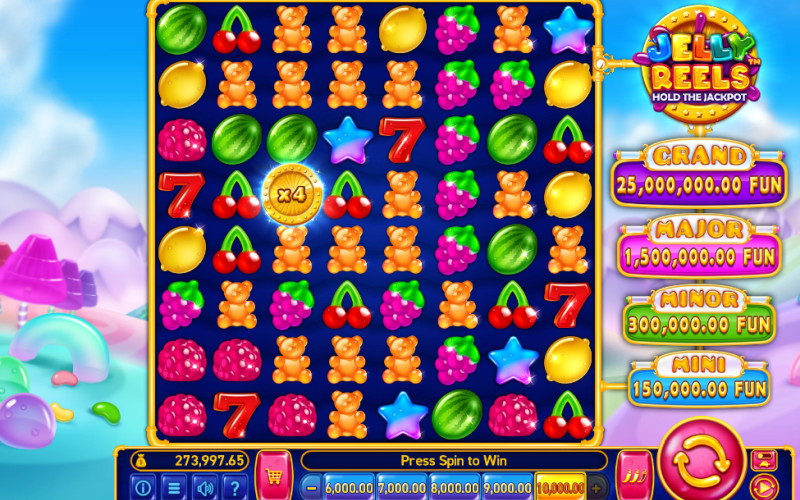 Prepare to be enchanted by the unique matrix of this game, featuring 8 reels and an astonishing 16,777,216 ways to win. The visuals are nothing short of mesmerizing, with vibrant colours, blue reels, and a golden frame that surrounds the matrix.
Immerse yourself in the imaginary candy land depicted in the background, while the soothing music adds to the overall ambience. Stay tuned for a closer look at the thrilling features of this game, including the hold-the-jackpot feature, big symbols, and other special surprises.
Symbols and Payouts
Starting with the fruity gelatin delights, we have the Cherries and Grapes. Aligning four to eight Cherries or Grapes on adjacent reels will earn you a cash reward ranging from 0.1 to 0.5 times your total bet.
The same enticing rewards apply to the Watermelon, offering a multiplier of 0.1 to 0.8 times your initial wager. Should you achieve a winning combination with Raspberries, your bet will be multiplied by the corresponding number of times. The zesty Lemon symbol grants you a delightful payout of 0.2 to 1 times your stake.
Next on the list is the Star dessert, promising rewards ranging from 0.3 to 2 times your bet. The orange Gummy Bear, with its chewy goodness, offers a multiplier of 0.4 to 3 times your wager. Lastly, we have the Red Seven candy, a symbol of good fortune, awarding prizes worth between 0.5 and 5 times your total stake.
Paytable
| Symbol | 8 Symbol Payout | 7 Symbol Payout | 6 Symbol Payout | 5 Symbol Payout | 4 Symbol Payout |
| --- | --- | --- | --- | --- | --- |
| Red 7 | x5 | x3 | x2 | x1 | x0.5 |
| Teddy Bear | x3 | x2 | x1.2 | x0.8 | x0.4 |
| Star | x2 | x1 | x0.8 | x0.6 | x0.3 |
| Lemon | x1 | x0.8 | x0.6 | x0.4 | x0.2 |
| Raspberry | x0.8 | x0.6 | x0.4 | x0.2 | x0.1 |
| Melon | x0.8 | x0.6 | x0.4 | x0.2 | x0.1 |
| Grape | x0.5 | x0.4 | x0.3 | x0.2 | x0.1 |
| Cherry | x0.5 | x0.4 | x0.3 | x0.2 | x0.1 |
How to Play Jelly Reels Slot
For those eager to dive into the world of Jelly Reels, simply locate the red button which has 2 golden arrows to initiate the game. With a simple click, the 8 reels and 8 rows will come to life. Flexibility is key, as players have the freedom to adjust their total bet at any time. The available options are displayed beneath the matrix, ranging from €0.1 to €100.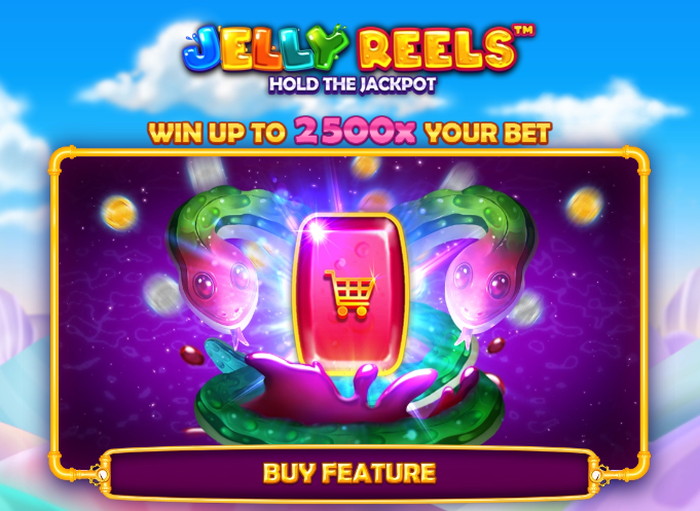 A square featuring a turtle symbol grants players the ability to control the animation speed, offering options for fast and ultra-fast modes. An essential play sign activates automated spins, providing a hands-free experience.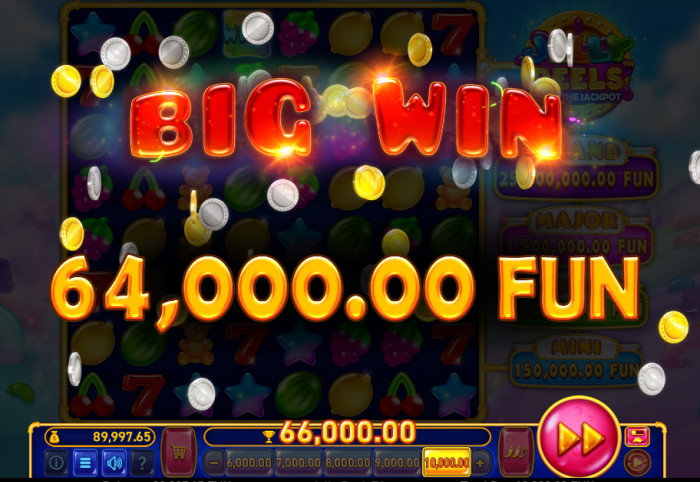 Additionally, peppers are available to customize the volatility level, allowing players to tailor their gameplay experience. The game also features an informative sign, providing access to the paytable, and a question mark symbol, offering a comprehensive overview of the game's rules.
To toggle the audio on or off, players can utilize the speaker icon, while the three lines grant access to additional settings for further customization.
Jelly Reels Slot Bonus Features
Prepare yourself for an abundance of thrilling bonus features in Jelly Reels.
First and foremost, be on the lookout for Mega Symbols that can appear in sizes of 2×2 or 3×3, with all icons except for the Bonus symbols eligible to form these colossal blocks. Additionally, brace yourself for the excitement of Cascading Wins, where winning symbols vanish to be replaced by new symbols, potentially leading to consecutive wins.
The gelatin dessert adorned with a Wild sign assumes the role of the Wild symbol in this game. As expected, it substitutes for all regular symbols to complete winning combinations. The Coin symbol represents the Bonus icon. Landing six or more Coins anywhere on the reels will trigger the highly anticipated Hold the Jackpot Bonus.
It's worth noting that even hitting three, four, or five Bonus icons in the base game will activate a paid re-spin, keeping the Bonus icons sticky and increasing your chances of unlocking the Hold the Jackpot Bonus.
Special Bonus Icons
Speaking of the bonus round, it unfolds across an impressive 40 reels. During this mode, the Coins remain fixed in their positions. Keep a close eye out for special Bonus icons such as Mystery icons, Silver Coins, and Jackpot Coins, which can make appearances on the expansive reels. On the smaller reels, Snake icons and Golden Coins may make their presence known.
Starting with three re-spins, the count can be reset by landing a Bonus icon on an unlocked reel. The coins and special symbols mentioned earlier serve to enhance the prizes awarded. At the end of the bonus round, players collect the values displayed on all the coins, some of which offer cash rewards while others boast enticing jackpot prizes.
For an extraordinary feat, covering all 40 reels with Bonus icons of any kind will unlock the Grand Jackpot, an astonishing reward worth 2500 times your initial bet. Get ready for a whirlwind of excitement and riches!
Conclusion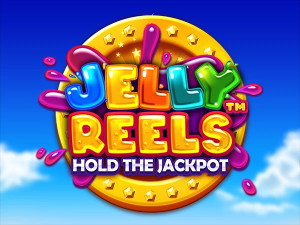 While Jelly Reels may seem like a simple fruit-themed game at first glance, it surprises players with its intricate bonus features and an astounding number of over 16 million possible winning combinations.
The sheer magnitude of winning permutations is enough to leave anyone in awe. Brace yourself for a fruity adventure like no other and see if you can conquer the jelly-filled reels of excitement.
Slot Stats
| | |
| --- | --- |
| Software | Wazdan |
| Release Date | 18th November 2021 |
| Reels | 8 |
| Rows | 8 |
| Paylines | 16 777 216 |
| RTP | 96.22% |