Klondike Fever stands out as an extraordinary slot game crafted by Capecod Gaming, a renowned software provider celebrated for its groundbreaking methodology.
The creators of this casino game appear to have drawn inspiration from the Klondike Gold Rush, a historic event that unfolded in Canada from 1896 to 1899. Klondike Fever showcases some stunning graphics. Moreover, the game is meticulously designed to be compatible with mobile devices, ensuring that players can enjoy playing this slot while on the move.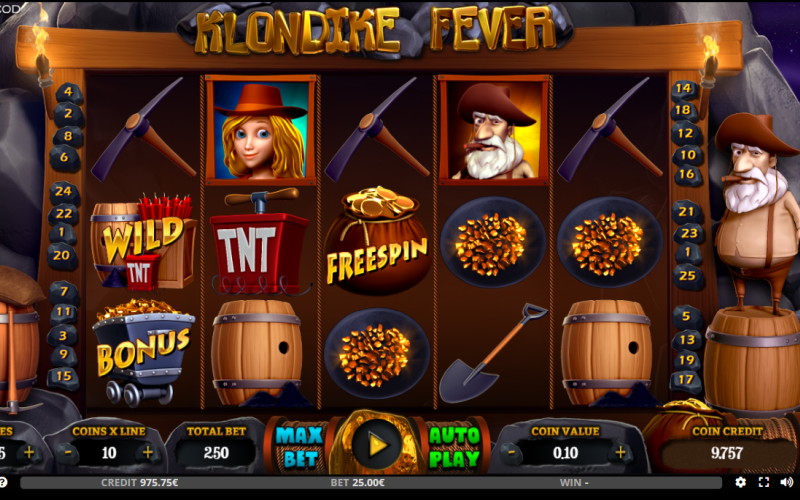 Theme and Gameplay
Klondike Fever is a thrilling slot game that takes inspiration from the historic Klondike Gold Rush. The theme revolves around the thrilling pursuit of gold in the harsh wilderness of the Klondike region during the late 19th century.
The game beautifully captures the atmosphere of that era, immersing players in an adventurous and immersive experience.
The gameplay of Klondike Fever follows the traditional structure of a slot game, featuring spinning reels and pay lines. Players aim to align matching symbols across the reels to trigger winning combinations and unlock rewards.
The game incorporates both standard symbols and special symbols, such as wilds and scatters, to enhance the gameplay dynamics and increase the chances of winning.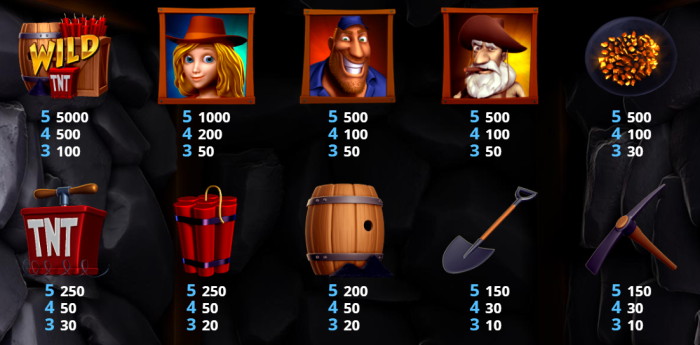 Paytable
| Symbol | Payout for 3 symbols | Payout for 4 symbols | Payout for 5 symbols |
| --- | --- | --- | --- |
| Barrel, TNT sticks, and Detonator (Wild) | 50 coins | 200 coins | 5,000 coins |
| Blond Lady | 100 coins | 250 coins | 1,000 coins |
| Smiling Man | 50 coins | 150 coins | 500 coins |
| Elderly Man with Smoking Pipe | 50 coins | 150 coins | 500 coins |
| Plate of Golden Coins | 50 coins | 150 coins | 500 coins |
| Detonator and TNT Sticks | 25 coins | 100 coins | 250 coins |
| Barrel | 20 coins | 75 coins | 200 coins |
| Shovel | 15 coins | 50 coins | 150 coins |
| Pickaxe | 15 coins | 50 coins | 150 coins |

Pros of Klondike Fever Slot
Multiple Device Compatibility: The game is designed to be compatible with various devices, including desktop computers, smartphones, and tablets. Players can enjoy Klondike Fever on their preferred device without compromising the quality of the gameplay.
Engaging Bonus Features: Klondike Fever incorporates exciting bonus features that add depth and excitement to the gameplay. From free spins to interactive bonus rounds, these features provide additional opportunities to win and keep players entertained.
Free Spins and Bonus Features
Klondike Fever is not just about chasing gold, but also about the incredible bonuses that await players. Below we will explore the bonus features of Klondike Fever. Get ready to uncover hidden treasures and enjoy an unforgettable journey with Klondike Fever's enticing bonuses.
Free Spin Bonus
If you land 3, 4, or 5 symbols of a pot filled with gold coins along with the Free Spin logo on the reels, get ready for an exciting free spin bonus round. The number of spins awarded depends on the number of Free spin symbols present, ranging from 5 to 20. Keep in mind that the expanded wild symbols substitute for all symbols in the column except for the scatters.
Magic Spin Bonus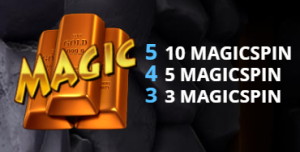 During the free spin bonus, if you encounter 3 – 5 gold bar symbols on the reels, the Magic Spin bonus will begin. Players will receive between 3 and 10 magic spins, determined by the number of gold bar symbols landed. The payout varies based on the number of bars in the symbol. For instance, a symbol featuring three gold bars will reward you with a payout of 3 times your stake.
Bonus Mine
The cart full of gold acts as a bonus symbol, and when you have 5 of these symbols appearing on the reels, you unlock the Bonus Mine bonus game, which consists of 3 attempts. In this game, the cart ventures into the mine and returns with either gold or stones.
If it brings back gold, you'll receive a random cash prize. However, if it retrieves stones, you'll progress to the next attempt without earning any cash. The winnings in this game are based on the bet size from the round that triggered the bonus round.
Safety And Fairness
Capecod Gaming is dedicated to upholding responsible gaming principles and implementing industry best practices. They have incorporated specific features into their games to prioritise player safety and compliance with regulatory standards.
As a responsible gaming provider, they ensure that their systems align with official guidelines in each market where their licensees operate. To ensure equitable gameplay across all their products, their games and software, including the RNG (random number generator system), undergo frequent testing and certification by reputable industry organisations as part of their standard certification process.
Mobile Compatibility
Klondike Fever is an online casino game, that offers versatile compatibility across a range of devices including laptops, smartphones, and tablets running on Windows, Android, or iOS systems. The game is supported by both HTML5 and Flash software, guaranteeing seamless and uninterrupted gameplay regardless of the device being used. To embark on an exhilarating gaming adventure with Movie Stars and other captivating titles, simply navigate to the mobile slot section on our website.
Conclusion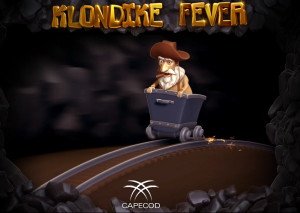 Klondike Fever stands out as a remarkable slot game, immersing players in the captivating world of the Klondike Gold Rush through its lifelike symbols. Whether played on a smartphone or tablet, the game maintains its aesthetic appeal, providing an engaging visual experience.
Alongside the standard features of a slot game, Klondike Fever adds an extra layer of excitement with a variety of bonuses, enhancing the overall player experience.
Slot Stats
| | |
| --- | --- |
| Software | Capecod Gaming |
| Release Date | 12th September 2014 |
| Reels | 5 |
| Rows | 3 |
| Paylines | 25 |
| RTP | 95.05% |
Other Slots From Capecod Gaming