Light of Ra is a fresh slot offering from Booming Games, drawing its inspiration from the lore of ancient Egypt. The game centres around Ra, a pivotal deity in Egyptian mythology, known for ruling all aspects of the world and often depicted as a falcon or the Sun God.
With features that keep you on the edge of your seat and a maximum win of 3000X your stake, this game aims to entertain players. The theme of ancient Egypt and its gods, particularly Ra, has been a recurring motif in slots like Ark of Ra and Treasures of Ra. Let's delve into what makes Light of Ra special!
Theme & Gameplay
As you might guess from its name, Light of Ra leans into the ever-popular Ancient Egypt theme. The game is adorned with iconic elements like the Sphinx, pharaohs, ankhs, and scarabs, all presented as game symbols.
Before diving into the symbols, it's worth mentioning the game's design, which is quite impressive. Upon entering, you're greeted by a voiceover, followed by a visually pleasing temple backdrop that complements the game field. To top it off, the experience is enriched by soothing Egyptian tunes that set the mood.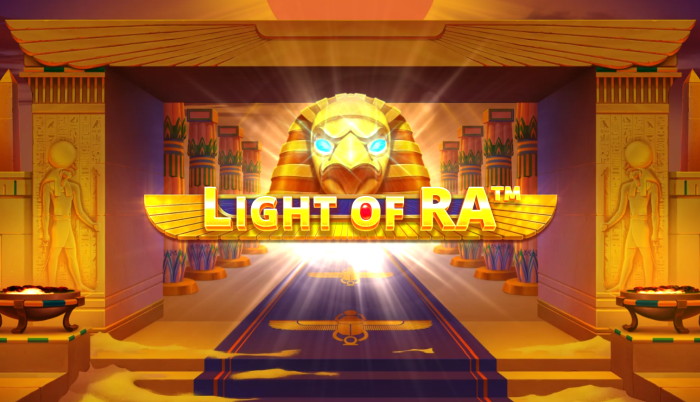 How to Play Light of Ra Slot
The Light of Ra slot game offers a traditional experience with its 5×4 grid layout and user-friendly controls, making it accessible even for those new to slots. This game features 30 set paylines and a single bonus round focused on free spins. Here's how to dive in:
Open the Light of Ra game and hit the "Play" button to access the slot.
Choose your bet amount, ranging from $0.10 to $50.
Tap the icon with three lines, then the cogwheel symbol, to go to the settings.
Don't forget to check out the game's details by clicking on the information. This will bring up a menu with information about paylines, symbol values, special features, and rules.
Once you're ready, hit the green spin button to start the game. Alternatively, you can opt to purchase the Free Spins feature immediately by clicking on the "Buy Free Spins" icon.
Pros & Cons
Pros:
Attractive visuals
Frequent wins
Bonus buy feature available
Option to re-activate free spins
Cons:
Limited maximum win at 3,000
RTP falls below the industry average
Symbols & Payout Table
| Symbol | X3 Symbols | X4 Symbols | X5 Symbols |
| --- | --- | --- | --- |
| Pharaoh | 3.00 | 6.00 | 20.00 |
| Sphinx | 1.50 | 3.00 | 6.00 |
| Ankh | 1.20 | 2.50 | 5.00 |
| Eye Of Horus | 1.00 | 2.00 | 4.00 |
| Gold Pharaoh | 6.00 | 12.00 | 40.00 |
| Gold Sphinx | 3.00 | 6.00 | 12.00 |
| Ankh | 2.40 | 5.00 | 10.00 |
| Gold Eye Of Horus | 2.00 | 4.00 | 8.00 |
| Red Scarab | 0.50 | 1.00 | 2.00 |
| Orange Scarab | 0.50 | 1.00 | 2.00 |
| Purple Scarab | 0.50 | 1.00 | 2.00 |
| Green Scarab | 0.40 | 0.80 | 1.60 |
| Blue Scarab | 0.40 | 0.80 | 1.60 |
Note:
The Figures represented on the paytable are the payouts for bets based on $1.00. Special symbols include a multi-option Scatter and a Wild. The Scatter symbol triggers the Free Spins and the Wild symbol can replace any basic symbol, except for the Scatter.
Light Of Ra RTP and Volatility
The Return to Player (RTP) in Light of Ra is a bit disappointing, falling below the industry average of 96% to sit at 95.2%. As for the game's volatility, it's on the medium-high side. This means you might not see frequent wins like you would in low or medium-volatility slots.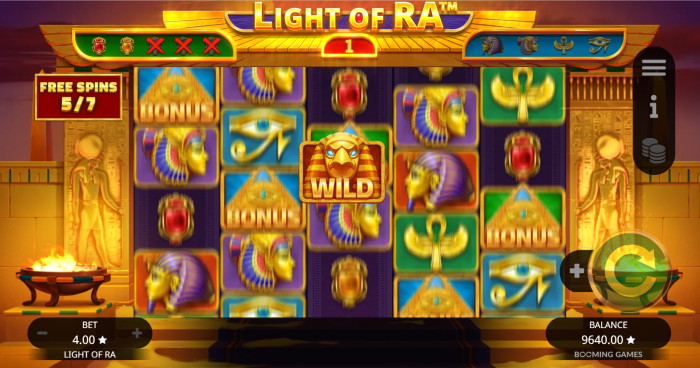 Max Win
If fortune favours you, you could walk away with a max win of up to 3,000 times your stake in Light of Ra. While this may seem modest considering the slot's medium-high volatility, the game does offer various features to boost your odds of winning.
Not only does it have a Free Spins mode, but you can also opt to buy into this feature directly. Additionally, Light of Ra incorporates cascading mechanics, symbol value upgrades, and a variety of special symbols to enhance your gameplay.
Features
Free Spins Feature
Initiating the Free Spins mode requires landing a minimum of 3 Scatter symbols. The number of Scatters you get dictates the number of free spins:
3 Scatters grant six free spins
4 Scatters offer eight free spins
5 Scatters yield ten free spins
Within this mode, you can encounter three distinct types of Scatter:
Red Scatter: Activates the Light of Ra mechanics, causing existing Wilds to shift positions within the same reel. An additional Red Scatter adds another Light of Ra Wild and gifts you an extra free spin.
Blue Scatter: Triggers the Major Upgrade feature, enhancing the value of all Major symbols on the board. Landing another Blue Scatter upgrades the next lowest Major symbol and adds an extra free spin.
Green Scatter: Initiates the Minor Elimination feature, removing all Minor symbols from the board. An extra Green Scatter will remove the next lowest Minor symbols and activate the Cascade feature, where new symbols fill the board and an extra free spin is awarded.
Bonus Buy Option
Alternatively, you can directly access the Free Spins mode by using the Bonus Buy feature. This will instantly activate the mode, providing a random number of Scatters and free spins. The cost for this feature is dependent on your current bet size.
Mobile Compatibility
Light of Ra is fully accessible on mobile devices, eliminating the need for any app downloads. Simply open the game through your mobile browser to experience all the features available in the desktop version, offering you the complete gameplay experience on the go.
Conclusion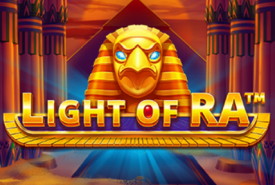 Light of Ra has its highs and lows as a video slot. While it falls a bit short in terms of Return to Player and maximum win potential, it compensates with a range of appealing features and a visually pleasing design that will likely resonate with fans of Egyptian-themed slots.
If you're in the market for a straightforward yet visually appealing game with an Egyptian flair, Light of Ra is definitely worth a look!
Slot Stats
| | |
| --- | --- |
| Software | Booming Games |
| Release Date | 28th August 2023 |
| Reels | 5 |
| Rows | 4 |
| Paylines | 30 |
| RTP | 95.2% |
Other Slots From Booming Games