The Battle of Troy has been a source of inspiration for countless tales of heroism, beauty, and bravery for thousands of years. The Shields of Troy online slot is a visually stunning and realistic portrayal of this legendary battle, complete with captivating graphics and animations. Set in the ancient city of Troy in Greece, players will encounter symbols straight out of Greek mythology, including swords, shields, and the infamous wooden Trojan horse.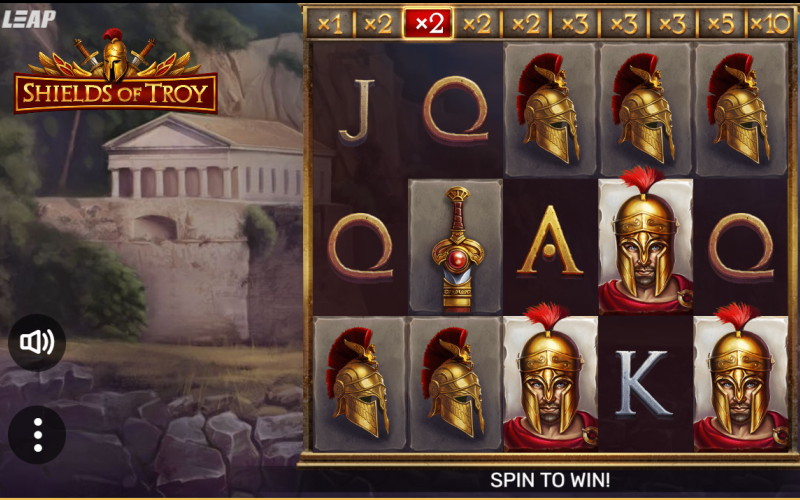 Furthermore, to add to the excitement, the game features an incredibly lucrative wild multiplier that increases and adds a multiplier to each spin and increases every ten spins. During the final spins, players can win 10 times their bet for every wild symbol that appears. The multiplier animates on the reels during the free spins, creating an enchanting and immersive gaming experience.
This enjoyable game is not only fascinating but also highly rewarding, with the potential for players to win big. You'll be hooked and eager to continue playing once you start playing the game.
Return to Player ( RTP ) Percentage
The return to player percentage, commonly known as RTP, denotes the percentage of funds a player can anticipate winning back from the game over an extensive period. Specifically for Shields of Troy, a $100 wager can yield a $94.04 return on average.
It is worth noting that this ratio does not guarantee winnings and pertains to the game's overall outcome across a considerable number of spins, rather than individual sessions. Although the RTP of 94.04% falls below the industry average, it is not rare for some slot games to have a similar range of RTP.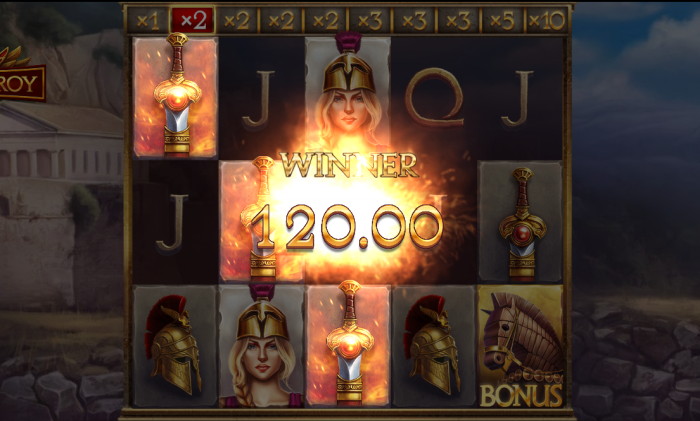 The game also features various symbols and bonuses that can help players increase their chances of winning, including the Free Spins Bonus and Wild symbol.
Overall, while the RTP of Shields of Troy by Leap Gaming may not be as high as some other slot games, it is still within an acceptable range and offers players the chance to potentially win big while playing.
Shields of Troy Slot Symbols
The Shields of Troy slot game features various symbols, including Hector, Achilles, Helen of Troy, Trojan Horse, Shield, Sword, Ace, King, Queen, and Jack, each with their respective payouts. Additionally, the game also features a Free Spins bonus with increasing value multipliers and a Wild symbol that can substitute for all other symbols except the Bonus symbol.
Paytable
| Symbol | 5 on a payline | 4 on a payline | 3 on a payline |
| --- | --- | --- | --- |
| Hector | 500x | 100x | 25x |
| Achilles | 250x | 75x | 20x |
| Helen of Troy | 200x | 50x | 15x |
| Trojan Horse | 125x | 25x | 10x |
| Shield | 100x | 20x | 5x |
| Sword | 75x | 15x | 5x |
| Ace | 50x | 10x | 4x |
| King | 40x | 8x | 3x |
| Queen | 30x | 6x | 2x |
| Jack | 25x | 5x | 2x |
Shields of Troy Slot Bonus Features

Wild Symbol
One of the exciting features of this game is the Wild symbol which can substitute for symbols, except for the Bonus symbol. It can be found on reels 2, to 4. Furthermore, during the free games round, the multiplier will increase from X3 to X10 throughout the ten spins.
Free Spins Bonus
Another noteworthy feature is the Free Spins Bonus which is triggered by the Trojan Horse Bonus symbol. This symbol appears on reels 1, 3, and 5. When it appears on all three reels, it awards 10 Free Spins with increasing value Multipliers. When the free spins come to an end, all wins from the game that started the Bonus will be added to the total win.

Conclusion
To sum up, Shields of Troy, developed by Leap Gaming, is an engaging video slot game that presents players with multiple opportunities to win significant payouts through its diverse symbols and bonuses. Although the game's RTP of 94.04% falls below the industry average, it is not an unusual rate for some slot games.
Its theme of Greek mythology, coupled with its first-rate graphics and sound effects, provides an enjoyable gaming experience that can keep players captivated for ages.
Slot Stats
| | |
| --- | --- |
| Software | Leap Gaming |
| Release Date | 28th November 2022 |
| Reels | 3 |
| Rows | 5 |
| Paylines | 25 |
| RTP | 94.04% |
Other Slots From Leap Gaming