Book of Dread Slot by Redstone Gaming is an edge-of-your-seat type online slot game that transports players into a creepy graveyard filled with evil spirits and haunting imagery. Released on October 7, 2022, this 5-reel, 10-line slot offers an eerie atmosphere that captivates players from the start.
The goal is to collect special symbols that launch free spins and special rounds, adding to the excitement. This game promises not only an exciting but also a potentially rewarding experience.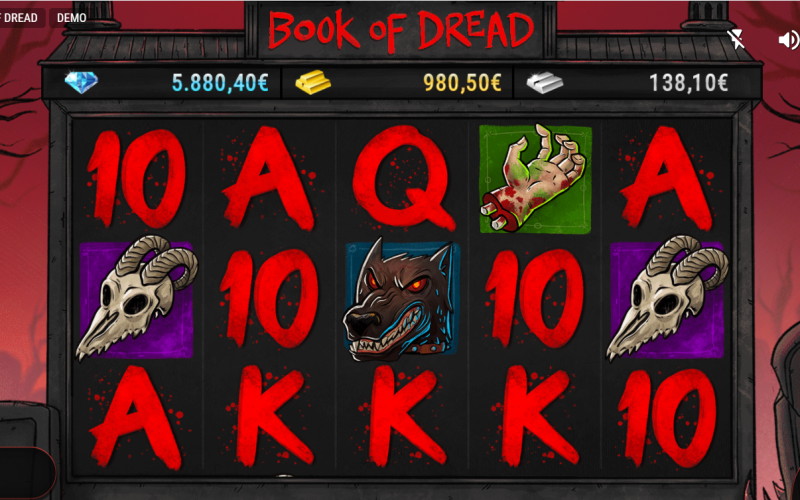 Theme & Gameplay
Set against the backdrop of a full red moon, the Book of Dread Slot invites players into a world filled with vampires, zombies, and elements reminiscent of classic horror movies. The symbols within the game include low-value card suits, medium-paying zombies and dire wolves, and high-paying vampire girls and secret books.
The book symbol is particularly intriguing, as it serves dual roles as both a Wild and a Scatter. This adds a layer of complexity and excitement to the gameplay. With its combination of thematic symbols and unique features, the Book of Dread Slot offers an intriguing and spooky experience that appeals to fans of horror and suspense.
About Redstone
Established in 2021, Redstone has been at the forefront of creating thrilling gambling games. With two licenses, the company operates not only in primary markets but also extends its reach to Romania and Switzerland. Currently, Redston's portfolio boasts more than 20 unique games, including standout titles like 10 Wild Pumpkin, 5 Clover Fire, and Book of Ibis.
How to Play Book of Dread
Go to the online casino and select Redstone in the filters to find the Book of Dread machine.
Study the symbol table and game rules carefully.
Place a bet ranging from $0.2 to $500.
Adjust the music volume, turbo spin, or auto-play as desired.
Spin the reels and match at least 3 of the same symbol to win credits.
Pros & Cons
Pros:
Free spins round available.
Progressive jackpots for higher winnings.
Expanding symbols for more rewards.
Cons:
The graphics of this online slot may not appeal to some players.
Symbols & Payout tables
| | | | | |
| --- | --- | --- | --- | --- |
| Symbol | 2 on a Payline | 3 on a Payline | 4 on a Payline | 5 on a Payline |
| Secret Book | $0,00 | $4,00 | $50,00 | $500,00 |
| Vampire Girl | $2,00 | $20,00 | $200,00 | $1.00,00 |
| Dire Wolves | $1,00 | $8,00 | $80.00 | $400,00 |
| Zombies | $1,00 | $6,00 | $20,00 | $150,00 |
| A / K | $0,00 | $1,00 | $8,00 | $30,00 |
| Q / J / 10 | $0,00 | $1,00 | $5,00 | $20,00 |
These figures are calculated based on the total amount you wager. The secret book acts as both a wild and a scatter symbol.
Book of Dread RTP and Volatility
The game has a Return, to Player (RTP) rate of 96.2% which means that players can expect payouts although they may not happen often. Additionally, the volatility of the game is high so while the payouts can be substantial they may not occur frequently.
What makes the game more exciting and engaging are the jackpots and a special bonus round that offers free spins. These features add depth to the gameplay experience. Provide players with chances to win. However, players need to approach the game with caution as high variance brings risks, which means there could be fluctuations in winnings.
Max Win
In the Book of Dread Slot players have a chance to win 5,000 times their bet. Along with this payout the game also offers mystery progressive jackpots. These jackpots can be randomly triggered, allowing players to increase their winnings and add a level of excitement to the gameplay. The chances of hitting the jackpot increase with higher bets, adding an extra layer of excitement and potential reward to the game.
Features
Wild Symbol & Scatter
 The Book of Dread slot introduces a unique book symbol that serves dual purposes. As a Wild symbol, it substitutes for other symbols, helping to form winning combinations and increasing the chances of a payout. Simultaneously, it acts as a Scatter, triggering special bonus features that add depth and excitement to the game.
 Free Spins and Expanding Symbols
The magic doesn't stop with the Wild and Scatter. By collecting a specific combination of magical books, players can unlock free spins, a highly sought-after feature that allows continued play without additional bets. Alongside free spins, the game offers expanding symbols. These symbols can grow to cover entire reels, significantly enhancing the gameplay and creating more opportunities for substantial wins.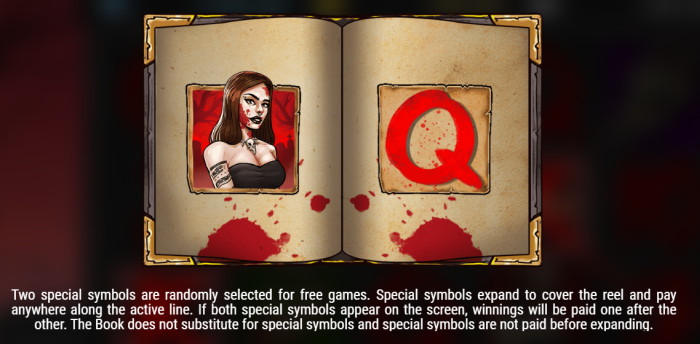 Progressive Jackpots
 Perhaps the most thrilling aspect of the Book of Dread slot is its three progressive jackpots. Unlike fixed jackpots, progressive jackpots grow over time, offering potentially life-changing sums. These jackpots are awarded randomly, keeping players on the edge of their seats. What's more, the likelihood of hitting one of these exciting jackpots increases with higher bets, encouraging strategic play and adding another dimension to the game.
Mobile Compatibility
The Book of Dread Slot is meticulously crafted to be fully compatible with an extensive array of mobile devices. Whether using iOS or Android operating systems, players can relish a seamless and uninterrupted gaming experience on both smartphones and tablets.
This adaptability allows for versatile gaming on the move, ensuring that none of the game's exhilarating features or visual allure is lost. The Book of Dread Slot's mobile compatibility invites players to dive into the excitement wherever they are, without compromising quality or enjoyment.
Conclusion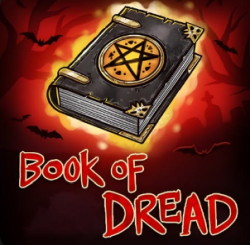 Book of Dread Slot by Redstone Gaming presents a distinctive and captivating experience, combining elements of horror with the thrill of gaming. Featuring an engaging theme filled with eerie symbols, free spins, progressive jackpots, and the potential for high winnings, it caters to a wide range of players.
Whether you're drawn to the horror genre or merely seeking a slot game with an unconventional twist, Book of Dread Slot offers an immersive experience that's well worth exploring.
Slot Stats
| | |
| --- | --- |
| Software | Redstone Gaming |
| Release Date | 7th October 2022 |
| Reels | 5 |
| Rows | 3 |
| Paylines | 10 |
| RTP | 96.2% |
Other Slots From Redstone Gaming