For those who appreciate the timeless charm of classic slot games, 10 Wild Pumpkin is a perfect choice. This game skillfully blends the nostalgia of vintage Vegas slot machines with a festive Halloween twist.
In this engaging slot, Jack-O-Lanterns take on a special role, acting as expanding wilds that can light up the reels. Whether you're a fan of traditional slots or simply looking for a game with a unique seasonal flair, 10 Wild Pumpkin offers an experience that's both familiar and refreshingly different.
Theme & Gameplay
This slot celebrates the theme of Halloween, with the pumpkin as its central motif. Alongside the pumpkin, the reels are adorned with other classic symbols such as bells, sevens, and various fruits.
Set against a dark red background embellished with spiderwebs, the design captures the eerie yet festive spirit of the holiday. The visual appeal of the slot is complemented by its user-friendly interface and quality graphics.
The game's ambience is further enhanced by pleasing music that accompanies the gameplay. In terms of symbols, the game features both basic and special categories.
The basic symbols include sevens, fruits, and bells, which yield payouts for combinations of identical symbols on the reels. Adding an extra layer of excitement are the special symbols, consisting of two scatter symbols (depicted as orange and blue stars) and a wild symbol (represented by the pumpkin).
How to Play
On the control panel, players will find the following essential buttons:
Balance: Displays the current money in the account.
Stake: Allows players to select the size of their stake.
Auto: Initiates the Autoplay mode, enabling continuous spins.
Two Arrows: Used to start a single spin.
Three Stripes: Accesses the menu with additional options and information.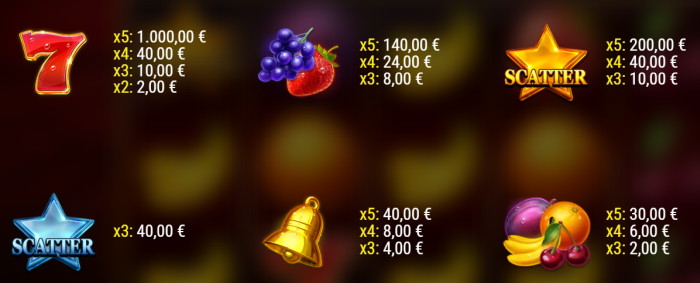 The 10 Wild Pumpkin slot game is designed with a playing field that includes 5 reels, 3 rows, and 10 fixed paylines. Players have the flexibility to choose their bet size, ranging from a minimum of $2 to a maximum of $5,000. This wide betting range caters to various playing preferences and budgets.
Within the game, players will encounter both basic and special symbols, each contributing to the gameplay in unique ways. One of the standout features of "10 Wild Pumpkin" is the inclusion of a progressive jackpot, providing an additional layer of excitement.
Pros & Cons
Pros:
Progressive Jackpot: Offers the chance for substantial winnings.
Autoplay Mode: Allows for continuous play without manual spins.
Nice Design: Visually appealing graphics and layout.
Demo Version: Enables players to try the game for free before betting real money.
Cons:
Limited Features: The game lacks a variety of additional features.
No Free Spins: The absence of free spins may limit bonus opportunities.
Symbols & Payout Table
| Symbol | 3 on a Payline | 4 on a Payline | 5 on a Payline |
| --- | --- | --- | --- |
| Plum | $2,00 | $6,00 | $30,00 |
| Orange | $2,00 | $6,00 | $30,00 |
| Banana | $2,00 | $6,00 | $30,00 |
| Cherry | $2,00 | $6,00 | $30,00 |
| Bell | $4,00 | $8,00 | $40,00 |
| Blue Star Scatter | $40,00 | – | – |
| Gold Star Scatter | $10,00 | $40,00 | $200,00 |
| Grape | $8,00 | $24,00 | $140,00 |
| Strawberry | $8,00 | $24,00 | $140,00 |
| Seven | $10,00 | $40,00 | $1000,00 |
RTP and Volatility
10 Wild Pumpkin is a compelling slot game that offers medium volatility and an RTP (Return to Player) of 95.96%. The medium volatility level indicates a balanced gameplay experience, where players can anticipate winning sizable prizes with a relatively frequent occurrence.
This combination of volatility and RTP makes 10 Wild Pumpkin an attractive option for both entertainment and the potential for rewarding payouts.
Max Win
The game's top prize is an impressive 5000x your bet, achievable by landing five-of-a-kind lucky sevens while playing at the maximum bet. This substantial reward, along with the game's engaging features, makes 10 Wild Pumpkin a thrilling option for both novice and experienced players.
Features
Mystery Jackpot
The Mystery Jackpot in 10 Wild Pumpkin is an intriguing feature that adds excitement to the gameplay. Displayed on the screen, the jackpot consists of a fixed award and an increment that grows with each bet.
At the start of a spin in the base game, a certain percentage of the money bet is added to the jackpot, causing the increment to increase. As the game progresses, a mystery jackpot may be awarded to the player. The higher the bet amount for the spin, the greater the chances of hitting the progressive jackpot.
The point at which the jackpot will be awarded is determined randomly, falling within a uniform distribution between the starting value and the maximum possible jackpot. The player that first reaches the random jackpot payout amount, after placing the bet, wins the jackpot.
Enhance Wins with Expanding Wild Pumpkins
The 10 Wild Pumpkin slot includes an exciting feature of an expanding wild pumpkin. This special symbol substitutes for both retro and fruit symbols, creating opportunities for more winning combinations. Additionally, landing three or more gold or blue scatter symbols anywhere on the reels can lead to substantial prizes.
Mobile Compatibility
10 Wild Pumpkin provides a seamless gaming experience across both desktop and mobile platforms. The rules remain consistent across all devices, offering players the flexibility to enjoy the game from any location.
Before playing the game, it's recommended to verify the reliability of the mobile internet to make sure that you have uninterrupted play. This game's adaptability across platforms contributes to its allure, offering a versatile and intuitive gaming option for those who prefer to play on the move.
Conclusion
10 Wild Pumpkin by Redstone Gaming is a classic-themed slot with a Halloween twist. It offers medium volatility, an RTP of 95.96%, and features like expanding wild Jack-O-Lanterns and progressive jackpots.
While lacking some additional features, its blend of vintage charm and festive elements makes it an appealing choice for a wide range of players. It's a memorable slot that combines nostalgia and excitement for a rewarding gaming experience.
Slot Stats
| | |
| --- | --- |
| Software | Redstone Gaming |
| Release Date | 27th September 2022 |
| Reels | 5 |
| Rows | 3 |
| Paylines | 10 |
| RTP | 95.96% |
Other Slots From Redstone Gaming