Think of yourself as an oil tycoon, looking out across a landscape of oilfields that will bring you an abundance of wealth and good fortune. Money Pipe certainly brings a whole new interest in in searching for black gold. They say the desert holds more than sand – beneath the miles and mils of dunes are fertile and rich fields of oil. Money Pipe brings this element of industrial discovery and good fortune into its thrilling new slot.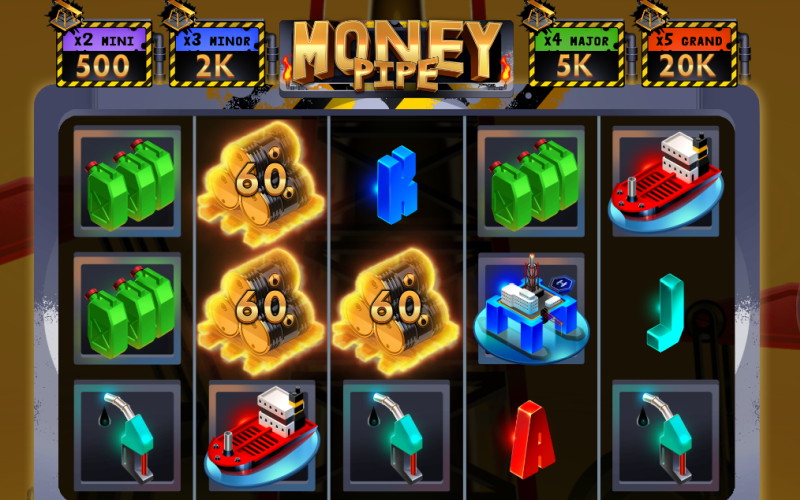 Theme and Graphics
The game has a construction and industrial feel to it. While playing the slot you can imagine yourself operating the machinery. Graphics include fires, construction hazard tape, barrels of oil and lots of oranges in the background to imitate the feeling of being within a dessert.
Behind the slot reels the animation shows oil rigs operating and digging for oil. Music is surprising that it doesn't evoke the feeling of being in an oil field although we are not sure what music would actually do this?!. that said, it has a jazzy, rich feeling feel to it with electric keyboard and brass with a tap drum rhythm.
The symbols in the slot stand out well and do have a feel of more traditional slot symbols; with bold coloured letters however the wile symbols of petrol canisters and oil tankers certainly make the graphics more unusual.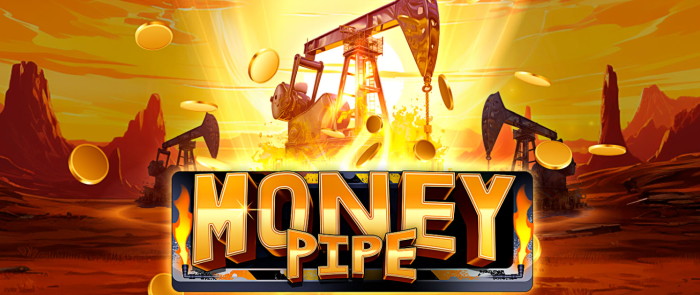 How To Play
The slot is fairly straight forward with the spin button and bet amount realise easy to change. The format is a traditions 5 x 3 gride therefore its game play is as straightforward as you get out there. Select your bet amount and take a spin. Pay lines run from left to right and pay out the minimum corresponding amount for fixed line games.
If you spin and get jackpot symbols, these will give you the opportunities to win additional amounts – with two jackpots bagging you 500DEM and the more symbols appearing the bigger the jackpot wins.
The slot also includes the opportunity to buy into a bonus jackpot game for 40 x you bet amount.
Symbols and Payouts
The Maximum win per line is 5000DEM – the table below illustrating the symbol and quantity win amounts.
| Symbol | X5 | X4 | X3 |
| --- | --- | --- | --- |
| Oil Tanker | 5000DEM | 1000DEM | 200DEM |
| Oil Rig | 1500DEM | 400DEM | 100DEM |
| Oil Cans | 800DEM | 200DEM | 60DEM |
| Fuel Pump | 400DEM | 100DEM | 40DEM |
| A | 200DEM | 80DEM | 20DEM |
| K | 160DEM | 60DEM | 20DEM |
| Q | 80DEM | 50DEM | 20DEM |
| J | 40DEM | 30DEM | 20DEM |
RTP and Volatility
Mancala themselves rate it as 4 out of 5 for volatility with an 11% hit frequency, which is fairly low. I guess you just have to think of yourself in amongst mile of desert with a digger – most places you dig you wont find much but occasionally you simply will strike black gold and it will be immense. With a 95% volatility rate and 11% hit frequency, the wins a less frequent but when they come around, they are bigger than average.
Features
Wild Symbols
These symbols appear in the base game and have x2, x3 variants to multiple the win amount.
Jackpot Game
A spin resulting in 6 or more special symbols appearing will enter you into the jackpot game (or you can purchase entry at any point). Initially you do the first spin which will grant you oil barrel symbols with win amount on – this will determine the amount of respins you get, enables the opportunity to build up a bigger pile of oil barrels and of course winnings.

Mobile Compatibility
Plays absolutely fine on a mobile device, with HTML5 and JS technology allowing smooth gameplay wherever you are.
Conclusion
Its a fairly standard game format, but players do feel enticed by the riches that the oil field theme evokes. Its easy to understand and the multiplier wild features give you more player opportunity.
Slot Stats
| | |
| --- | --- |
| Software | Mancala Gaming |
| Release Date | 30th August 2023 |
| Reels | 5 |
| Rows | 3 |
| Paylines | 20 |
| RTP | 95% |
Other Slots From Mancala Gaming