Ancient Egyptian civilization lasted for over three thousand years, and ruling over this great civilization were their Gods. But their reign was not peaceful.
Since the dawn of time immemorial, the Egyptian Gods had battled for supremacy over the desert kingdom and its people.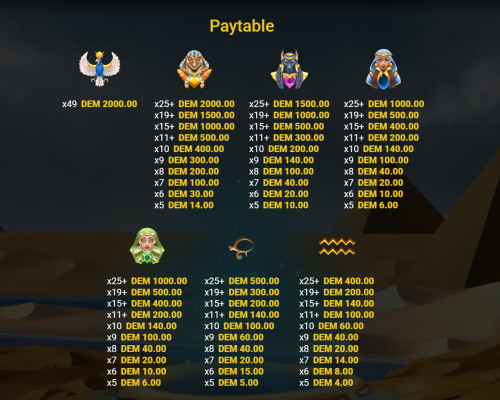 One such battle was between Seth and Horus over who should succeed Osiris as King of Egypt.
Seth vs Horus is a 7 by 7 video slot from Mancala Gaming with a very interesting cluster pays mechanic.
While most video slots you are trying to hit various paylines, with Seth vs Horus any bunched-together grouping of five symbols will do.
Symbol Elimination
After you hit a cluster payout, all of those symbols are erased from the game board. This causes the symbols above them to fall down, and new symbols are added to the game board to fill in the gap, potentially leading to additional payouts.
Scatter Symbol
Three or more Scatter symbols trigger seven free spins. Scatters also turn into Wilds, giving you additional chances of hitting a cluster.
Gods Feature
Each God has two symbols, representative of the forces loyal to them. Seth's symbols are silver, whereas Horus's are gold. The Gods Feature is invoked after both of the symbols of one God are eliminated.
Seth's feature causes one of Horus's symbols to transform into his own lowest value symbol and then expand in both directions.
Horus's feature selects one of the major symbols and causes it to expand once for sure, and twice if it has room.
Seth And Horus In Egyptian Mythology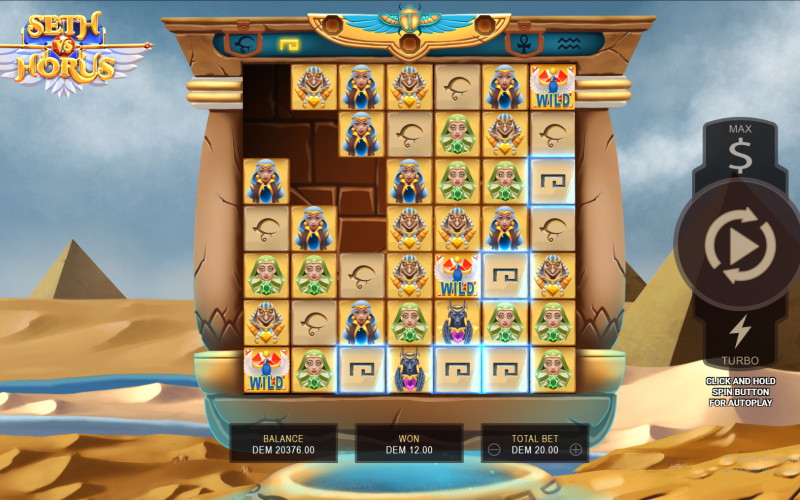 In Egyptian mythology, Seth was a god of deserts and storms. Depicted as a dog like four-legged creature not found in nature, he was the son of Geb and brother to Osiris and Isis.
Horus was the god of the sky and was drawn as a falcon. The son of Isis and Osiris, Horus was tasked with protecting the people of Egypt against Seth's illegitimate claim to the throne.
Ultimately, after much conflict, Horus prevailed and ascended to the throne, whereas Seth was relegated to ruling the desert.
Conclusion
Seth vs Horus is definitely an interesting video slot. It has some real strengths. The cluster mechanic for payouts is quite interesting, as well as the disappearing symbols which adds a bit of suspense to your spins.
The theme is absolutely magnificent. The battle between Horus and Seth is such an iconic part of Egyptian mythology and really a fascinating look into Egyptian culture and the social mores of that era.
The musical score is great, very intense, and the design work is all well done. The background setting of the pyramids and the desert looks great and is obviously very appropriate to the theme.
The gameplay is excellent also, between the Gods feature, the bonus game, and the cluster mechanic there are a lot of really interesting ideas that keep this game fresh.
Everything considered, this is a really great new slot that sets the bar high and should have fairly broad appeal, although fans of Egyptian mythology will probably find it particularly enjoyable.
Slot Stats
| | |
| --- | --- |
| Software | Mancala Gaming |
| Release Date | 30th June 2022 |
| Reels | 7 |
| Rows | 7 |
| Paylines | Cluster Mechanic |
| RTP | 95% |
Other Slots From Mancala Gaming