If you loved the original Riot, then you will be sure to enjoy Riot 2, Mascot Gaming's latest game is set in a dystopian future filled with rundown buildings and anarchists running amuck. Riot 2 is a 6×4 average volatility slot with an RTP of 95.38% and 25 fixed paylines.
The highest value symbol is the old guy with a white beard, followed by the hat and goggles.  After those two comes the girl, the young guy with his face exposed, the young guy with his face covered, and the mask with the teeth.
There are two wilds, Bomberman and Firestarter, and two scatter symbols, the stick of dynamite and the can of oil. One more thing, this game has a "rockfall" feature, so every time you hit a payout, those symbols disappear and new ones fall down, giving you more chances to win.
Two Free Spin Features
Any time you get four or more dynamite icons on the screen, they explode and turn into Bomberman wilds. They also contribute to the blow accumulation trigger.
Four or more oil symbols turn into Firestarter wilds and contribute toward the burn accumulation trigger. There is a sort of tug of war going on between burn and blow accumulations. At the bottom of the screen, there is an oil symbol. It starts off in the middle, and then either heads towards the burn free spins, if you get dynamite icons, or the blow free spins, if you get oil icons.
Once it gets to either destination you get free spins, but they are on opposite sides so any progress you make towards one will undo progress towards the other.
Burn Baby Burn
During the burn free spin games, you start to accumulate oil barrels. Oil barrels stick around between spins until you get an entire reel filled with them.
At that point, they turn into Firestarter wilds and usually you get a massive combo. But until that happens they aren't really doing anything just taking up space. And if that never happens then they end up being useless.
But when it does happen, it is spectacular, especially because you usually have a whole screen filled with wilds at that point and you are just comboing all over the place.
Blown Away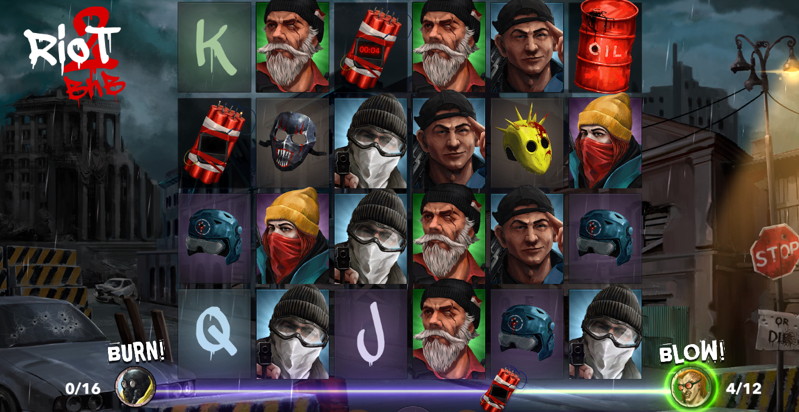 During the blow free spin games, you start to accumulate dynamite sticks with countdowns going up to five. Once you get four of them, they blow up, and each stick of dynamite duplicates itself by its countdown value. Then, all the dynamite sticks turn into Bomberman wilds.
Another interesting feature of this game is if you don't want to wait patiently for your free spins, you can actually buy them outright. The cost varies proportionally to how much you are betting.
Post-Apopocalytpic Chaos
The theme of this slot is a world without order, where violent radicals run amuck, blowing things up. What caused the disintegration of society into a failed state? What did we do to deserve such a harsh and unforgiving world? Nobody knows.
This is definitely one of the cooler themes we have seen for a video slot. Who doesn't like imagining a dystopian future?
And really, behind the thin veneer of civilization in which we like to shroud ourselves, we're not so far removed from the barbarism of our not so distant path.
Conclusion
Riot 2 is a really fun slot to play. Aside from the great theme, it has cool bonus round features, and the rock fall aspect of the game is great. The symbols are well designed and the overall feel of the graphics and sound are very immersive.
It's fresh, new, and bold. Definitely a very fine slot.
Slot Stats
| | |
| --- | --- |
| Software | Mascot Gaming |
| Release Date | 1st June 2022 |
| Reels | 6 |
| Rows | 4 |
| Paylines | 25 |
| RTP | 95.38% |
Other Slots From Mascot Gaming