Let's take an interstellar trip to a far away star with Across The Universe, a space themed video slot from Mascot Gaming. This medium volatility 5×4 slot has 20 fixed paylines, an RTP of 94.9%, and some bonus features that are truly out of this world.
An Intergalactic Theme
Across The Universe is set in the vastness of the cosmos. In fact, from the way that stars are zipping past us in the background, it looks like we're on board a spaceship hurtling through the great unknown faster than the speed of light.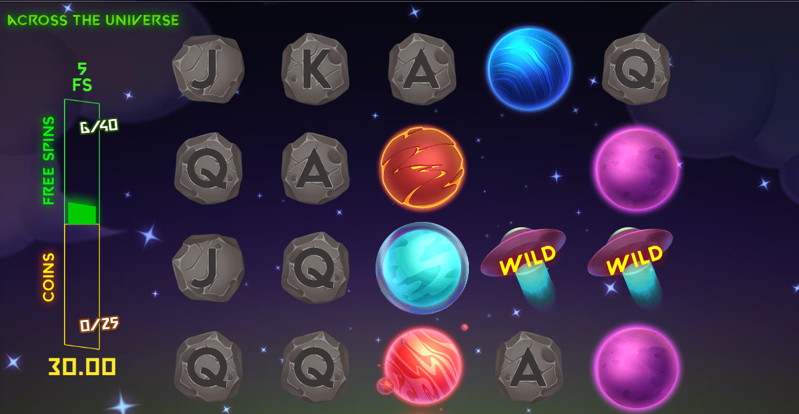 Perhaps someday, man too will explore the universe, even if we haven't yet made it further than the moon, but in the meantime, we'll have to settle for getting our intergalactic riches through playing Across the Universe. It's easier than mining asteroids anyway.
High Valued Planets
The symbols with the biggest payouts are the various planets. None of them look particularly habitable, but they rank from most valuable to least starting with the mahogany lava planet, followed by the turquoise world. After that comes red, purple, and blue, as well as the assorted card value asteroids.
The flying saucer is wild, and can substitute for any normal symbol. The spaceship is a scatter and after forty of them come out (in total, not at the same time), you trigger the free spins game.
There is also a bonus symbol, and after 25 of those come out (in total again) it pays a bonus prize. Note that the number of free spins and bonus prize payout are both variable and fluctuate with every spin.
Conclusion
Across the Universe is a pretty good slot with some neat features and a great theme. One nice thing about this slot is you have a pretty good idea when your free spins are about to accumulate, whereas with other games it all just comes down to random chance.
At the same time, there is an element of variance because you never know how many free spins or how big a bonus payout you will get.
The graphical effects are sweet, and the music is pretty well suited to the game. This slot is definitely worth exploring.
Slot Stats
| | |
| --- | --- |
| Software | Mascot Gaming |
| Release Date | 22nd March 2022 |
| Reels | 5 |
| Rows | 4 |
| Paylines | 20 |
| RTP | 94.9% |
Other Slots From Mascot Gaming