What not to love about a cigar smoking cheeky shark standing on his tail spinning his slots to make you rich hey? Put down your pina colada and take a look at this totally tropical and zany multi ways win game where anything goes. The sharp fella gives a pirate like laugh when symbols fall in your favour for wins. The most hilarious feature that you don't see often is the graphics coming out and pretending to tap the screen – why of course the character in this game will do that!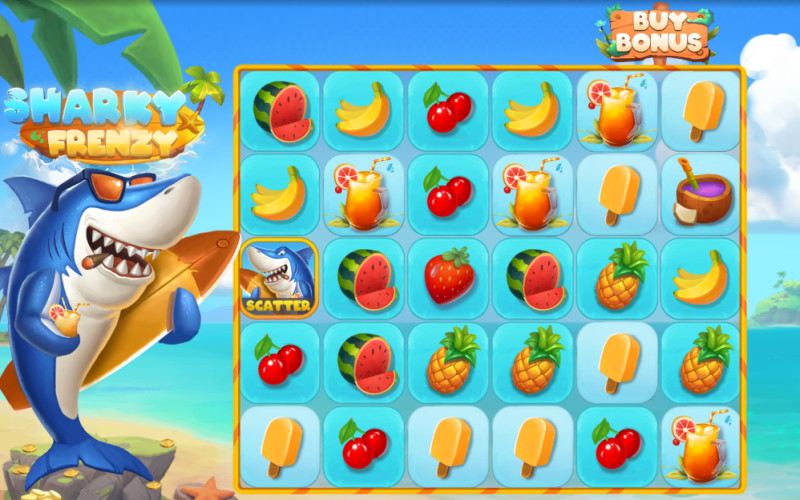 Theme and Graphics
Having already told you about Sharky himself, you will be delighted to smell the coconut breeze as you play this game. The background animation is of a tropical far away island, with the sounds of the sea gentle lapping on the beach, palm trees gentle moving in the breeze.
The music has a hint of steel pans and cheeky melodies that fit perfectly with  Sharkys interactions throughout the game.
The symbols are going to transport you to feeling like you are on holiday with coconut drinks, watermelon slices and ice creams. Coupled with more traditional symbols such as cherries and bananas, this really mixes traditional with sunshine.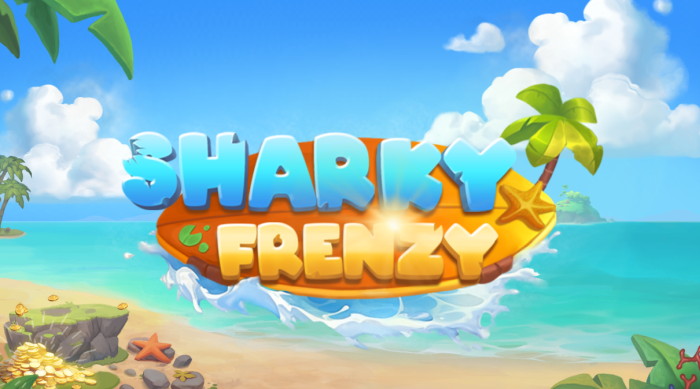 How To Play
This game isn't rocket science to work out and with the scatter  / avalanche / cascade concept, you basically need 8 or more of the same symbol to appear for a win. Simply choose your bet amount and press the spin button.
There is a bonus buy game which really is quite fun, Sharky gets on his surf board, the music is pumped up faster and the bonus game takes you through many more spins to watch treasure chests open up offering more win symbols.
Symbols and Payouts
The Maximum win per line is 500.
| Symbol | X12 | X10 | X8 |
| --- | --- | --- | --- |
| Sangria Jug | 500 | 250 | 100 |
| Coconut Cocktail | 500 | 100 | 25 |
| Ice Cream | 150 | 50 | 20 |
| Ice Lolly | 120 | 20 | 15 |
| Cherry | 100 | 15 | 10 |
| Pineapple | 80 | 12 | 8 |
| Watermelon | 50 | 10 | 5 |
RTP and Volatility
With the type of game it is and its cascading symbols, there is a real unpredictability to it, which makes it all the more engaging and of course gives it a high volatility. But the types of players to enjy these games are probably happier with this uncertainty because when that win does come along its going to be pretty good. With an RTP of 95% its as you would expect for most of these types of games.
Features

Scatter Symbol
Sharky himself features on the scatter symbols. If four or more of these symbols appear, you get corresponding free spins in the bonus game. Starting with 10 free spins if you get 4 up to 20 free spins if 6 appear.
Multiplier Symbols
When an avalanche effect is triggered from a spin in the bonus game, the multiplier win value will also increase – multiplier your win amount
Mystery Treasure Boxes
These treasure boxes only appear in the bonus game. They appear from the initial spin, not a cascading spin. They contain random additional prizes such as more multipliers, free spins and wilds that can switch over other symbols to match it.
Buy in Bonus Game
For an increased bet amount, you can buy into the bonus game to enjoy the above features.
Conclusion
Sharky Frenzy really is the Sharks knees! Its great fun, energetic and cheeky. Its actually really easy to follow and the bonus features really do entice you to have a go at the bonus game. The high volatility might put some players off, but if you are keen holiday maker, imagining yourself on a tropical island and you love sharks – what's not to love.
Slot Stats
| | |
| --- | --- |
| Software | Mancala Gaming |
| Release Date | 16th August 2023 |
| Reels | 6 |
| Rows | 5 |
| Paylines | Various |
| RTP | 96% |
Other Slots From Mancala Gaming