Return to the times of the ancient Aztec empire, when the great Montezuma ruled a mighty empire stretching from what is now known as central Mexico all the way down to Guatemala. Zuma Riches is a 5×3 video slot, with 50 fixed paylines and an RTP of 94.66%.
Legend has it, that when the Spanish conquistadors raided Mexico City looking for gold, Aztec warriors buried it to keep it safe. Will you be the one to strike it rich and find the legendary hidden gold?
Valuable Symbols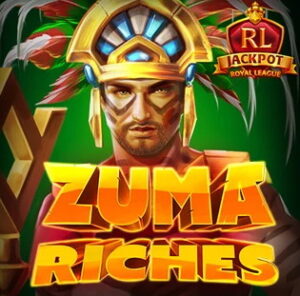 The most valuable symbols in this game are the three animals, then the pretty Aztec princesses, followed by A, K, Q, and J. Aside from the base symbols, you have Montezuma himself, who is a scatter symbol which pays off 500:1 if you manage to hit all five of him. But you don't have to hit all five, scatters pay off if you just get three or four also.
There is also a green and gold mask wild which can substitute for any symbol except for the scatter. There is also a Zuma Riches bonus that appears only on reels 1 and 5, and if you get both of them you trigger the bonus game. The bonus game begins with a cash payout.
You then select from one of six coins. Either you get a multiplier, in which case your cash prize becomes that much larger, or you get a collect and the game is over.
Royal League and Golden Spins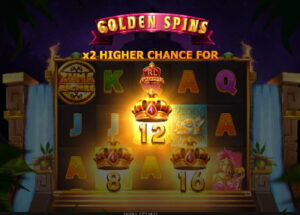 Another feature of this game is the royal league. The royal league triggers randomly, without warning. Once you enter Royal League, you are presented with a 7×7 grid and prompted to roll the dice.
Depending on where you land, you will get either a 10x, 100x, 1000x, or 10,000x payout on your original bet. Finally, during the base game, you can also accumulate tokens. Collect 100 tokens, and you trigger the golden spins. Golden spins aren't free, but they do double your chances of entering Royal League.
Zuma Riches is a pretty decent slot. The theme is really cool, set in the ancient Aztec empire. The graphics are decent, nothing really out of the ordinary but well designed and well implemented. The background setting is nice too.
There isn't really one factor that makes this slot stand out as being way better than any other video slot designed in 2021, but it is still a fine game, and the bonus round feature is kind of cool.
Slot Stats
Other Slots From Gong Gaming Technologies