Join us on a swashbuckling adventure and search for great riches, with Book of Raider, one of the newest slots from Gong Gaming. This 5×3 video slot has 10 fixed paylines, an RTP of 95.72%, and high volatility.
An Adventure Theme
Book of Raider is reminiscent of an adventurer searching an ancient Egyptian tomb. The symbols are all there, you've got (in order of least valuable to most) a jewelled eagle, Anubis, the princess, and the daring explorer. Then of lesser value are the A, K, Q, J, and T symbols.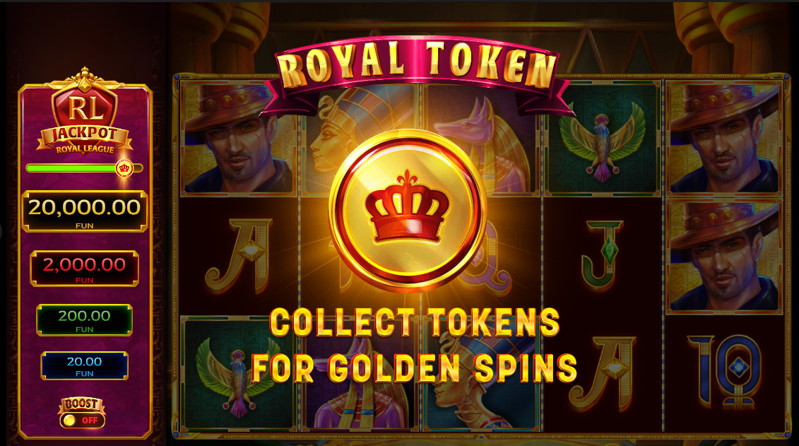 Books are both wilds, but can also trigger free spins if you get three or more. And you can also continue to trigger free spins during the free spin games, to really rack up the wins.
During the free spin game, one of the symbols will be picked at random to expand. The way that it works is, that if that symbol can trigger a win by expanding along a payline, it will.
Royal League and Golden Spins
Another interesting feature of this slot is the royal league minigame. Royal league can trigger at any time. During royal league, you roll two dice, one for direction and one for the number of steps, and then depending on where you land you get a prize.
As for the golden spins, they slowly accumulate every time you get a token. After you collect 100 tokens you trigger the golden spins. Golden spins occur in amounts of either 8, 12, or 16, and also have an increased chance of triggering royal league.
Also, if you really want to get to royal league, you can trigger 'boost mode'. For just the small cost of playing 2x your bet, you can increase your chances of triggering royal league by 10x.
Conclusion
Book of Raider is a decent little video slot. Between the free spins, golden spins, and royal league, it has reasonable gameplay and bonus features. The theme is a lot of fun too. Just imagine, exploring an ancient tomb, looking for artefacts from millennia gone by, and watching out for deadly traps.
Sure beats watching tv. The graphics and graphical effects are smooth and the soundtrack suits the game pretty well. All in all a job well done from Gong Gaming.
Slot Stats
Other Slots From Gong Gaming Technologies