Apache Way is a high volatility slot from Red Tiger Gaming that was released on July 7th, 2022. It is set in North America during the time of the Apache tribe, when Native Americans lived in peace and harmony with nature and communed with animals. Can you listen to the spirits of your ancestors and allow them to lead you on a quest for great fortune and spiritual enlightenment?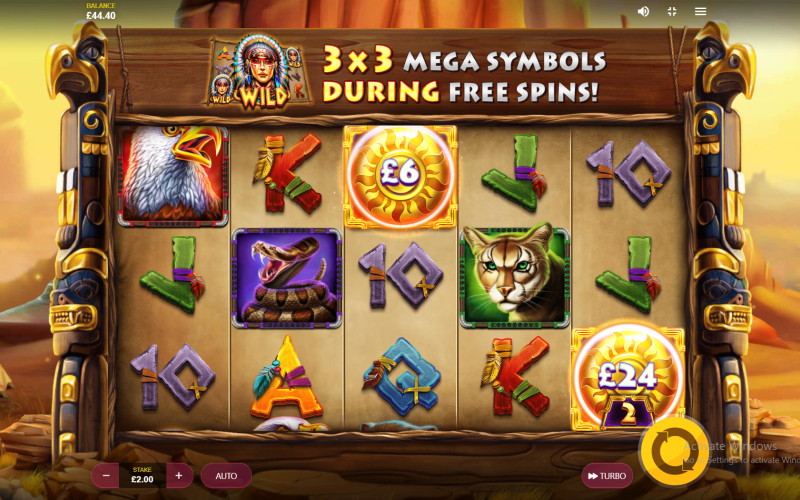 Animal Symbols
The Apache people revered animals and strived to be respectful of nature, taking only what they needed to survive. Many animals were considered sacred in indigenous belief systems and were embodied with human characteristics. The eagle was considered one of the most sacred of all animals, because he would soar in the sky, delivering messages to and from the creator. The bear was also revered, as he represented authority, strength, and bravery.
Note that the values below are win multipliers not against your total bet but against what was bet on each payline. So in a game with 20 paylines, your win would be your total bet / 20 * the multiplier below.
| | x3 | x4 | x5 |
| --- | --- | --- | --- |
| Eagle | 25 | 250 | 500 |
| Bear | 20 | 150 | 400 |
| Coyote | 15 | 100 | 300 |
| Snake | 10 | 50 | 200 |
| A | 7.5 | 30 | 62.5 |
| K | 5 | 20 | 50 |
| Q | 5 | 15 | 37.5 |
| J | 2.5 | 10 | 25 |
| T | 2.5 | 7.5 | 15 |
In addition to these symbols, there is an Apache Wild, which can substitute for any symbol.
The Ritual of the Sun
The sun played a very important part in Native belief systems, as it represented healing, peace, and life. Six or more sun symbols will trigger the 'Ritual of the Sun'. In this mini game, you start with three respins, and there are only sun symbols. With each spin, you either get a new sun symbol, you don't. After three spins without any new sun symbols, the mini game is over.
Once the mini game is over, the values of all the sun symbols are tallied up, multiplied against your bet, and then you receive that payout.
Free Spins
Three or more FREE SPINS scatters trigger the free spins rounds. You start off with five free spins, and the 2nd, 3rd, and 4th reel are all combined into one massive symbol. This makes it way easier to hit winning combinations, because all you have to do is match the middle giant symbol with one of symbols on the first reel and you will hit a bunch of paylines guaranteed. The mega symbol can also be a FREE SPINS scatter, in which case you will get another three free spins.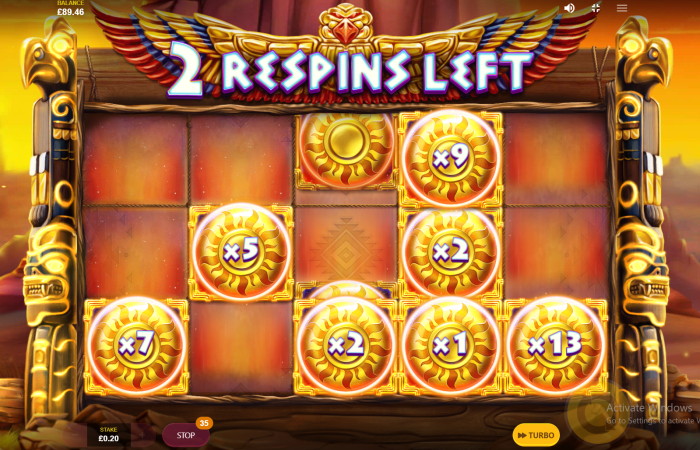 Conclusion
Overall we were quite impressed with the Apache Way video slot. There were a few things that stood out as being especially well done. The graphics are clean and crisp, and the exaggerated mouths on the animals like they are just about to take a bite out of you is a nice touch. The background scenery is pretty well done too, and it is cool how it comes in both night and day.
The gameplay is pretty good. We really enjoyed the mega symbol that you find in the free spins because it makes it really easy to hit a bunch of combos at the same time. And the Ritual of the Sun minigame is a nice bonus as well.
Another good point about this game is the theme. Indigenous culture and spiritual beliefs are an interesting topic. Every society has had their own mythos surrounding creation and it is fascinating to explore the different ideas that people had about the world during different points in history. There are many commendable things about the way that the native people lived in North America before European colonization.
When you take into account the quality gameplay, excellent graphic design, and interesting theme, there is no question that this is an extremely well made video slot.
Slot Stats
| | |
| --- | --- |
| Software | Red Tiger |
| Release Date | 7th July 2022 |
| Reels | 5 |
| Rows | 3 |
| Paylines | 25 |
| RTP | 95.75% |
Other Slots From Red Tiger