Narcos Mexico is a 5×3 video slot from Red Tiger gaming set in the world of the criminal cartels that are so dominant in Mexican society. Because of Mexico's geographical location, with a large porous border, it is a natural destination for drug smuggling into the United States of America. The retail drug market in the US accounts for about 50% of the global drug trade.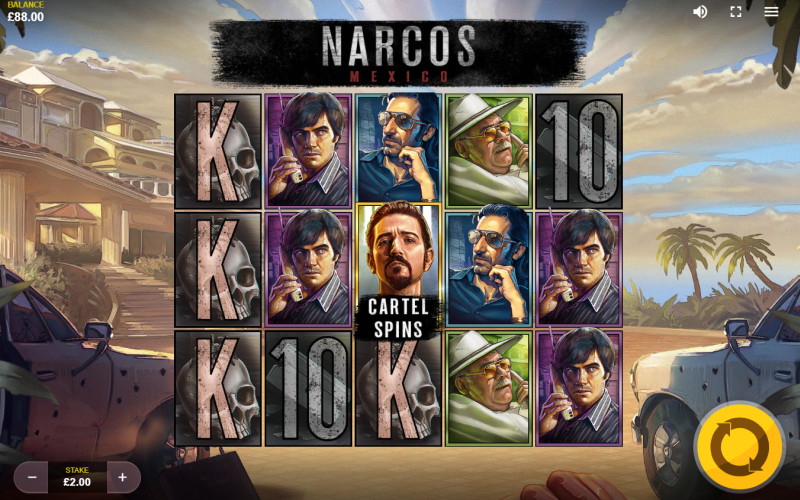 While Mexico had long been a source of illegal drugs being imported into the United States, the first modern Mexican cartel was based out of Guadalajara and was established in the 1980s.
Symbols of Crime
| | 3 | 4 | 5 |
| --- | --- | --- | --- |
| Purple Criminal | 1 | 2.5 | 5 |
| Blue Criminal | 0.8 | 1.5 | 3 |
| Green Criminal | 0.6 | 1.2 | 2.5 |
| Orange Criminal | 0.5 | 1 | 2 |
| A | 0.3 | 0.5 | 1 |
| K | 0.2 | 0.4 | 0.8 |
| Q | 0.2 | 0.3 | 0.6 |
| J | 0.1 | 0.3 | 0.5 |
| T | 0.1 | 0.2 | 0.4 |
Airdrop Wilds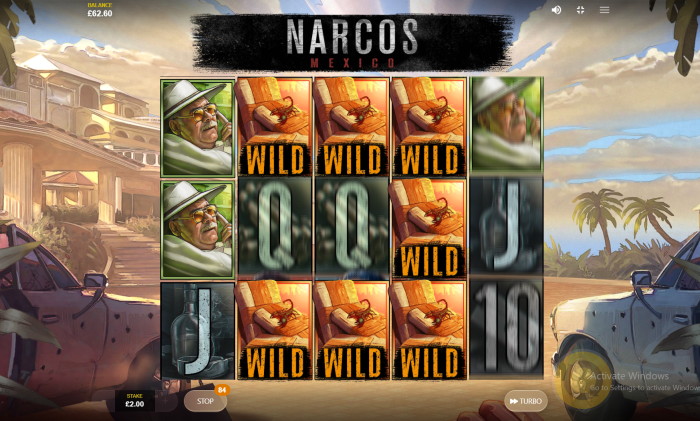 At any time a call to "drop the supply" can be made during the base game. This leads to a cluster of wilds showing up, making it a lot easier to hit some combos. Unfortunately these wilds only last for a single round. Air drops are one way that drug smugglers try to export narcotics into the United States. They use ultralight planes with only a few gallons of gas in the tank and a range of just 30-40 miles.
Risk it All
Do you have the cajones to risk it all? After a particularly big spin, you can press your luck, going double for nothing. After a win of between 30-100x your bet, you can take a spin. If you win, you get three cartel spins. If you lose, then you lose your jackpot. After a win of more than 100x your bet, you can trade it straight up for three cartel spins, while collecting any amount in excess of the 100x winnings as well.
Cartel Spins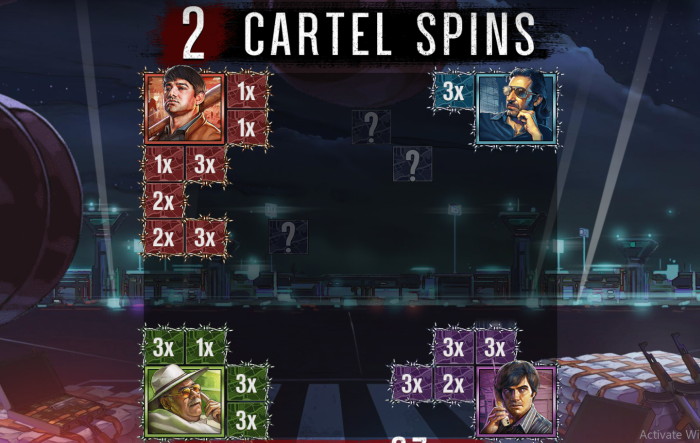 Three Cartel Spins Scatters trigger the Cartel Spins minigame. You start off with three spins. Each spin either adds another box, in which case the spin counter resets to three, or you get nothing, in which case you lose a spin. Once you use up all your spins without getting a box on any of them, the game ends, and you are awarded the total value of all the boxes added up multiplied against your bet amount.
During the Cartel Spins the various bosses will battle for turf, with mystery symbols appearing near their territory and going to the boss with the larger organization.
There are also a couple of cool special features that can occur during the Cartel Spins. The first is 'Call The Plane'. When the plane lands adjacent to a drug lord's territory, then it increases all the multipliers of that cartel.
The other feature is the phone. When it lands next to one of the boss's area, then it doubles all the multipliers that are beside it.
Double The Supply
Another neat aspect of this slot is the 'double the supply' feature. Randomly after a win a cartel boss can show up and order the supply doubled, meaning your win gets doubled.
Conclusion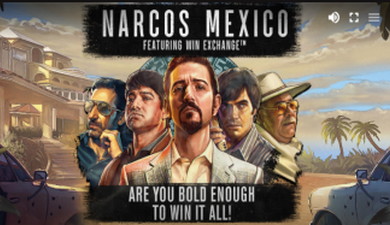 Even if you don't want to move to Mexico and join up with one of the cartels, you can have a fun time pretending to be a cartel boss with Narcos Mexico the video slot. Plus this way you are significantly less likely to get shot by a rival or arrested by el policia.
Narcos Mexico is a tremendous video slot. The depth of creativity and talent that went into designing this game is incredible. All of the artwork and design is just superb and it is such an interesting theme to base a game on. The romanticization of criminal organizations and outlaws is something that has been going on since time immemorial but at the same time we should recognize the harm done by their activities.
All in all, this is a very good game. The gameplay is excellent, there are a lot of cool features and different winning possibilities, the graphical effects and art work are just top of the line, and you can tell that they put a tremendous amount of work into this product. We highly recommend this slot.
Slot Stats
| | |
| --- | --- |
| Software | Red Tiger |
| Release Date | 24th March 2022 |
| Reels | 5 |
| Rows | 3 |
| Paylines | 243 |
| RTP | 95.7% |
Other Slots From Red Tiger