Clover Bonanza is a 6×5 video slot from B Gaming with a hybrid leprechaun-fruit theme and some tasty pot of gold jackpots. This game features refilling reels, free spin bonus rounds with a special multiplier symbol, and the ability to buy your way directly to the bonus round.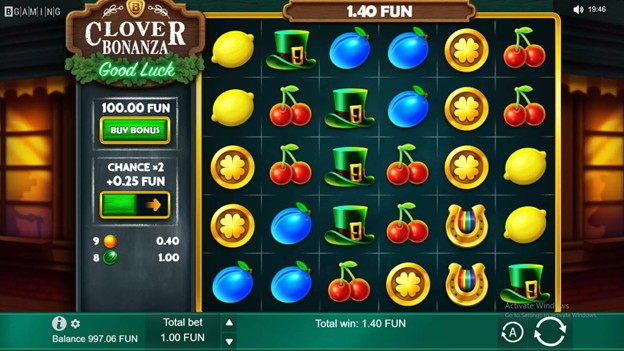 Symbols
| | 8-9 | 10-11 | 12+ |
| --- | --- | --- | --- |
| Golden Horseshoe | 10 | 25 | 50 |
| Leprechaun Hat | 2.5 | 10 | 25 |
| Diamond | 2 | 5 | 15 |
| Golden Clover | 1.5 | 2 | 12 |
| Watermelon | 1 | 1.5 | 10 |
| Blueberry | 0.8 | 1.2 | 8 |
| Lemon | 0.5 | 1 | 5 |
| Orange | 0.4 | 0.9 | 4 |
| Cherries | 0.25 | 0.75 | 2 |
Unlike most games, where you need symbols to appear on specific paylines in order to win, with Clover Bonanza the only thing that matters is how many symbols show up on the board.
In addition to these basic symbols, there is also a coloured four leaf golden clover scatter. Four scatters trigger free spins.
Free Spins
Four or more scatter symbols trigger free spins. The number of spins depends on the number of scatters:
Four scatters gives you 10 free spins
Five scatters gives you 20 free spins
Six scatters gives you 30 free spins
Three or more scatters during the free spin rounds gives you an additional five more spins
Another aspect of the free spin rounds is the pot of gold multiplier wild seen above. This symbol is only around during the free spins round. The way that the multiplier works is once the tumbling effect is over, the total win is multiplied by the sum of all the multipliers and you are awarded the result.
Bonus Buy and 2x Chance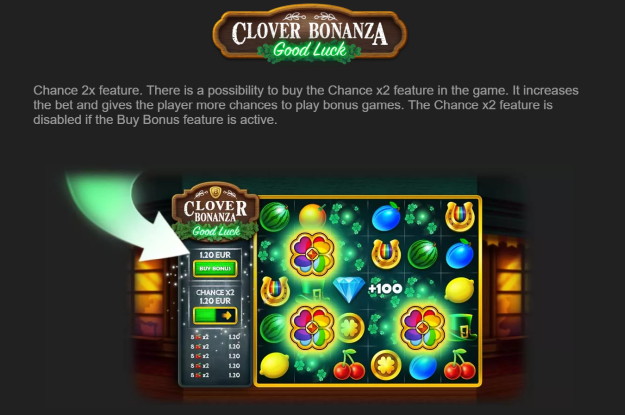 Another aspect of this game is that if you want you can buy your way directly to the free spin round. The cost is one hundred times your bet, so it definitely isn't cheap, but it is an option if you want to experience what the free spin rounds are like or just want to gamble it up.
There is also a 2x Chance option, where you increase your bet by a bit and have a greater probability to win free spins.
Hybrid Leprechaun and Fruit Theme
This game is a little all over the place when it comes to the theme. You've got the high value symbols which are all classic leprechaun items, aside from the diamond which doesn't really fit in with the others. Then you have fruit. Maybe the leprechauns are vegetarian and that's all they eat. Which does kind of make sense, with them being quasi magical beings and everything.
Refilling Reels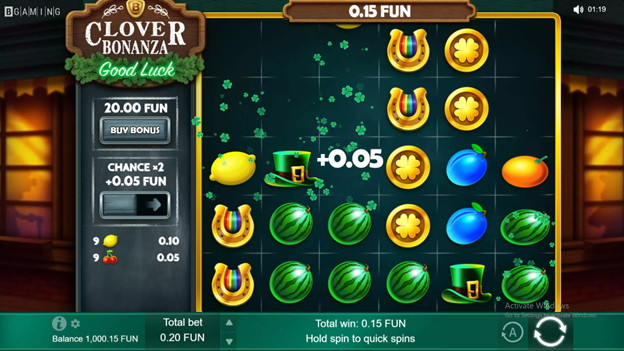 Every time you hit a winning combination, the symbols in it disappear, and are replaced by whatever is on top, plus new symbols that fall down from above the game screen. These new symbols can trigger additional winning combinations, which in turn will cause the reels to refill again, allowing you to potentially stack win after win. There is no maximum number of times that the reels can be refilled so long as you keep hitting winning combinations. Once the refilling process is complete, the wins are all talied and paid out to the player.
Conclusion
Clover Bonanza was an okay slot. There were some definite plusses to it. One thing that we really liked was how it was based on the number of symbols you hit instead of having to hit particular paylines. This was a nice change from the standard 5×3 video slots that we normally see, so it is nice to see some innovation in that area. But there were some issues with this game as well.
The graphics are only so-so. Let's face it, the casino online software development world is highly competitive, and run of the mill just isn't going to cut it. Modern video slots have cool graphical effects, well designed symbols, and crisp clean imagery. Clover bonanza was a little underwhelming. And there really wasn't much attempt at a story either. A good video slot should tell a narrative. There should be conflict, and hints of a back story, if not outright lore.
As for the gameplay mechanics, the bonus round multiplier was a nice touch. There are definitely some strong points to this game. But frankly, we feel that the developers could have done a slightly better job.
Slot Stats
| | |
| --- | --- |
| Software | BGaming |
| Release Date | 3rd March 2022 |
| Reels | 6 |
| Rows | 5 |
| Paylines | N/A |
| RTP | 96% |