This match-3 game from Skillzz Gaming is like, totally far out man. Chase after peace, serenity, and some groovy jackpots in this totally radical game.
Hippie Days is played on a 5×5 game field, where you blast groups of classic hippie symbols like the peace, dove, flower, hand peace, and heart, causing those blocks to be removed and new blocks to fall down from the sky.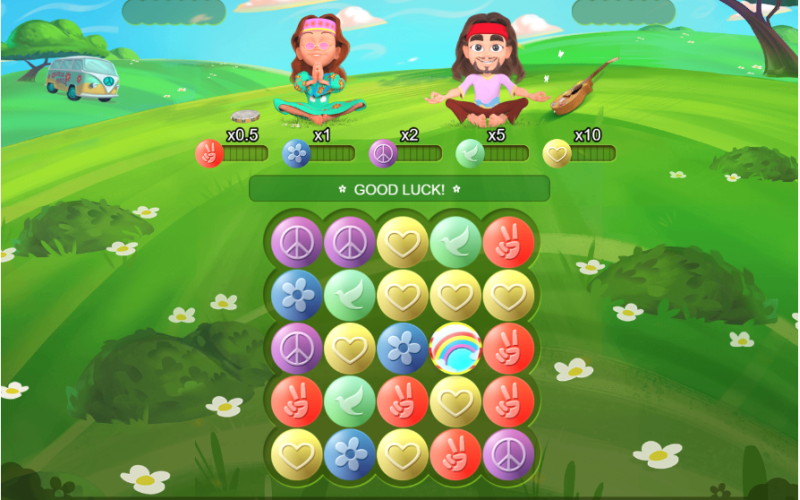 Blast enough of a particular symbol and you get a cash prize. Different symbols are worth different amounts, with the heart being the most valuable. Hippie Days has an RTP of 95.10%.
Theme
The theme is flower power. Hippies arose as a reaction to the war in Vietnam and a reaction against materialism and modern society. They embraced free love and wanton drug use and rejected hierarchal structures and authoritarianism.
The essence of the hippie movement can be expressed by Timothy Leary's famous phrase "Turn on, tune in, and drop out".
Bonus Features
This game has three bonus features. The first is Rainbow Free Games. Rainbow free games are awarded if you blast seven or more rainbow tiles during the normal game. During your bonus games, you can win additional bonus games by blasting tambourine tiles.
The second bonus feature is Harmony Free Games. If you destroy seven or more bonus of Eco's guitar tiles during the normal game, you get five Harmony Free Games. You can also win multipliers during the Harmony Free Games, which multiply your total win.
Finally, the last bonus feature is the Flower Power Trip. Clear seven or more Summer's rainbow bonus tiles and Eco's guitar bonus tiles and you you trigger the Flower Power super bonus. Then you get to spin the wheel, and either win a cash prize, or get advanced to the next wheel where you can win even more cash. After three cash prizes have been awarded the bonus game ends.
Graphics and Gameplay
Hippie Days has a pretty good design. The light color scheme works for the game, and the graphical effects are neat. The background music is perfect for the theme, and the gameplay is relatively engrossing. The different bonus features are quite nice also.
Conclusion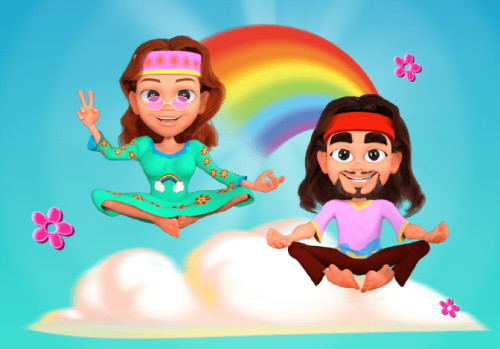 While most hippies may have rejoined society as faithful consumers and cogs in the corporate wheel, we can still fondly reminisce about a simpler time when all that mattered was peace and love.
Hippie Days is a great game. The design and graphics are quite pleasing to the eye, and there is plenty of gameplay and an awesome theme. The various bonus features are nice too. This game is definitely a winner.
Slot Stats
| | |
| --- | --- |
| Software | Skillzz Gaming |
| Release Date | 16th September 2020 |
| Reels | 5 |
| Rows | 5 |
| Paylines | Multiple |
| RTP | 95.07% |
Other Slots From Skillzz Gaming