Galactic Lines is an interesting gambling game. There is no skill play element to it, so in that sense, it is a lot like a slot but not like any slot we've ever played. The way it works is you hit play and lines start shooting out of the different intersections. Only the lines that fill the tubes are the winners, the rest are just irrelevant and disappear when it comes time to tally the winner.
The more tube filling lines of the same colour you get, the bigger your payout. You have to get a minimum of three of some colour in order to qualify, and wilds count for every colour.
Line Colours And Bonus Stars
Different colours also have different values. From highest to lowest value it goes green, blue, yellow, red, and pink.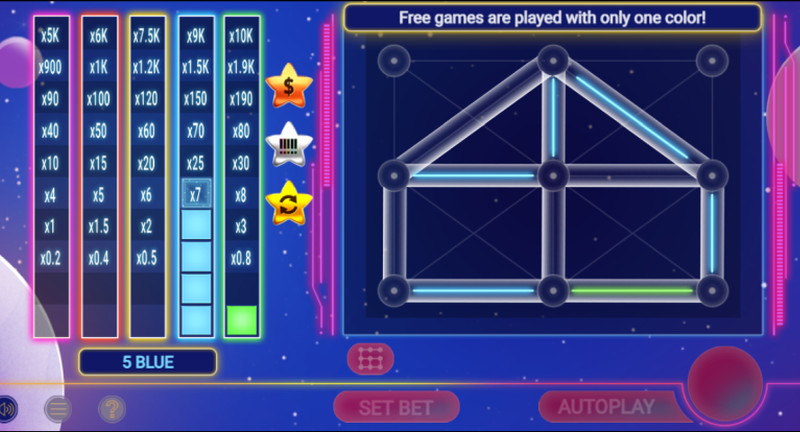 You can also get bonus stars. There are three different bonus stars. The star with the dollar sign awards a cash prize. The white star with the exclamation points is a table drop, which makes it easier to hit by high prizes, and then you have the free game star. Free games are played with only one colour, so it is a lot easier to hit a big multiplier.
Theme
The theme of this instant win game is bringing order to a disordered universe. Battling entropy. Or something like that. Anyway, it is a kind of cool and innovative idea, certainly different from any gambling game we have ever tried before.
You have to give credit to the designers for pushing the envelope. And it is entertaining. The background music is pretty chill too.
Conclusion
Overall Galactic Lines is a cool new gambling game. This "instant win" genre has a lot of potential and it is really nice to see some innovation and people developing new products for the gambling public.
When you consider the size of the online gambling economy, and how much money is being spent every year by consumers, they deserve to have new products and new developments instead of just variations on a theme.
What gamblers really want are new experiences, a way to break the tedium of everyday routine, and Galactic Lines gets full marks for creativity.
Aside from that, it is just a fun little game. Its method of calculating wins, the bonus features, the over all look and feel are all very well crafted.
Slot Stats
| | |
| --- | --- |
| Software | Skillzz Gaming |
| Release Date | 1 March 2022 |
| Reels | 10 |
| Rows | 10 |
| Paylines | 20 |
| RTP | 96.08% |
Other Slots From Skillzz Gaming