Yee-haw. Let's catch some outlaws and protect the town's folk in Lucky Bill's Bounty Blast, a match-3 gambling game from Skillzz Gaming. Played on a 5×5 grid, this game has an RTP of 95.35%.
Game Play
The object of the game is to click on groupings of three or more of the same color symbols. Once you do that, those symbols disappear and are replaced by new symbols. Each symbol you clear this way also increases the count at the top.
After seven symbols of a color are cleared, you receive an increase in the payout which is awarded once you have no more moves.
Different colors are worth more, with blue being the least valuable, followed by orange, green, teal, red, light green, purple, and yellow.
Bonus Symbols
In addition to the base symbols, there are also special symbols that pop up. These are substantially less frequent, but if you get the opportunity to blast them you can win some huge prizes. So if you blast three of the sheriff badges, then you get to hitch up a wagon and trot on down to the saloon shootout bonus round.
During the saloon shootout, you have the opportunity to catch the outlaw and be awarded his bounty. You get two six shooters, and need to start firing at bags of money. Every bag of money either awards you a free spin, or if you are really lucky, has the villain, and pays out his bounty. But every time you fire a shot, you get one fewer bullets. Each time you go to fire, you need to spin your chamber, and if you don't land on a bullet then you lose that gun. Lose both guns and the shootout is over.
After all that, you still have all the bonus rounds you accumulated to play. The bonus rounds are only played with higher value symbols, so it is easier to hit big prizes.
Theme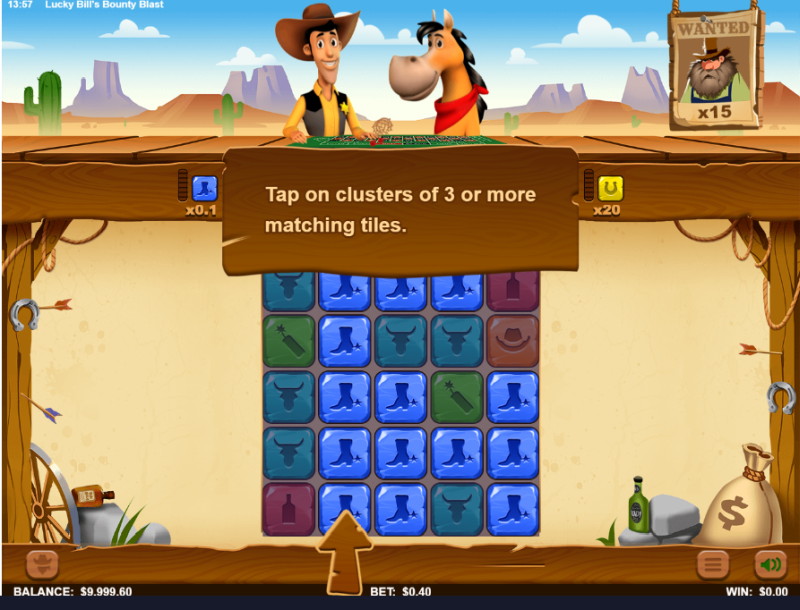 The theme of this game is the wild, wild west, where you play a sheriff with his trusty horse. You are the last bastion of order in an otherwise lawless society.
Your mission is to capture a number of renegade outlaws who have been terrorizing the fine people of your area and to earn a handsome cash reward for your trouble. So giddy-up partner, let's go catch us some bad guys.
Graphics and Gameplay

The graphics and sound in this game are reasonable, but it is the gameplay where Lucky Bill's Bounty Blast really shines. Between the puzzle style match-3 element, and the bonus rounds, this game is a lot of fun to play. Way better than a traditional online gambling game in our opinion.
Even if the gameplay is mostly for show, and your decisions don't have a substantial impact on the game's outcome, Lucky Bill's is a really enjoyable game to play.
Lucky Bill's is a great game. The theme is cool, everybody loves a good western, and the design and graphics are nice and pleasant.
The gameplay is really interactive which helps you get more invested into the game and it is a lot more interesting in our opinion than simply pulling a lever for a slot machine.
At the same time it isn't so complex as to be off putting to a new player. Definitely lots of fun and a very interesting style of game.
Slot Stats
| | |
| --- | --- |
| Software | Skillzz Gaming |
| Release Date | 16th April 2021 |
| Reels | 5 |
| Rows | 5 |
| Paylines | Match-3 |
| RTP | 95.35% |
Other Slots From Skillzz Gaming