Odin's Tree is, as of the time this review was written, the latest video slot from upstart online casino software development firm Gamebeat Studios. A 5×3 video slot which is themed after Norse mythology, Odin's tree has a number of cool features.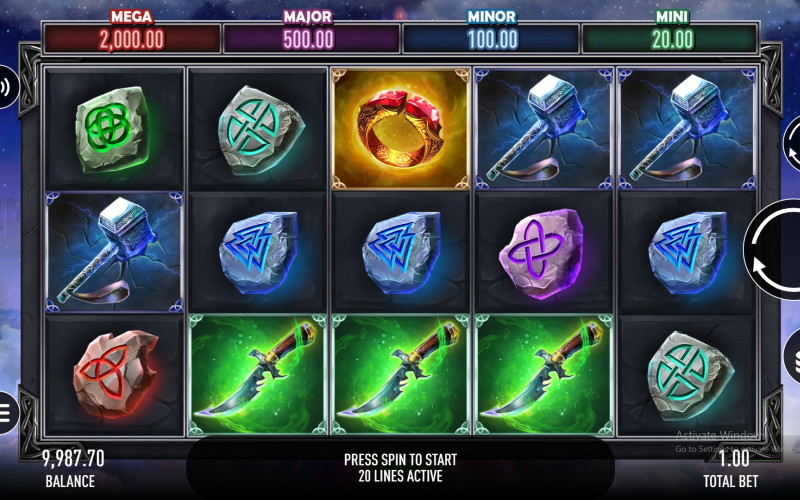 The titular Odin's Tree is a reference to Yggdrasil, the tree of existence whose branches encompass the totality of the cosmos and all the realms.
Symbols from Norse Mythology
One of the cool things about this slot is that instead of the generic A, K, Q symbols you see in a lot of video slots, all of the symbols in this game are unique. You have mystical rune stones, enchanted daggers, and what is presumably Thor's hammer. Lots of cool stuff. Here are the payout values:
| | 3x | 4x | 5x |
| --- | --- | --- | --- |
| Ring | 1 | 5 | 20 |
| Dagger | 1 | 3 | 10 |
| Hammer | 0.5 | 2 | 5 |
| Magic Box | 0.5 | 1 | 3 |
| Rune stones | 0.2 | 0.5 | 2 |
Odin, the much revered patriarch of the Norse Gods, plays the role of a wild and can substitute for any of the above symbols. There is also Odin's Tree, which is a scatter. Three https://www.eurogambling.org/wp-admin/edit-comments.phpscatters triggers free games.
Finally, there is also the sun bonus symbol. 6+ sun symbols trigger the respin feature, where you accumulate suns and then receive a payout equal to the sum of all the suns added up. This is also how the various jackpots are awarded as well. With the respin feature, you start with three respins. Any time you get an additional sun bonus symbol, the respins reset to three. If you go three consecutive spins without accumulating an additional sun symbol, then the respin minigame is over, and you receive a payout equal to all the suns tallied up multiplied against your betting level.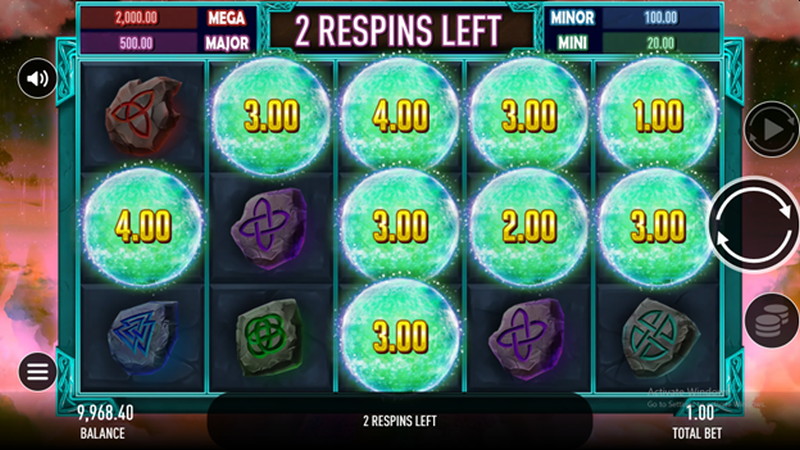 Set in Valhalla
There are nine different realms in Norse mythology, all cradled within the arms of Odin's Tree. The gods resided in Asgard, the home of the Gods, one of many realms created by Odin and his brothers. Asgard was also home to Valhalla, which was basically the Norse equivalent of heaven. Meanwhile, according to the Norse legends, humans lived in Midgard (which translates to "Middle Earth"), an island land surrounded by impassable Oceans inhabited by a serpent so big its body encircled the entire world.
Multiplier Wilds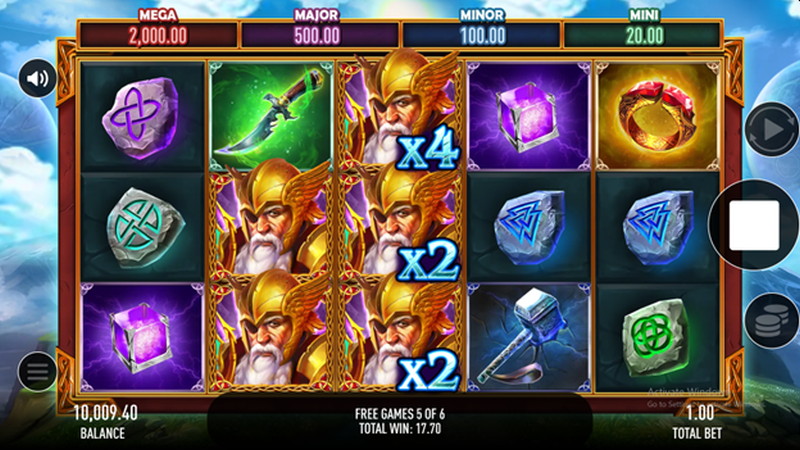 Another interesting feature of this game is that during the free spin period, wilds on reel three have a multiplier attached to them, increasing the size of your payouts substantially. You can also trigger additional free spins with three or more scatter symbols.
Conclusion
We really liked Odin's Tree. Norse mythology has always been a very interesting topic, and the recent Thor movies have brought more attention within popular culture to these ancient myths. There is something so imaginative and incredible about the Norse Gods and these stories must say a lot about viking culture.
It was cool how Gamebeat Studios used all unique symbols representative of Norse culture instead of using the generic A, K, Q, J which are all too common.The designs are really well done. Norse mythology certainly has a rich storyline from which the game creators can draw upon when it comes to crafting their narrative.
Between the free spins and the respins, as well as the potential jackpot prizes you can be awarded with the bonus symbols, there is a lot going on in this game. The special effects are neat, the colours are vibrant and sharp, in short this is simply a very high quality product. It is clear that Gamebeat Studios, though a new firm, has managed to achieve a very high level of product development with this latest offering. They are certainly coming into their own.
Whether you are interested in Norse culture and mythology, or you are just a fan of video slots in general, this is definitely a slot that you are not going to want to miss.
Slot Stats
| | |
| --- | --- |
| Software | Gamebeat Studios |
| Release Date | 1st September 2022 |
| Reels | 5 |
| Rows | 3 |
| Paylines | 20 |
| RTP | 96.34% |
Other Slots From Gamebeat Studios