Sea Secret is a video slot produced by Gamebeat Studios. Set in the mysterious nocturnal depths of the sea, this slot features all sorts of aquatic wildlife as well as some exciting treasure chests that were no doubt dropped off during an unfortunate ship wreck. With soothing background music, some very cool animations, not to mention a beautiful red haired mermaid, Sea Secret is tons of fun, just watch out for the sharks.
This slot actually reminds me somewhat of the classic movie "The Little Mermaid", which is presently being done as a live action remake. Of course in this game the mermaid never actually makes it to dry land. But as they say in the movie "Darling it's better, down where it's wetter, take it from me".
Aquatic Wildlife Symbols
| | 3x | 4x | 5x |
| --- | --- | --- | --- |
| Shark | 1 | 5 | 20 |
| Jellyfish | 1 | 3 | 10 |
| Fish | 0.5 | 2 | 5 |
| Crab | 0.5 | 1 | 3 |
| A | 0.2 | 0.5 | 2 |
| K | 0.2 | 0.5 | 2 |
| Q | 0.2 | 0.5 | 2 |
| J | 0.2 | 0.5 | 2 |
| T | 0.2 | 0.5 | 2 |
In addition to these basic symbols, there is also a treasure chest. Three or more treasure chests grant you six free games. The mermaid is a wild which can substitute for any basic symbol. There is also a bonus symbol, in the form of bubbles with multipliers. Six or more of these bubbles during will trigger additional respins, which come at a higher multiplier level during free games.
A Slot for Marine Enthusiasts
Sea Secret will definitely appeal to anyone who has a fascination with the oceans and sea life. Given that all life first came from the Ocean, and the majority of our planet is water (at least when we are talking about the surface), it is natural for people to be fascinated by the great uncharted depths. While there probably aren't any mermaids swimming about, you might be able to find some long abandoned treasure.
But you don't have to be a marine biologist to enjoy Sea Secret. It has all the makings of a great slot. Playability, versatility, and depth (pun very much intended). The background music is perfect, the graphics are crisp and clean, and the symbols are just the right balance of playful and ornate. Particularly enjoyable is the sly look given to you by the orange fish.
Respin Action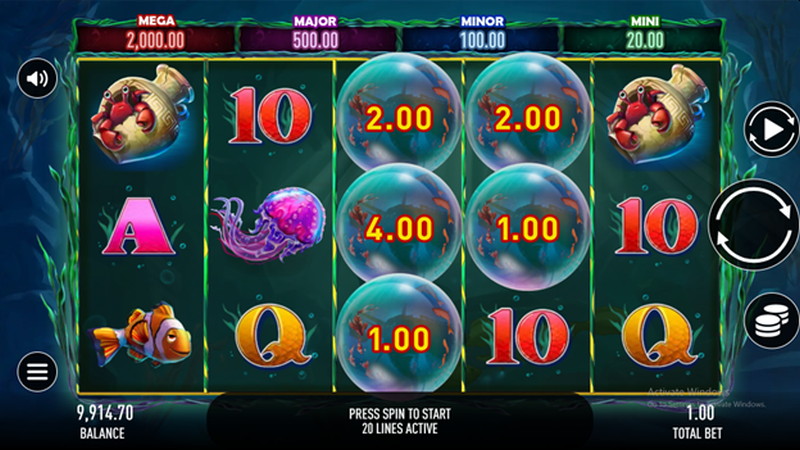 One of the cool things about this game is the respins you can trigger with the multiplier balls. Whether these are miniature aquariums or air bubbles it is hard to say, but there is definitely a teeming ecology of marine life inside each one of them.
Anyway, if you get six or more of these balls during a spin, you go into respin mode. Each ball sticks around with each respin. You start out with just three respins, but every time you get another ball it resets to the initial three again. Then, once you run out of respins, the balls are tallied up and you receive that amount multiplied against your bet. Pretty sweet huh?
There are some pretty big multipliers you can hit there too, especially in the free games mode, not to mention the potential Mini, Minor, Mega, and Jackpot prizes.
Conclusion
So overall we were very impressed by this slot. There is a decent amount of complexity to the bonus rounds and the different jackpots that you can hit. The graphics are well done, everything is nicely designed. Overall a very nice job. Now one small caveat is that they could have gone a little heavier on the mermaid theme. Where are the rest of the merfolk? Or how about the evil underwater queen? Or even the handsome price trapped on the land for which the mermaid pines?
Anyway, the designers chose to focus more on marine life, which is a fine decision as well and the symbols they chose do suit the slot just fine. But then you are left without much of a story. There is a great setting sure, but what is happening? Is everyone just chilling in their underwater kingdom? What use is a treasure chest for a crab anyway? Ultimately we are left with more questions than answers.
Still, these questions aside, it really is a great video slot, and if this is the sort of quality of work that we are going to see out of Gamebeat Studios in the future, then we have a lot of fun games to look forward to.
Slot Stats
| | |
| --- | --- |
| Software | Gamebeat Studios |
| Release Date | 15th August 2022 |
| Reels | 5 |
| Rows | 3 |
| Paylines | 20 |
| RTP | 96.34% |
Other Slots From Gamebeat Studios