Conquest Era is a video slot set during the 16th century, when Spanish conquistadors took over the New World and absconded with all of the gold. Spain managed to vanquish the conquered Aztec and Inca people with a combination of military superiority (read guns), advanced military tactics, and disease. Because the South American people had never developed any antibodies to European viruses, they were particularly susceptible to imported diseases.
One of the motivating factors for the Spanish Conquistadors (who were mostly poorer nobles), was a lust for gold. Early explorers reported that the native people of the region were quite timid, and gold was everywhere. Ironically, the Spaniards found and brought home so much gold that their country experienced disastrous inflation, a mostly unknown problem at that time.
Can you, like the Conquistadors before you, get your hands on some of this gold?
Symbols of Colonialism
| | | | |
| --- | --- | --- | --- |
| | 3x | 4x | 5x |
| Conquistador | 1 | 10 | 20 |
| Female Spaniard | 0.8 | 6 | 16 |
| Aztec Warrior | 0.6 | 4 | 12 |
| Aztec Woman | 0.4 | 2 | 8 |
| A | 0.4 | 0.8 | 2 |
| K | 0.2 | 0.8 | 2 |
| Q | 0.2 | 0.8 | 2 |
| J | 0.2 | 0.8 | 2 |
On top of these ordinary symbols, there is also a scatter which is an Aztec individual in full golden headdress. Three scatter symbols trigger five free games. Then you have the golden skull with red eyes, which is wild, and can substitute for any ordinary symbol. Finally, there is also a bonus money symbol. Six or more money symbols trigger the 'Golden Rush' feature.
Golden Rush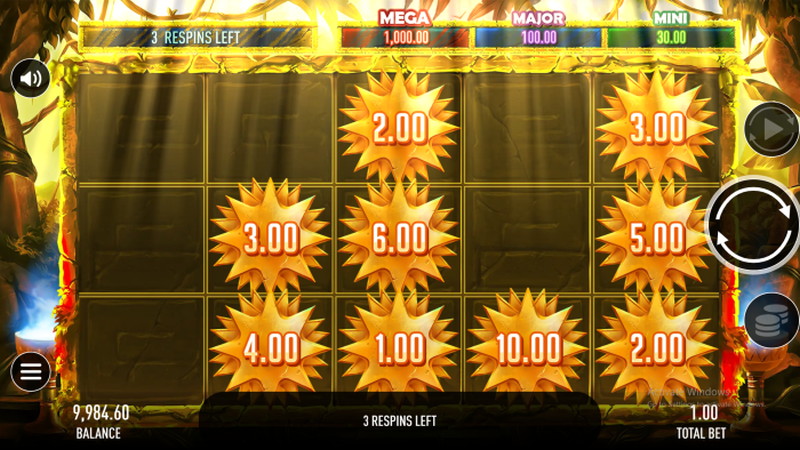 Six or more money symbols triggers the Golden Rush feature, with three respins. Unlike normal spins, where all the symbols are in play, Golden Rush is played only with money symbols. Either you hit one, in which case it accumulates and your respins are reset to three, or nothing shows up and you lose a spin. Three consecutive spins without any new money symbols and the respin feature is over. At that point, all of your money symbols are tallied up, and you win that amount multiplied against your bet. Pretty sweet right?
On top of winning multiples of your bet, you can also be awarded the various jackpots in the money symbols.
Free Spin Bonus Round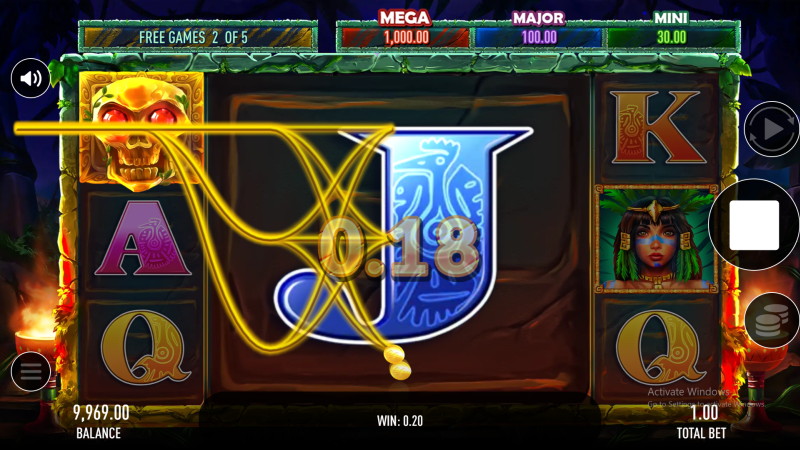 During your free spins, reels 2, 3, and 4 all spin together and return one giant symbol, making it substantially easier to form winning combinations. If the giant symbol happens to be a money symbol, then this also triggers the golden rush feature.
Conclusion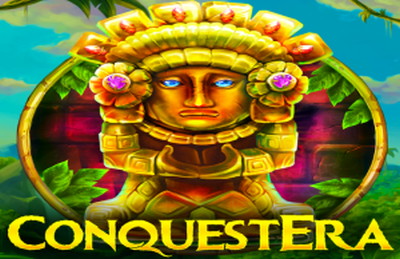 Conquest Era is a great slot. The historical theme is quite enjoyable, and very appropriate to a video slot, since gold played such a crucial role in the Spanish conquest of the New World and video slots are by definition money-centric. The game play is excellent with several neat game play mechanics.
In particular having reels 2, 3, and 4 roll together as one giant symbol is a really cool way to add an additional advantage to the bonus round spins. And having the Golden Rush feature as an additional jackpot style win is also a nice feature.
Whoever was in charge of the 'creatives' did great work. The detail on the faces of the symbols is exceptionally well done, and the artwork in general is quite superb. The music and sound effects work well also. Really there is nothing to complain about here, this is just a very well done video slot.
One thing that I suppose should be pointed out was that the colonization of the New World was really quite disastrous for the inhabitants at the time. Within a couple of hundred years the indigenous population was almost completely wiped out, from a height of about fifty million in the Spanish colonies.
Between disease, war, and the mixture of Spanish and African bloodlines there were very few fully indigenous people left after a century or two.
One could argue that making a game over such a tragic genocide is politically incorrect, but we shouldn't ignore history just because it is ugly. That was a different time for humanity, and hopefully we have grown and learned from our mistakes since then.
Anyway, all in all a very good video slot. Great graphics and artwork, excellent gameplay mechanics, and an interesting topic.
Slot Stats
| | |
| --- | --- |
| Software | Gamebeat Studios |
| Release Date | 1st March 2021 |
| Reels | 5 |
| Rows | 3 |
| Paylines | 25 |
| RTP | 96.05% |
Other Slots From Gamebeat Studios