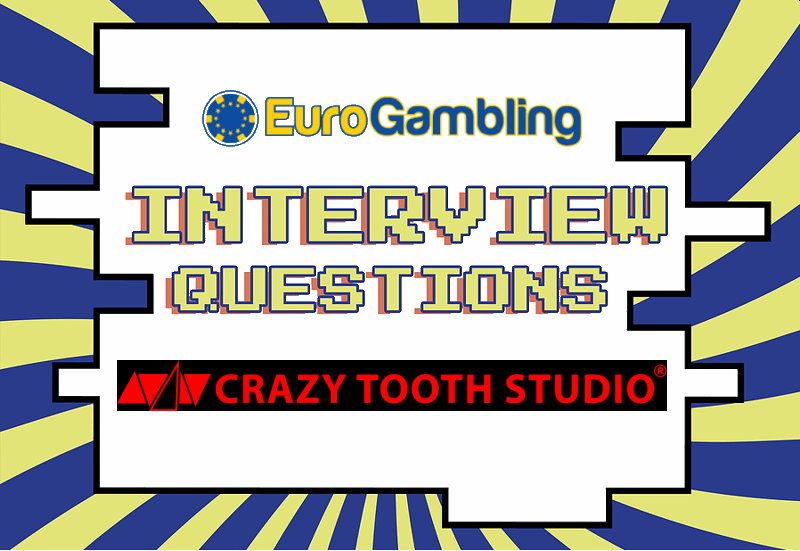 Here at EuroGambling we are thrilled to be able to bring to you our latest interview with Will Burrows, Vice President of Design at Crazy Tooth Studio.
Crazy Tooth Studio have forged their own identity as a smaller developer.  They design and develop their own titles from scratch with a loyal and hard working team of industry experts.  They are based in Reno, Nevada, the heart of soul of slots and casino for the last 100 years and they are fully licensed in Curacao, Malta and the UK.
The company have already made a big splash in the industry with their innovative slot designs and so here we are talking to the VP of design to get an insight into how as a small studio like Crazy Tooth can compete with and often better the big slots providers.
Hi Will, thanks for agreeing to an interview.  Could you briefly tell us about yourself and your role at Crazy Tooth Studio.
I am originally from Alaska and began my professional life in architecture. About 15 years ago I pivoted to graphic design, illustration, and marketing which led me to joining Crazy Tooth Studio in 2011.
I am now the Vice President of Design and essentially act as an art director but also contribute art and design directly to our gaming products.
I love making games and working alongside such a talented and passionate crew – we truly work as one hive-mind to make these games! In my spare time I enjoy chasing my kids – whether at the park or down a ski run – cooking, snowboarding, and play ultimate frisbee.
You have been working with Crazy Tooth since it started over a decade ago, how did you discover the studio and what is it about the company that makes you and the team so loyal?
Our founder and President, Ben Hoffman, and I have known each for a long time. When he was looking to start a game studio he luckily thought of me to help on the visual side and the rest is history! We have enjoyed a very static team and I attribute that to a fantastic work environment, a continuous stream of new challenges, and a great place to live (Northern Nevada, USA).
One specific attribute to our studio culture is never letting personal ego factor into our creative process – if a sound designer thinks a character looks odd, they're probably right!
How has the company evolved in this time and what are the greatest successes and challenges you have faced?
We started as a land-based casino game provider for companies here in the States. Over the last six years or so we have found a home in the iGaming world and love it! That transition has certainly caused us to do things differently in many respects – from developing our own software to adjusting to other markets and demographics to creating experiences for a different type of player – but perhaps what is most interesting is how we haven't had to change.
By forming a creative and collaborative studio, we've stayed nimble and are able to adjust to any new challenge as a group.
Could you tell us what makes Crazy Tooth games unique and how you distinguish yourselves from other providers?
We have never began developing a game without incorporating a new idea. New to us, new to the industry, new to the player. Even when we set out to follow up a successful title with a new iteration, we ask ourselves: how could this be better, look better, be more engaging?
Our hope is that our games aren't recognizable as a Crazy Tooth Studio title because of one style or mechanic but because of a level of polish and fully realized idea. No matter what the inspiration is, we will do everything we can to deliver the best possible version of it.
How do you choose the themes for the slot games?
It's a mixture of reaction to the market trends, outside inspiration, and personal taste. We don't shy away from what's hot, sort of speak, but sometimes our themes are just what we think would be fun or cool and we hope the passion behind it makes it appealing to our audience as well.
What would you say is your favourite design to date and why?
We've made a lot of games over the last twelve years or so, but whenever I'm asked this question I'm usually enamoured with whatever we just finished! Bubble Beez™ was super fun to work on and is so action-packed that I love to play it. Fire Gnomes™, out later this year, takes our BIG BuildUp™ mechanic so much further that I can't wait for players to see it.
I also have a soft spot for a few of the art packages from recent years: 3 Devils Pinball™, Diamond Force™, and Rhino Rilla Rex™ to name a few.
What would you say has been your most successful or impactful game so far and why?  Or multiple titles if you cannot pick just one?
Lucky Clucks™ and 777 Super BIG BuildUp™ Deluxe™ are undeniably great titles for us and really showed how much fun the BIG BuildUp™ mechanic can be.
But another pair of games that have made a splash in iGaming are The Incredible Balloon Machine™ and Golden Hook™ bother featuring our WiNCREASE™ mechanic. They're so different and engaging and have found some fiercely loyal players.
Do you have anything interesting in the pipeline you can give us a sneak preview about?
I already mentioned Fire Gnomes™ above, but we always have more in the hopper. Apollo's Rings™ featuring HaloReels™ is another innovative but accessible title we're finishing up now and a sequel to Lucky Clucks™ is also shaping up! Lucky Clucks 2: Rooster Repsins™ takes players back the farm with some very exciting surprises! ….and many more, of course.
Where do you see yourselves in another 10 years?
Making games! It's hard to imagine this crew doing anything else other than making great gaming content – but not without growth and evolution. The goal is always more markets, more titles, more innovation, and expanding our successful studio model.
Is there anything else you would like to tell us about Crazy Tooth that our readers might want to know?
Our very first game was called Choco Choco™ and featured actual footage of our founder's dog, Choco. Choco featured a very distinctive tooth – hence, Crazy Tooth Studio.