Unlike most games, which have a fixed number of rows and reels, Moriarty Megaways has six reels and anywhere between two to seven rows. This game is set in the world of the classic tales of Sherlock Holmes by Arthur Conan Doyle. Professor Moriarty was a criminal mastermind and Sherlock Holmes' ultimate nemesis. His role in the original Sherlock Holmes tales is actually relatively minor, but was exaggerated in later retellings. Every hero needs a villain.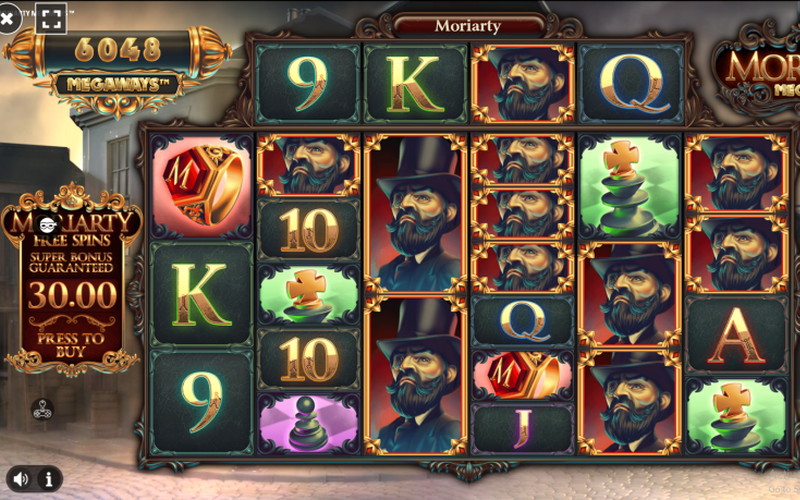 As you can see by the above photo, there is a lot going on in this slot. It functions sort of in the complex, twisted manner that you might expect the mind of a criminal mastermind to work. With every spin there is a variable number of symbols in play on any given row. As such, the number of possible winning combinations is always changing.
Furthermore, when you do have a winning combination, those symbols vanish into thin air. The remaining symbols on the board fall down to replace them, and new symbols are added, so you can continue to hit multiple winning combinations. This "cascading" feature also increases the multiplier found in free spins.
Symbols
The following payouts are based on a 5 cent coin value and a $1 bet.
| | | | | | |
| --- | --- | --- | --- | --- | --- |
| | 2 | 3 | 4 | 5 | 6 |
| Man | 0.5 | 1 | 5 | 10 | 25 |
| Ring | | 0.5 | 1 | 2.5 | 5 |
| King | | 0.25 | 0.6 | 1 | 2 |
| Pawn | | 0.25 | 0.5 | 0.75 | 1.5 |
| A | | 0.20 | 0.25 | 0.5 | 0.8 |
| K | | 0.20 | 0.25 | 0.5 | 0.8 |
| Q | | 0.15 | 0.25 | 0.4 | 0.6 |
| J | | 0.15 | 0.25 | 0.3 | 0.6 |
| T | | 0.10 | 0.20 | 0.25 | 0.5 |
| 9 | | 0.10 | 0.20 | 0.25 | 0.4 |
Three or more 'Free Spin' bonus symbols will trigger 15 free spins, and additional bonus symbols will award +5 free spins per symbol.
There is also a pocket watch wild which can substitute for any of the base symbols.
Wins are paid out going from left to right, regardless of size or placement on the reel.
Randomly the Sherlock's Max Megaways feature may trigger during the base game, which will cause the board to use the smallest symbols. This also comes with a multiplier that starts at 1 and increases by 1 with each cascading win, but the multiplier is only active until the end of the spin.
Aside from the base board, there are also four symbols at the top, which play on the second, third, fourth, and fifth reel respectively.
Free Spins
During the free spins, you play with two additional symbols, Sherlock Holmes and his faithful companion Watson. Once you collect three symbols of either Holmes or Watson, you unlock a special game board for an extra spin.
There is also an unlimited multiplier in play during your free spins. It starts at 1, and then is increased by 1 with every cascading win. The nature of this increasing multiplier is that while initially wins start off pretty small, the more you win, the more potential you have for bigger wins, as the multiplier keeps increasing. Both the Sherlock and Watson spins can increase the multiplier for you as well.
The Watson board is played with a mystery symbol, which turns into any symbol, and the Sherlock board is played with the 'max megaways' feature where it is always a 6×7 board.
It's Elementary Watson
The character of Sherlock Holmes was first invented at the end of the 19th century in England. Holmes used his keen observations and powers of deduction and logical reasoning to solve mysteries. The stories were originally written by Arthur Conan Doyle, a writer and physician.
Since Doyle's original stories, there have been countless adaptations and variations on the theme of Sherlock Holmes. The character has appeared in musicals, television, and film, and is one of the most famous fictional characters of all time.
Star Trek the Next Generation had multiple episodes where Data would play Sherlock Holmes in holosuite games, and the BBC produced a number of mini series with a modernized version of the Holmes stories. There was also a film titled Sherlock Holmes released in 2009 starring Robert Downey Jr.
Conclusion
We were extremely impressed by Moriarty Megaways. This is an incredible video slot. There is really so much to unpack. Between the ever shifting game board, the really stellar graphical effects and symbol design, and the ominous music playing in the background this slot delivers in a big way. And the bonus rounds are great.
Particularly enjoyable about the free spins is the multiplier factor, where if you start to hit some combos you can really run up the score as it increases. And the Watson plus Holmes boards are a really interesting twist.
Of course the theme of Sherlock Holmes and Moriarty is a classic one and we have to admit that Victorian England holds a certain charm in our hearts as it was quite the curious time.
Anyway, long story short, this slot is absolutely phenomenal, and cannot be highly recommended enough.
Slot Stats
| | |
| --- | --- |
| Software | iSoftBet |
| Release Date | 3rd May 2021 |
| Reels | 6 |
| Rows | 2-7 |
| Paylines | 117649 |
| RTP | 96% |
Other Slots From iSoftBet