This game is kind of unique because it doesn't have the traditional payment structure of a video slot. Instead, when you get a win you move up one of the three ladders. How far you move, and on which ladder, depends on which symbol combination you hit exactly, as described by the above graphic.
In addition to the base symbol, there is also a Wild (which says "Wild" in Arabic style hand writing) that can substitute for any symbol and only appears on the second reel.
Cash And Instant Pots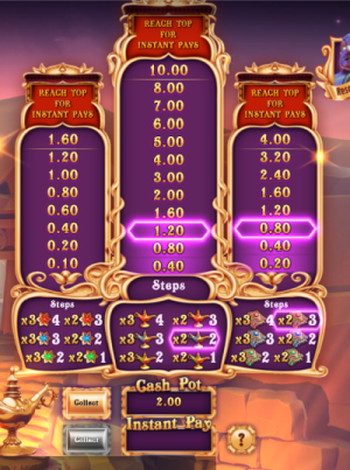 Instant pot sounds like those fifty cent noodles you buy at the grocery store, but actually it is a payment mechanism within this game. There are two types of prizes you can win, the cash pot or the instant pot. Every time you get a winning combination, your cash pot increases, and you move up the payment ladder headed towards the instant pot.
However, this isn't your money yet. If the genie shows up and covers the screen, then everything in the cash pot is lost. You can cash out your cash pot at any time if you are worried about the genie showing up, but then you lose all progress on the ladder towards the instant pot.
If you reach the top of the ladder before you cash out or the genie shows up, then each additional win will trigger an instant pot bonus.
The other thing is that sometimes the genie shows up, but he doesn't stick around. He just sort of peeks his head out and disappears. This doesn't do anything, it is just sort of a reminder that at any time the genie can show up and seize your cash pot.
The instant pot has a maximum prize of 50x, 120x, and 500x your spin bet for the left, right, and center ladders respectively.
Watch Out For The Genie
When the Genie shows up and covers the whole screen like this, it means you lose your entire cash pot. So the question that you have to ask yourself with every spin is, have you won enough? Do you cash out your cash pot and start over? Or do you take the rest of losing your entire cash pot and try to hit some more instant pays?
The interesting thing about this video slot is that you actually have some element of control over the game. You can decide to cash out and put the cash pot in your balance or to keep risking your cash pot.
The genie doesn't appear at a very high frequency, but it is devastating when he does show up. And the proper strategy is not exactly clear. When you have a smaller cash pot, you are risking less by continuing to play and not cashing out your cash pot, but at the same time you are further away from the instant pay. Conversely, when you have accumulated a large cash pot and might be in striking distance of the instant pays, that is when the genie can do the most damage by taking your entire cash pot.
All in all there is a bit of a conundrum here. But hey, that is gambling.
A Fantastical Theme
Genies or djinn are creatures from Arabic mythology, although they may also have been integrated into the Islamic theology from pagan belief systems as well. Djinn are neither necessarily good or evil, but like humans can make their own choices and follow their own destinies. Jinn are supposed to be invisible to people, and can shape shift at will.
The idea of a genie being trapped in a lamp and having to grant wishes to the person who freed him came about in 18th century France when the classic Arabian tales were popularized and expanded.
Conclusion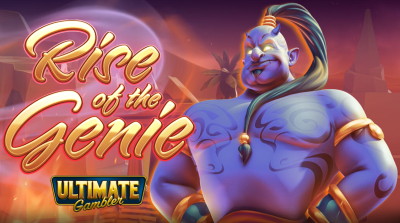 We really enjoyed playing Rise of the Genie. It is really a unique approach that is unlike any other video slot we have ever played. The fact that you have constant decision making that can affect the outcome of the game makes it much more interesting for us.
On top of the truly innovative gameplay, the special effects like the genie popping up and laughing at you are also well executed.
Aside from that, the Arabian background music is great for the game. We haven't seen a lot of 'Genie' based slots, but that certainly seems like a genre that is well suited for the video slot world. There is a lot of history in the Arabic world dating back to antiquity and a rich mythos for story tellers to explore.
Rise of the Genie is an extremely creative and interesting video slot and it is encouraging to see software developers push the boundaries and implement creative ideas that can produce entertainment and excitement for their customers.
Slot Stats
| | |
| --- | --- |
| Software | iSoftBet |
| Release Date | 6th July 2022 |
| Reels | 3 |
| Rows | 3 |
| Paylines | 5 |
| RTP | 96.46% |
Other Slots From iSoftBet