Ahoy mateys! There be vessels ripe for plundering. Introducing Plundering Pirates, an exciting 5×3 video slot from ISoftBet. This medium volatility slot has twenty different paylines and a maximum win of 880 times your bet.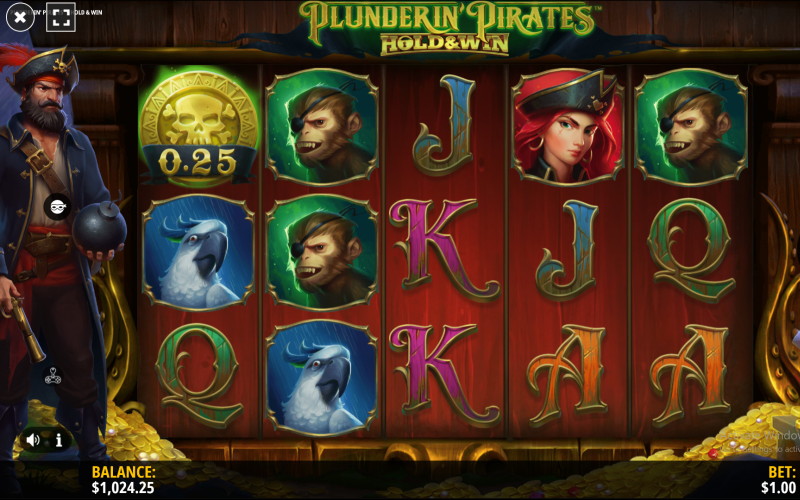 Symbols of Piracy
| | | | |
| --- | --- | --- | --- |
| | 3x | 4x | 5x |
| Pirate | 7.5 | 12.5 | 25 |
| Lady Pirate | 5 | 7.5 | 15 |
| Monkey | 2.5 | 5 | 7.5 |
| Parrot | 2 | 4 | 5 |
| A | 1.5 | 3 | 4 |
| K | 0.75 | 2 | 3 |
| Q | 0.5 | 1.25 | 2 |
| J | 0.25 | 0.75 | 1.5 |
Aside from these base symbols there are also gold coins (five of which trigger the respin sequence) and wilds which can be any of the base symbols in the table above.
Explosive Winning Potential
Randomly during the base game the pirate dude on the left of the screen will throw out some bombs. These bombs are a bit chaotic and will do either one of three things.
Add Wilds. In this case anywhere from 3-7 wilds are added by the bombs.
Symbol Upgrade. Here the bombs cause all the affected areas to all turn into either the lady pirate or the pirate.
Bonus Add. Finally, the last option is that the bombs add 1-3 gold coins to the screen.
These explosive modifiers can happen at any time, and are a nice way to keep things fresh and add a little excitement to the base game.
Respin Action
Five or more gold coins on a single spin trigger the respin mini game. How it works is you start off with your coins and three respins. Every spin you either get new coins or you get nothing. If you go three spins in a row without anything new coming, then it ends, your coins are tallied up and the prize is awarded to you. However, if during any of your respins you do get a new coin, then your respins reset to three and you keep going.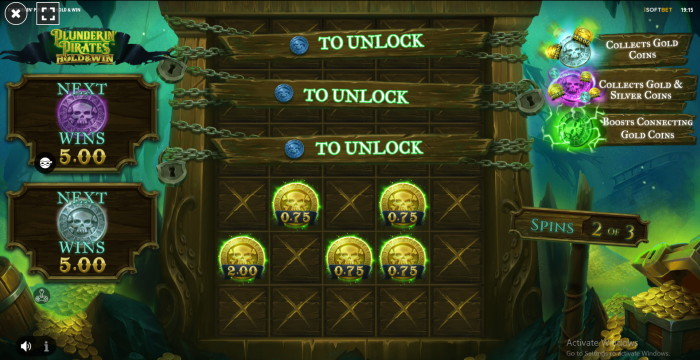 In addition to the gold coins, which award a cash value, there are also different coloured coins with magic powers. These so called "bounty boosters" have these different properties:
Silver coins collect the value from landed gold coins
Green coins boost any coins in a 3×3 grid around it by a single multiplier value
Blue coins unlock an additional row
Purple coins collect the value from landed gold and silver coins
Pirate Theme
Piracy is almost as old as time immemorial. Even as long ago as the 14th century B.C. the Sea Peoples attacked ships from the Aegean and Mediterranean civilizations. There is also the classic story of the pirate and emperor. Allegedly, a pirate was captured and brought before Alexander the Great. When Alexander demanded to know how the pirate dare to molest the seas, the pirate shot back "How dare you molest the whole world?" Alexander was so impressed by the answer he let the pirate go.
However, the so called "Golden Age of Piracy" was between the middle of the 17th and 18th centuries and it is in this time period that most pirate stories are set. This was still prior to the industrial revolution, and the population of Europe was growing rapidly, but there were no factories for the people to work in yet.
Industries were strictly controlled by guilds, and there were great masses of unemployed people without any prospects or hope. Many of these poor were tempted to enter a life of piracy and to earn sudden riches.
The golden age of piracy didn't last very long, because the great seafaring nations reacted to the constant looting of their ships, relentlessly hunting down pirates and using a greater number of ships and soldiers to protect merchant vessels.
Conclusion
Plundering Pirates is a serious fun video slot. The background music is perfect for a pirate themed slot and sets the mood just right. All the artistic work is very well done as well. The pirate ape with the eye patch is particularly cute. The graphical effects when transitioning between minigames is excellent and the game functions rapidly and without any issues.
But it is in the gameplay where Plundering Pirates really shines. The "Bounty Boosters" make for a very interesting twist in the respin feature. Another nice innovation is the explosive modifiers during the base game, which can cause one of three events (additional wilds, additional coins, or replacement high value symbols). This keeps things interesting during the base game because you never know when the explosive modifiers will strike.
The theme is very appropriate to a video slot. The pirates are looking for gold, and players are looking for jackpots. So it fits. All in all this is a great slot that is a very immersive experience and tons of fun to play.
Slot Stats
| | |
| --- | --- |
| Software | iSoftBet |
| Release Date | 31st March 2022 |
| Reels | 5 |
| Rows | 3 |
| Paylines | 20 |
| RTP | 96% |
Other Slots From iSoftBet