The highest value symbols are all animals. At the top of the food chain are the gorilla, followed by the lemur, then the lion, then the tucan, then the frog, and the A, K, Q, and J symbols are of the least value.
There are also wilds, which have some huge potential payouts if you hit them straight up and can also substitute for any normal symbol.  There are also wilds, which can substitute for any of the basic symbols.
The lightning bolt is a scatter, and 6-12 lightning bolts trigger the lightning respin.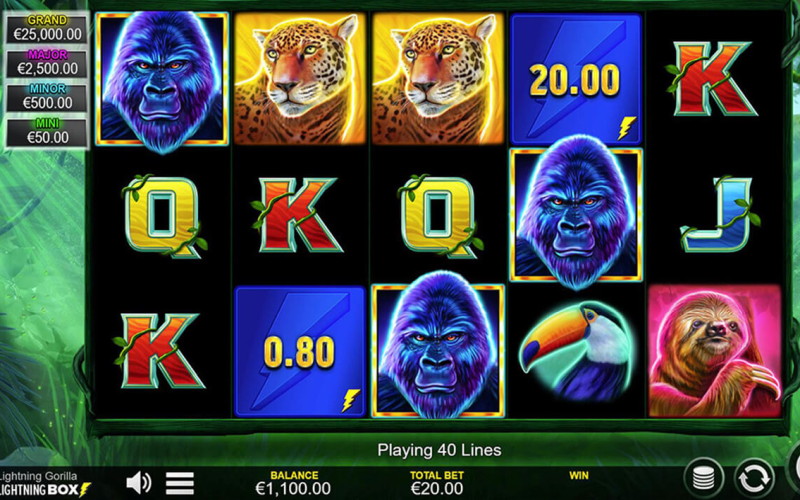 The lightning respins are pretty cool, basically, it just keeps spinning and if you get more money by getting a lightning coin within the active reel that is highlighted, you get paid, and you reset your free spins to 3.  It is like an out-of-control lightning storm except instead of getting electrocuted you get rich.
Another neat feature during the bonus rounds are the colossal symbols. These are 2×2 and 3×3 mega symbols, and they can turn into multiple jackpots or prizes.
Theme
The theme of this slot is jungle animals. Did you know that gorillas, despite their massive size and strength, are vegetarians? They are also primates, which means that they share a common ancestor with humans.
Anyway, the theme is cool enough, but we would prefer a bit of a backstory. Why are we in the jungle? Is the gorilla hunting us? What is the deal with the lightning? There are just too many unanswered questions with this game.
Graphics And Gameplay
The graphical effects and design for this game are decent, basically what you would expect from a software designer that is making a video slot in 2022. The symbols are reasonably intricate, and the effects are nice.
The colour scheme and overall design are good but in our opinion, the graphics in the lightning round could use a bit more work. Bonus round gameplay itself is quite nice, and having the four jackpots you can win is also a neat little touch.
Conclusion
Lightning Gorilla is an adequate slot. It certainly has some strengths. The bonus round is fun, and the symbols are certainly very well designed. There are some neat graphical effects and the sounds is fine.
Personally, we would like to see a bit of a back story and some lore associated with the game. What is the deal with the gorilla? How did we end up trapped in this jungle anyway? Are we on safari? And they could have put a bit more work into the lightning round.
So it has its weak points and its strong points but it is still worth checking out especially if you are really into animals or the jungle.
Slot Stats
Other Slots From Lightning Box Games