10bet may not be a name you recognise immediately if you're not intimately familiar with the betting world, but that's mainly because they don't have the same sort of reputation as the bookies who became famous on the high street before taking to the world wide web. In actual fact the company has been in operation since 2003 and during that time has established itself as one of the best of the bunch.
10bet started out targeting the Asian market, making a name for itself in the Far East before turning its gaze on the European market. The reason they've so successfully navigated the world of bookmakers in the UK is that their football coverage is up there with the very best. They offer markets on over 150 leagues and their live betting is also top-notch. They've sponsored a number of high-profile events and teams in recent times, gaining attention for doing so, and they're only likely to grow in the coming years.
Desktop Site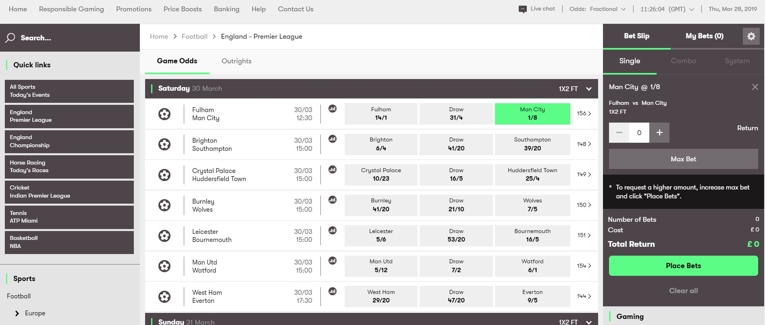 I'll be honest, despite its almost complete lack of personality I love the SBTech powered 10bet website. It is about as stale as you can get visually, reminiscent of old black and white movies, but it is extremely functional and easy to get around. The benefit of a skeletal site like this is that it isn't taxing on your computer so it loads in no time. Still, a little bit more liveliness wouldn't go amiss.
On the homepage you'll find the latest welcome offer and a few promotions (this is the only splash of colour anywhere to be seen), tabs for the different sections of the website like the casino and virtuals, plus quick click links to some of the most popular markets. More importantly, however, you'll also find the top events of the day listed by sport so you can get stuck straight in, and an A-Z so you can find anything else.
The search function is fantastic. You can use it to find competitions or specific teams which makes locating a specific match that you want to bet on a doddle.
10Bet Mobile App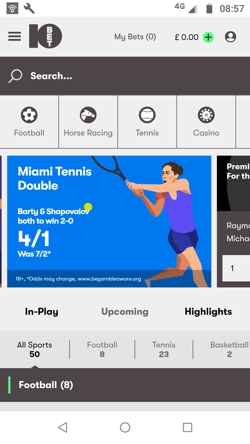 If the desktop site isn't really for you then the mobile app or website quite possibly will be. I'm a big fan of apps that take advantage of the quality of phone/tablet you've got and 10bet's definitely does that.
The mobile site is very similar to the desktop version, but the app is laid out a little differently and feels a little livelier than both, as well as being super responsive, moving you around the various sports and bets with ease.
This is one of those situations where scaling down to a smaller screen actually improves the site visually; it feels like there is a lot more going on here but it all makes sense, and there is less of an expanse of space.
On opening the app you're immediately greeted by the matches going on right at that moment. There are also tabs for upcoming games as well as those that 10bet deem to be the 'highlights'. You can easily scroll through by sport to find what you are interested in or swipe to bring up the main menu.
In terms of future bets there are readily available tabs for the most popular options but you can also see all sports listed non-alphabetically in the A-Z or use a search function. There's unavoidably a lot of scrolling to do on mobile but there's a handy button that whips you back to the top of the page to save time.
Markets and Odds
This is one area where 10bet excel to the point of being almost untouchable. I may have already mentioned that their football coverage is pretty decent but let's be clear: Covering more than 150 leagues is bonkers. Who even knew there were more than 150 leagues?! They also cover more than thirty other sports, so it's not as if they're covering football to the detriment of other markets. Anyway, if you want to bet on the Rwandan National League 10bet is the place to do it.
They claim that there are around 100,000 events to bet on at any one time on their site. I started to count but got to ten and realised it would take me ages, so I'm just taking their word for it instead. You'll obviously be able to bet on all of the markets you'd expect such as American football, tennis and rugby. What may be a pleasant surprise is that you can also have a dabble at more random sports like futsal, sailing and netball. This isn't just a sportsbook either, so if you want to stick a bet on who will win I'm Not Really A Celebrity Please Let Me Die Here, or the likes, this is a good place to do so.
Odds tend to be favourable, but 10bet stand out more because they release them ahead of a lot of other bookies, allowing you to nip in there early. While not known for enhanced odds or odds boosts or anything like that, there are often free bet promotions in the past for things like bore draws or horses beaten by a head etc, which combined with the odds makes for an attractive package.
Banking: Deposits/Withdrawals
| PAYMENT METHOD | MINIMUM DEPOSIT | MINIMUM WITHDRAWAL | WITHDRAWAL TIME |
| --- | --- | --- | --- |
| Visa/Mastercard | £10.00 | £1.00 | 1-3 Days |
| PayPal | £10.00 | £1.00 | 1-2 Days |
| Skrill | £10.00 | £1.00 | 1-2 Days |
| Neteller | £10.00 | £1.00 | 1-2 Days |
| Paysafecard | £10.00 | No Withdrawal | |
| Trustly | £10.00 | £1.00 | 1-2 Days |
| ApplePay | £10.00 | No Withdrawal | |
| Bank Wire | £10.00 | £1.00 | 5-7 Days |
As you can see, finding a way to pay won't be an issue at 10bet. Their withdrawal time frames don't seem to be the fastest but could not be considered slow, but the max withdrawal in a single transaction is £50,000.
There shouldn't be any fees associated with depositing or withdrawing although if you need to do a bank wire there may well be a charge, and this is normal across the industry.
They are bang up to date though, offering modern payment options like Applepay and Trustly.
Live Betting
Given that 10bet have made a special effort to target football fans it really is no wonder that their live betting is so finely tuned. The options are broken down into their various sports starting, of course, with football. It's then broken down by country and then the leagues within that country.
It's not just football that you can bet on live, either, with the likes of basketball, tennis, handball, volleyball and ice hockey also making the cut among others. Once you've selected the sport that you want to bet on you'll be presented with any number of markets to choose from. Obvious ones like who will win outright are there, but so are slightly more specific bets such as total number of match goals or total number of team goals. It's fair to say that the live betting is where 10bet really comes into its own.
The interface is well presented and you can move around freely inside it, switching from the overview to event view to the schedule. In the event view there is a welcome splash of colour from the game graphic and match tracker, and you can also keep an eye on other fixtures and switch to them without reloading the page. The in game stats are useful too.
They've also got some cool features that not everyone one else has, such as a Bet Builder, Fast Markets and Pulse Bet. This tool lets you pick certain in play markets, such as a corner awarded in the next 5 minutes, and once placed, the odds climb higher as the time runs out. This means you can get a bigger payout if the bet goes down to the wire.
Live Streaming
Despite being a relatively young and 'up and coming' company 10bet do offer live streaming on horse racing, football, tennis and a host of other sports right now. You can watch all racing from the UK and Ireland if you bet on the horses, as long as you make a bet of £1 or more.
In addition to streaming they also offer an all-encompassing Match Tracker graphic that lets you keep up with the events of the matches. The graphic will tell you which team is in possession, whether it's a dangerous attack or whether one team or another has a throw in or a set-piece.
You can also see how the game has fluctuated up until that point in terms of things like possession or key moments, should you believe that that is a good indicator of what's to come.
It is quite in depth even on less popular sports so if there is no live stream available this is the next best thing.
What makes 10Bet Stand Out?
If you enjoy football betting this place is Mecca. If you enjoy betting live then it is even better.
Range and market depth is a huge pull for customers of 10bet, and if flashy graphics and cool web design features don't impress you half as much as basic usability then you will be happy here.
There are one or two betting features available at 10bet that you won't be able to find everywhere else, this is another particular strong point for them. While not necessarily unique, they are certainly rare:
Pulse Betting – Get an adrenaline rush by giving your bet a time limit. The odds will improve the longer the bet runs, so if your bet comes in soon after you place it you will still profit, but if it comes in just a few seconds before the time runs out you really will be quids in.
The Ten Club – This is a VIP club essentially, but they really do try and make it feel exclusive. The specialist staff have been trained to keep its members safe, and benefits include gifts, hospitality invites, softer rollover requirements on offers, individually tailored offers, and a personal account manager.
Create Your Bet – Choose up to 6 selections on an event and combine them into your perfect bet, mix and match as you please and the odds will update instantly. Exclusive to mobile; football and basketball only.
Cash Out – Ok this one is available everywhere these days but it's a great feature. End your bet early to lock in a profit or to soften the blow of a loss. You keep control of the bet and can react to the game as it unfolds.
About 10bet
Founded in 2003 and operating in the UK with a licence from the Gaming Commission of the United Kingdom, 10bet has made definite inroads into the gambling world thanks to its strong online presence and far reaching markets.
Though their UK operation is based in London they are actually active in 90 countries, so if you thought they were small fry then you'd be wrong. The main 10bet operation is owned by Blue Star Planet Limited and based out of Malta, so they are a faceless company in many ways, but brand identity was never as much as a focus for them as building a reputation for reliability and value.
Security and innovation seem to be the key words for 10bet, and they are quick to reassure people that they take their customers safety seriously. Their partnership with SBTech as a betting platform is a clear sign that they want to be at the head of the queue when it comes to new betting features and ideas, although this doesn't mean they don't cater for novices, and they have tried to make their products as accessible as possible.
Licence & Contact Details
| CONTACT METHOD | AVAILABLE? | HOURS | ADDRESS |
| --- | --- | --- | --- |
| Email | Yes | 24/7 | support@10Bet.co.uk |
| Live Chat | Yes | 24/7 | When Logged In |
| Phone | Yes | 24/7 | 0800 047 0965 |
| Twitter | Yes | – | @10Betsports |
10bet are a company with a UK gambling based licence, the number of which is 43173. That means that they adhere to all of the associated laws, rules and regulations set out by the UK gambling commission, so there's nothing to worry about when it comes to the safety of your money and so on.
They're not the easiest of companies to communicate with if you're a social media user, though. Both their Facebook and Twitter tend to be used to push things they're trying to get people to sign up to rather than to interact with their customers. They're much better when it comes to their live chat, email service and freephone number, however.
Their registered address in the UK is: The Shard (Office Number 2510), 32 London Bridge St, London, SE1 9SG
They do have a parent company that is based out of Malta and the address is: Blue Star Planet Limited, 142 Triq Il-Kbira, Zebbug, ZBG1303