ComeOn only launched in 2010, so they are relative babies when it comes to the world of bookmaking. That's not to say that they don't know what they're doing, however, as they have worked hard to establish themselves in what is a very competitive market.
Knowing that it will take them some time to have the same sort of reach as bookmakers who have been around for decades, ComeOn decided to go down the route of rewarding loyalty in order to ensure that those who used them kept doing so, and they aren't shy on promotions either.
When it comes to the range of sports you can bet on ComeOn are one of the more eclectic sites around. You can bet on World Chess Championship matches, for example, as well as other delightfully obscure things like handball, bandy and Aussie Rules football.
Banking & Financial
| PAYMENT METHOD | MINIMUM DEPOSIT | MINIMUM WITHDRAWAL | WITHDRAWAL TIME |
| --- | --- | --- | --- |
| VISA/Mastercard | £9 | £16 | 2-7 Days |
| Trustly | £9 | £10 | 2 Business Days |
| Skrill | £9 | £10 | Up to 24 Hours |
| Neteller | £9 | £10 | Up to 24 Hours |
| Entropay | £9 | £16 | 2-7 Days |
| Paysafecard | £9 | No withdrawal | No withdrawal |
| Siru | £10 | No withdrawal | No withdrawal |
| Bank Wire | £10 | £10 | 2-7 Business Days |
Since ComeOn is a European bookie they deal in Euro's, and so the minimums listed above can change based on the exchange rate, for example, the minimum deposit is usually around the £8.60 mark – I've rounded it up for ease.
One thing that grinds my gears is banking fee's, and ComeOn have them. You are looking at a 5% deposit fee for anything other than Credit/Debit cards, Trustly, and Entropay, and if you use Siru you could be charged up to £4.18 if you deposit the top amount of £25 – that's almost 20%!
There is also a relatively low max deposit and withdrawal of £8000 per transaction (although transactions are not limited), and using cards it's as low as £2,600.
All About ComeOn

ComeOn was initially a Swedish online casino, and was introduced to the world in 2010. It didn't take long to establish themselves and they soon relocated to Malta officially (I wonder why…?) but opened offices across Europe. There's even one in the UK.
ComeOn initially got its name out there by sponsoring Accrington Stanley (who are they?) not long after the club returned to the English Football League. It was a clever move, associating itself with a club that most football fans know of even if they don't know why they know of them. These days they have gone up in the world and bagged Ray Parlour as the face of the brand.
It's all about fun and transparency with these guys. They work hard to make terms simple for their customers and don't want to be seen as 'the opposition'. Even their name is based on excitement – what's the first thing you shout when your team nets the winner in the 89th minute? Hint: It's 'come on!'.
Betting From Your Desktop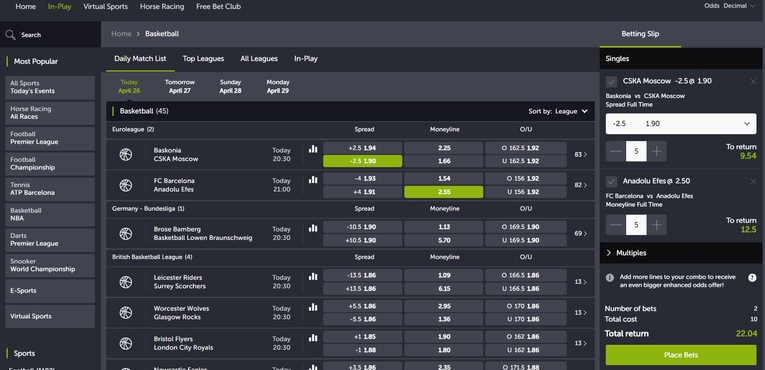 The ComeOn website definitely has a lot going for it. The interface is nice and clean and it's well laid out too which helps when you are looking for your bet. There's a promo banner at the top but it also talks you through some of the day's betting highlights which makes a nice change.
A mixture of a sports list, a search bar, and quick links to popular categories makes navigation no problem and although it's not the fastest site in the world it's certainly not going to keep you waiting.
Things are kept nice and tidy with collapsible menu bars and plentiful filtering options, and all icons are very clear so you won't end up squinting at them or wondering what they are supposed to mean.
It's fairly formulaic in a lot of ways, so if you have bet elsewhere you might recognise the setup, but what they have done well is to clearly lay out the path for the user and give them options along the way rather than overloading them at the start.
Betting From Your Mobile
For me, personally, the mobile app is best described as 'fine'. It's not spectacular but it's not overly fussy and complicated either so using it won't cause any headaches.
I'm what might be called an iPhone power user, so I like my apps to be virtually flawless and to take advantage of the phone's screen and power. ComeOn's app doesn't really do that but it is entirely functional, and actually, if you are betting live it works brilliantly and looks impressive too.
The general layout of the interface is much the same as the desktop site but obviously scaled down and re-shaped, it's the menu options that are the main difference. There are two of them with no hint as to what either is for, and actually their contents are a bit jumbled so these could be improved.
In the same way, the account management menu has options for banking but there is also a separate cashier menu button. It all overlaps and creates extra icons we don't need.
It's nice and zippy though and you can do anything you can on the desktop site, it's just not as instinctive as I would like.
Live Betting Info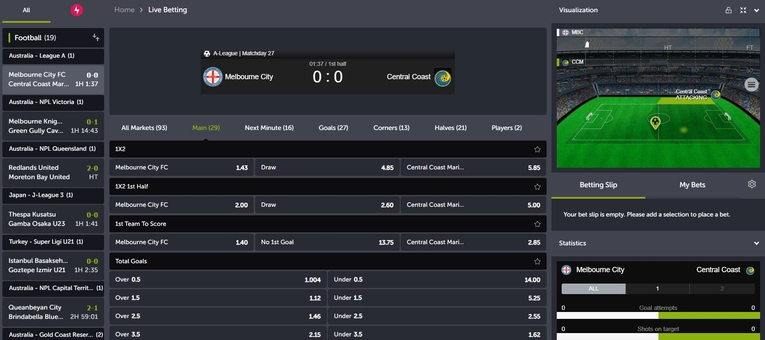 Live betting is such an important part of ComeOn's coverage that it has its own 'In-Play' tab at the top of the home screen. One thing I will say is that it is heavily bias towards football, but to be fair that's probably because that's a sport that most easily lends itself to the betting live format.
Within the 'In-Play' tab you'll also find other sports that you'd want to bet on as the action hots up such as tennis, ice hockey and badminton, and actually, for a smaller bookie the range of sports they cover live is impressive.
All of the sports have a scoreboard at the top telling you the bare facts of the game, with the popular sports like football and basketball also offering a fun live graphic that tells you who's attacking and what is going on at any given moment.
The stats are a great extra feature to use here and you can stick with the basic ones built into the interface or you can open the comprehensive stats tool and get down to the nitty gritty.
LIVE STREAMING
At the time of writing there are no streaming options on the ComeOn website. That's not overly surprising, to be perfectly honest, given the fact that the company pour most of their money and resources into their loyalty points scheme.
ComeOn make up for a lack of streaming with the way they run the rest of the site.
Noteworthy Features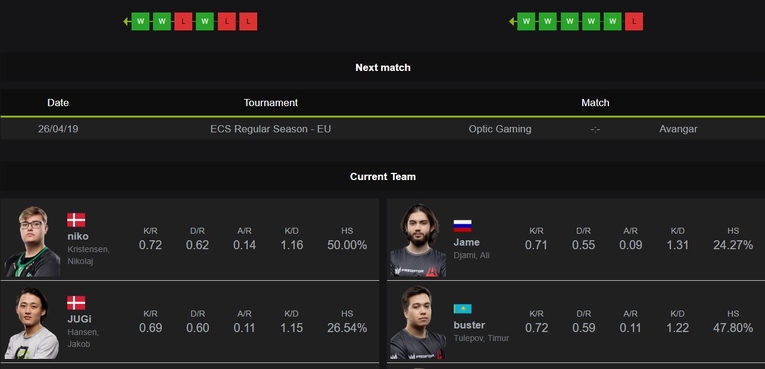 With a clean interface and continuously decent odds on all major sports, ComeOn is a good bookie for people who bet on regular sports and don't want to get bogged down by all the extra stuff. Get in, bet, get out.
It could also easily be the main base for any eSport bettors, and if you have strong feelings about honesty in bookmaking then ComeOn are known to be open and transparent with their customers.
That's not to say there are no special betting features at ComeOn, there are, and here are a few examples:
Loyalty – Earn points for your betting activity and convert them into free bets and reloads. This is less common with sportsbooks.
Free Bets – From a weekly free bet club to free bets as rewards for beating Parlour's Predictor, ComeOn offer free bets via many different promotions.
Horse Racing Commentary – They may not live stream but they are doing their best to make up for it with live radio commentary.
Stats & Blog – Combined these two features can go a long way to helping you choose where to bet next.
Betting Markets & Odds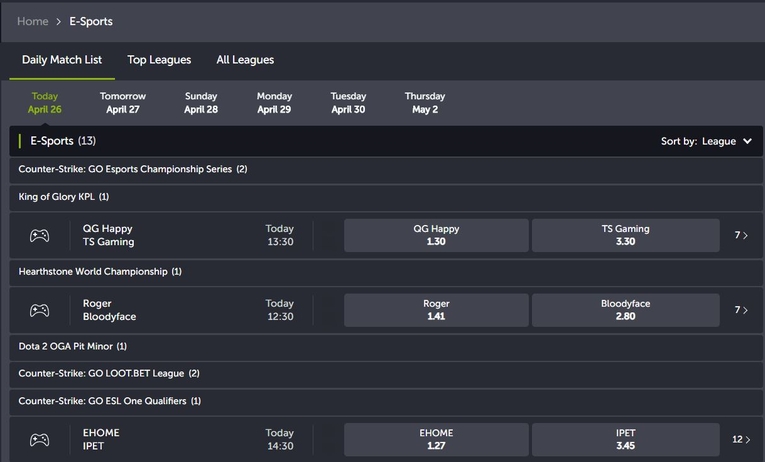 Much like with the ComeOn betting app, the markets available are 'fine'. They aren't spectacular, but nor are you going to be pulling your hair out and wondering why you can't place a bet on a match between Liverpool and United.
The range of sports covered is competitive and the depth within those markets keeps pace with some sites twice their size, but there are certainly bookies that can offer more in all areas. The regular punter won't come away lacking on regular sports like football, basketball, and tennis though, and if you like eSports this is actually one of the best bookies on the web.
Horse racing is covered but if that's your bread and butter then ComeOn probably isn't going to be your main bookie, and they don't offer greyhound racing yet either.
The odds available are a little better than fine and when you remember the loyalty points scheme as well as the free bet club and any scattered enhanced odds that may be available you are getting decent value at ComeOn.
License & Contact Details
| CONTACT METHOD | AVAILABLE? | HOURS | ADDRESS |
| --- | --- | --- | --- |
| Email | Yes | 9am – 10pm | support-gb@comeon.com |
| Live Chat | Yes | 9am – 10pm | Onsite via ? Icon |
| Phone | No | – | N/A |
| Twitter | Yes | – | @Comeonpulse |
As well as the options above the FAQ section is reasonably comprehensive, with the ability to search for a keyword or phrase and then head to the live chat if you can't find what you're looking for.
Sometimes live chat will show a red 'not available' button instead of a green 'available' button during opening hours. I'm not sure why that happens, maybe they are just nipping to the loo, but if you come back in 5 minutes it should be available again.
Should you want to know what their physical address is then it's as follows:
Co Gaming Limited, 3rd Floor Spinola Park, Triq Mikiel Ang Borg, ST JULIANS, SPK1000
If you have read the whole review but want to check out their credentials for yourself, then here is their UK License Number and a link to where it can be found: 39286