Some new sports betting websites seem to spring up from nowhere and disappear just as quickly, others make more of an impact and gain a foothold in the industry. The latter is true of EnergyBet, a sportsbook that got up and running in 2016 run by a company already running one of the leading online casinos in Europe, EnergyCasino.
If you're a football fan and you think you've heard the EnergyBet name before then you're almost certainly correct. EnergyBet were the main sponsor of League Two side Leyton Orient for a while, and became the main betting partner of Millwall too.
You don't make that sort of investment if you're not serious about making space for yourself. Find out more about this determined and well managed bookies below.
Odds and Market Variety
The company suffer a bit when it comes to market depth unfortunately, they just can't match the more established bookmakers. This is perhaps a bit of an unfair criticism given that they started so much later, but this isn't really the punter's problem. That said, they have been steadily increasing markets year on year.
In terms of available betting lines, however, things are looking up; for top events they are close to matching some of the big names in the industry, showcasing 350+ betting lines for Premier League football, 120+ for NHL, etc.
Odds are about what you'd expect for a new bookmaker. They're unlikely to top the comparison charts any time soon, but they're not exactly terrible. They're so-so, and sometimes that's not something to be critical of.
'Energised Odds' go some way to getting more out of your bet, while the rewards program spans the sportsbook and the casino giving back yet more value, and acca promotions are starting to sneak in too.
Banking: Deposits/Withdrawals
| PAYMENT METHOD | MINIMUM DEPOSIT | MINIMUM WITHDRAWAL | WITHDRAWAL TIME |
| --- | --- | --- | --- |
| Visa/Mastercard | £10 | £20 | 3-5 Working Days |
| PayPal | £10 | £20 | 3-5 Working Days |
| Skrill | £10 | £20 | 3-5 Working Days |
| Neteller | £10 | £20 | 3-5 Working Days |
| Paysafecard | £10 | N/A | N/A |
| ecoPayz | £10 | £20 | 3-5 Working Days |
| Trustly | £10 | £20 | 3-5 Working Days |
| Bank Wire | £10 | £20 | 3-5 Working Days |
This is where the company's background as a successful casino comes in useful. The payments department suffers none of the same lack of depth as the markets. Pre-existing links with payment providers have been carried straight across.
There are many more methods for other countries but these are the main ones for the UK.
Your first withdrawal each week is free, after that it will cost you £5, so don't withdraw willy nilly. You must also play through funds deposited before you can withdraw them or else a 5% processing fee applies – which is fair enough.
Processing can take up to 3 days apparently, which is far too long if you ask me. Saying that, if you are using an eWallet then withdrawals shouldn't take as long as all that.
Betting Live in Real Time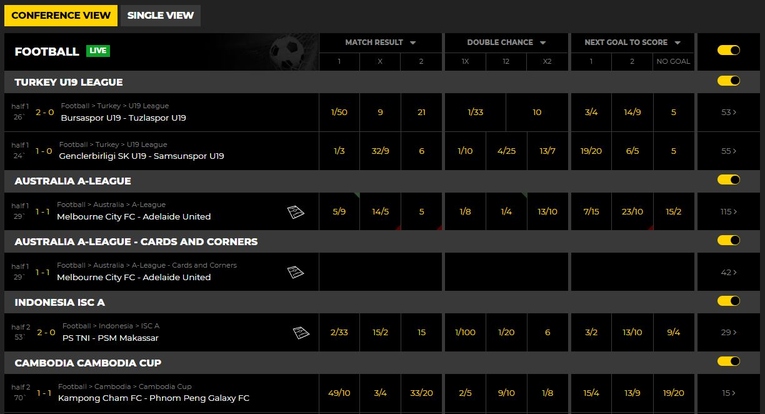 The live betting page is fairly plain in appearance and simple in structure, but as a starting off point this is actually perfect for getting straight down to business.
Conference view shows all live events sport by sport including a few bets you can make there and then as well as market numbers; while single view allows you to choose one sport only and feels a bit pointless at this stage.
When looking at a specific event you will have to do a heck of a lot of scrolling if it is a busy one. The odds layout doesn't really work in the punters favour and your only option is to scroll down until you find what you want. Tedious.
At least cash out is newly available.
TO STREAM OR NOT TO STREAM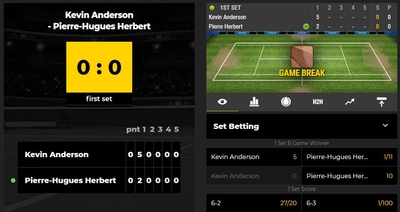 Live streaming isn't an option at EnergyBet, although they rather confusingly have camera icons next to a lot of events which indicates live streaming at almost every other bookie out there.
Here though, it means that a live match graphic or game visualisation is available.
These crossed wires aside, this is a really good little tool. It has the live score along with animated depictions of what's happening (a serve, for example), event stats and incidents, a head to head comparison, and recent form.
It's easy to use but you lose it as you scroll down to find your bet…
The EnergyBet Site: Overview
The Energybet website is probably best described as an acquired taste. I don't love it, personally, but I've spoken to some people who are really keen on it. For my money you can tell that the company has come from the world of online casinos, with everything being big and obvious on the one hand; whereas at other times it can feel like looking at a spreadsheet.
The thing that irks me the most is that it forces you to use the A-Z to get to where you want to go, with each click revealing a new sub-menu until you eventually get deep enough to find the sport you're looking to bet on. This also limits what you can look at so you have to keep going back to the menu to navigate, then scrolling back up to find the events. I prefer using tabs, personally.
Having said all that the site is robust and the inner working all seem to be well oiled, it doesn't hang around and the black/yellow colour scheme is effective from a visual point of view and also helps divide the screen.
The homepage is geared towards the live betting punter, and there are sufficient quick links to avoid the horrible menu navigation system so long as you are betting on something popular like a big current competition.
Is There an App?
There is an EnergyBet app as well as a mobile site that is very similar to the desktop site, with some small exceptions. The overall design, layout, and feel is exactly the same.
Sadly, that includes the navigation system so it still takes an annoying 4 or 5 taps to get anywhere, but the funny thing is that you accept it more on mobile because the design aspect is trickier to master on the smaller screen, so we are used to having to take a longer route.
Anyway, the site is pretty responsive and the odds buttons are large enough for fat thumbs, although some of the menu options are a bit on the thin side causing the odd mistake. It's fast though, just like the main site.
The scrolling menu links to live games only, which is actually much more useful, and the betslip is instantly available from a quick link at the bottom.
There's little to nothing that you can do on the main site that you can't also do on your phone, so you're not losing out by opting to go down that route.
To be honest, having used both it feels like the desktop site is a blown up version of the mobile site rather than the other way around, which could be why the mobile site fares better.
About the EnergyBet Brand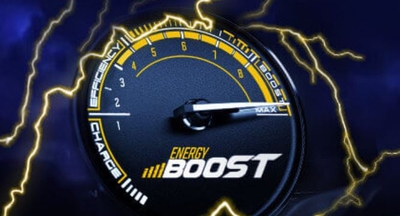 Owing to the fact that EnergyBet is so young, relatively speaking, there isn't an awful lot to say about them. They're operated by Probe Investments Limited and they made a name for themselves as a casino opening in 2013.
The leap to adding a sportsbook to their operation felt like a natural progression after the success of the casino, with the reward scheme linking the two.
Probe Investments are a secretive bunch, but the fact that they are able to partner with two football clubs shows that they've got a reasonable amount of capital behind them, as football sponsorship isn't exactly a cheap endeavour.
The brand have shown the ability to grow steadily and have improved their offering over time, and this shows the company has a sensible approach and allow growth to happen organically. They have a much more youthful reputation though, aiming themselves squarely at the younger generation if their marketing is anything to go by.
License & Contact Details
| CONTACT METHOD | AVAILABLE? | HOURS | ADDRESS |
| --- | --- | --- | --- |
| Email | Yes | 9am-12pm | support@energybet.com |
| Live Chat | Yes | 9am-12pm | On Site Tab |
| Phone | Yes | 9am-12pm | +44 791 878 5604 |
| Twitter | Yes | – | @Energybet_com |
A valiant effort is being made here. Response times on phone and live chat are lightning fast, and all services are available 9am until midnight during the week. However, during the weekend this is cut to 1pm – 9pm, and given that the weekend is when most sports will be taking place, I'm not sure how well they thought it through.
The team are genuinely helpful though and don't just give you links to help pages you have already looked at before contacting them.
EnergyBet is based in Malta and registered there, too. They also have a UK Gambling Commission licence with the number being 39325 and no fines or issues on record, which should give you peace of mind..
You can write to them at their registered address if you get the urge:
Suite 109, Level 4, Sir William Reid Street, Gzira, GRZ1033, Malta
EnergyBet: A Good Fit?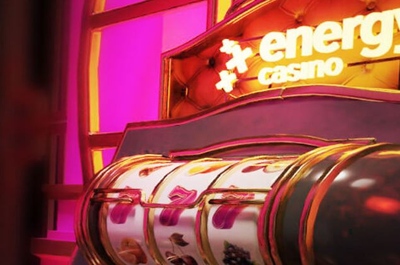 Aside from the obvious fact that EnergyBet has a whopping great online casino as a sister site, there are a few other extra features that don't require a full section to themselves but are certainly worth knowing about.
All bookies have their pluses and their minuses, but it's the little things that can sometimes make all the difference. Energy are good for people who like to use a wide range of payment methods, for example, but what else is there to say about them:
Reward Scheme – Alongside promotions and bonuses, the EnergyBet shop is full of free spins and cash rewards which can be bought using EnergyPoints earned while betting/playing. You only need 100 points to get your first reward.
Cash Out – I know I know, but it's new to EnergyBet which is a sign that they are growing and improving, so now could be a good time to join.
Betslip – Arranging single, combi, and system bets under different tabs makes the betslip so much tidier and more user friendly.
Casino – Maybe not useful for everyone, but a bettor who also plays casino is set up perfectly here since EnergyCasino is absolutely packed with top quality games.