LeoVegas is relatively young in the world of online betting and its sportsbook is even younger. The Swedish company, which predominantly aims itself at mobile betting, was founded in 2011 by Gustaf Hagman and Robin Ramm-Ericson. Their headquarters are in Stockholm, though the LeoVegas brand comes under the LeoVegas Gaming PLC umbrella, which is based in Malta for tax reasons.
Technically they are a global company, with interests around the world. However, the truth is that they are mainly interested in the British market as well as Nordic countries such as Norway and Finland. Having started life as an online casino, as their name eludes to, they decided to branch out into sports betting in time for the 2016 European Championships and that's when they caught my eye so I thought I'd let you know about them, too.
Desktop Site Overview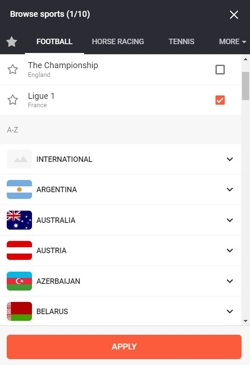 I'll be honest, the LeoVegas website wasn't really made for desktop computers. It looks a bit tired and is more like a giant app, so it's certainly not one of the better sports betting websites around.
That said, it wasn't designed for desktop computers, their target market is the mobile users, so perhaps it's unfair to judge them too much on this.
Bearing that in mind, then, you'll find the desktop site slightly unusual compared to some of the more mainstream bookies.
The interface itself only covers the middle third of the screen which doesn't leave much room for the odds and markets, although live and upcoming games get first dibs alongside any favourite markets you might have selected.
To find anything else you can use the search bar or use a clumsy sport browsing button that opens a mini console. This can take a long time to use and you have to start fresh for each new search so it's not very user friendly either.
Banking: Deposits/Withdrawals
| PAYMENT METHOD | MINIMUM DEPOSIT | MINIMUM WITHDRAWAL | WITHDRAWAL TIME |
| --- | --- | --- | --- |
| Visa/Mastercard | £10 | £10 | Up to 5 working days |
| PayPal | £10 | £10 | Up to 5 working days |
| Skrill | £10 | £10 | Up to 5 working days |
| Paysafecard | £10 | N/A | N/A |
| ApplePay | £10 | n/a | Use Other Method |
| Bank Wire | £10 | £10 | Up to 5 working days |
There is no mention of fees on the LeoVegas website but you might want to double check if you are planning a bank transfer as these often come at a cost.
Deposit maximums are comparatively low at £10k using Neteller but dropping to £3k using debit card, and the max withdrawal looks to be 40k. This won't be an issue for most people but it is lower than many other bookies.
They have stated 5 days as an absolute maximum but this will depend on the method you choose. I would also be massively surprised if your withdrawal request took 5 days using an e-wallet, these can often be processed in a matter of hours.
Mobile Overview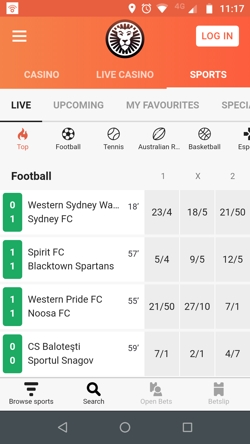 The mobile app (and the mobile site, for that matter) are like chalk and cheese when compared to the desktop site. It uses the same colours and branding and even the same layout to some extent, but it's considerably better looking.
The layout makes more sense on the small screen and they have fun icons representing the sports they offer, too.
The link to 'Show All' is still the same boring list, but the search option could help you bypass using that most of the time.
The whole app is quick and responsive most of the time – there's the odd bit of stalling –  but the flow is not much better than the desktop site, there's lots of starting from scratch to find new markets instead of being able to move through the site omnidirectionally.
Tapping on any individual sport will give you links to live and upcoming matches, and this is the apps main strength. It great for live betting but less useful for futures.
I don't love the colour scheme they've opted for (white and grey, a little bland) but it's a workable option and a much better experience on a tablet or mobile than on a desktop computer.
Market Selection and Odds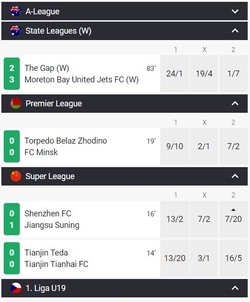 You probably won't be all that surprised to learn that LeoVegas' market range and depth isn't as impressive as the biggest bookmakers in the game, but do you know what? It's not half bad. It's hardly a fair comparison either, and the company would probably respond by saying that their casino business is much better than their competitors.
They still cover all of the major sports you'd expect as well as some more surprising ones such as chess, squash and water polo. What's more, they cover matches from all over the world and the betting lines are comprehensive including Asian lines and some interesting combinations.
Odds-wise they're middle of the road, but can sometimes stand out. Best odds are guaranteed on selected horse races and there are offers available but they aren't prolific. Still, they have run a free bet club and things like that, and I'm a firm believer in being a member of numerous bookmakers and seeing who has the best odds for the event that you want to bet on, so I'd recommend that you have LeoVegas in your roster.
Live Betting Experience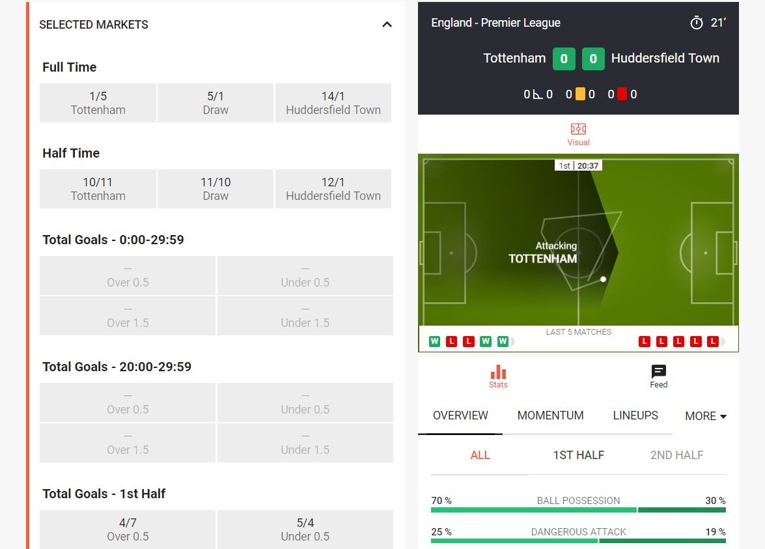 As is the case with most bookies nowadays, LeoVegas make a big deal of their live betting options. It's the first tab you'll see on their sportsbook page and every individual sport that you click on will tell you about live games and upcoming fixtures before anything else. Each sport has its own section with different events made clear. Within said events there are then clearly defined markets to bet on although scrolling time is an issue.
The reality is that the number of lines and markets available isn't as large as with other bookies, but they're not far off. The live betting system is also decent, managing to tell you all about what you can bet on clearly without over-complicating it all. It's not perfect but it's actually much better than I was expecting.
There is no live streaming available whatsoever, which isn't really a surprise, but the stats that are available in event view are actually pretty good, and on the whole the live betting was much better than I was expecting – if you can deal with the poor site design.
About The Company

LeoVegas want to be the best mobile bookies in the industry, although they started out as a casino only in 2011. For that reason, they have arrangements in place to offer games from the biggest gaming providers around. The list of companies that they work with includes Bally, NetEnt, IGT, Play N' Go, Playtech, Yggdrasil, Evolution Gaming, Microgaming, Authentic Gaming and WMS.
The sportsbook was only launched in 2016 just in time for the Euro's, which was a clever move on their part as more people were looking for somewhere to place a bet and maybe take advantage of a welcome offer too. They use the Kambi platform, not only for the online interface but also for their odds compilation.
What may interest some of you is how good they're considered to be by those that quantify such things. Since 2013 they have won eight different awards including the likes of 'Best Mobile Product of the Year' at the 2014 EGR Nordic Awards, the 'Grand Prize Award' at the GP Bullhound Summit of 2015 and the 'Online Casino Operator of the Year' award as given out by the International Gaming Awards. In other words, they're not messing about.
Standout Features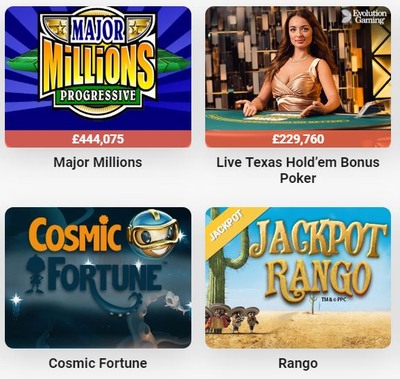 The mobile app is very impressive, which is no more than you'd expect for a company that is trying to win over the mobile betting community. Their mobile site is also very impressive, running smoothly and having plenty to recommend it.
It's probably better suited to people who treat betting as a bit of fun because it doesn't feel like a professional betting tool, although it's perfectly capable of behaving like one. Here are a few other noteworthy points:
Casino and Games – I understand this won't be a draw for every sports fan, but for people who like to mix sports betting and gaming LeoVegas are an obvious choice.
Favourites – This feature is much more prominent here and actually allows you to bypass the awkward website layout. You can favourite leagues/competitions to appear on the homepage so you can get straight to it.
VIP – There is a loyalty scheme running across both the casino and the sportsbook that gives rewards depending on your level, including a monthly draw where prizes like Apple products and event invitations can be won.
License & Contact Details
| CONTACT METHOD | AVAILABLE? | HOURS | ADDRESS |
| --- | --- | --- | --- |
| Email | Yes | 24/7 | support@leovegas.com |
| Live Chat | Yes | 24/7 | Help Bubble Onsite |
| Phone | Yes | 24/7 | +44 808 169 9799 |
| Twitter | Yes | – | @LeoVegasSportUK |
The customer support team at LeoVegas is excellent. They have a friendly 24/7 service and I have never had to wait for someone when I got in touch via live chat or phone. Do be warned, though, they're quick to cut you off on the live chat if you remain inactive for long!
LeoVegas is owned by LeoVegas Gaming PLC. which operates out of Malta. They are both licensed and regulated by the Maltese Lottery and Gaming Authority and because they operate in the UK they also come under the auspices of the UK Gambling Commission, with a licence number of 39198.
Should you wish to contact them by snail mail then their principal address is:
LeoVegas Gaming PLC, Level 7, The Plaza Commercial Centre, Bisazza Street, Sliema, SLM 1640.