Betfred are a bit of a rare breed nowadays since they are one of the last independent bookmakers. Not only that, but they're actually one of the largest bookmakers out there, with a great online arm to complement their high street shops.
The company was set up by two brothers named Peter and, predictably enough, Fred. They opened their first shop in Salford in 1967 and at the time of writing they have more than 1650 shops across the country.
There's no question that Betfred's main focus is football and horse racing when it comes to UK based sports. They are the areas where you'll find the most interesting odds and markets, and as Betfred won the right to run the Tote with a £265 million bid in 2011 you are unlikely to find many places more suited to horse racing.
In this day and age, you'd be disappointed with a bookmaker that didn't also cover well-known tier two sports such as tennis, golf, and American football, so it's no surprise that their range covers all these and more.
Odds and Markets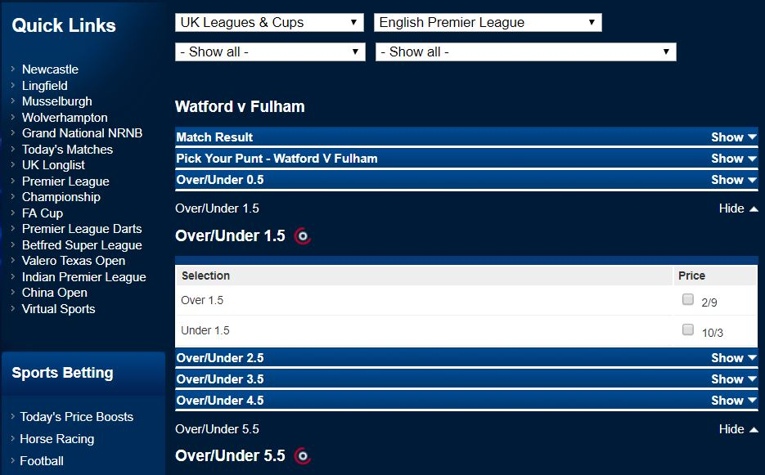 There is a reasonable range of sports to bet on with Betfred, though the depth of some of those markets leaves a lot to be desired to be honest. As well as the usual sports like football, rugby and tennis you can also find coverage for things such as formula one, MMA and bowls. They also normally cover major events such as TV shows and awards ceremonies like the Oscars, but don't stray far from the norm.
Nothing in betting is ever hard and fast so this could change at any moment, but for now it's safe to say that you'll get more betting options per event with other bookmakers. That doesn't mean that Betfred aren't worth betting with, of course, with their odds coming in near the top end and a crazy number of offers and promotions providing great value.
The prices themselves are not in question, but it is worth considering other bookmakers if you're a fan of placing really specific bets on any given event.
Website in General
Personally, I'm a big fan of Betfred's main website, but it's probably not for everyone. It's simultaneously really busy with loads of tabs and menu's, and yet once you have used it a few times it becomes very easy to navigate. There's nothing fancy about it but it works.
There's a 'quick links' section that can take you to all of the most popular betting events with just a single click, and it changes all the time and doesn't just focus on the obvious sports. This handy if it's the next round of Champions League football or Wimbledon is on and you can't be bothered searching through the site to find what you need.
Less popular betting markets will take a bit more effort to find but not by much, the sports list is right there for future markets and if it's an in-play event then it will be in the centre of the homepage. There isn't a search option though so you do have to do some digging sometimes.
Chances are you won't have to go too far from the homepage to get to what you want, it feels like everything is listed there; live commentary, blog, price format, next off races, offers, etc – but the layout doesn't save you any time and isn't pretty.
The App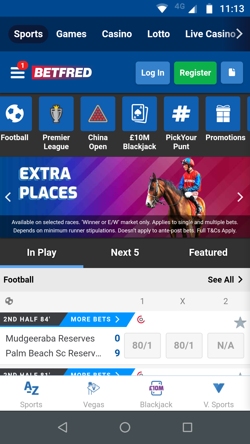 When it comes to Betfred's mobile app things look rosy. It is a tad slow to load but once it's up and running you'll find that it operates smoothly and is quicker than average to process tasks.
It feels a lot cleaner than the desktop site with its feet firmly planted in the modern age.
It's also really easy to navigate, with a separate A-Z button as a quick link so you don't have to open the menu first (although it is in there as well). You can favourite this A-Z too so your sports show up at the top and there are one or two nifty little innovations to make it more user focussed.
There are one or two minor things I would change – pressing the menu button gives you a list of other Betfred apps available before anything else which the majority of people won't care about – but on the whole it's fantastic.
The search function is greatly improved so you can find specific or less popular markets quickly; and odds, writing, and quick links are proportional to the screen size which makes the whole thing feel like it fits well within the space.
You technically don't need to use anything other than the app to run your account, it's got everything in there, even streaming and radio commentary.
In-Play Experience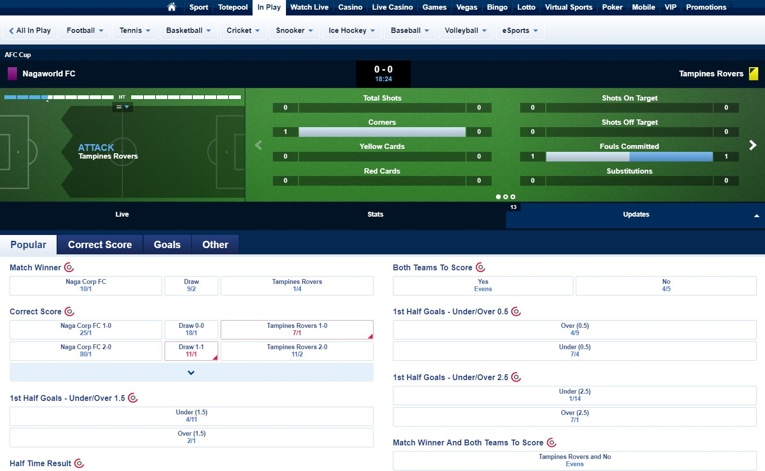 There are loads of live betting opportunities here, with football being the site's specialty. I often notice there is more in-play football available than almost anywhere else, even in the early morning you can bet on the Malaysia FA Cup or something equally as barmy.
You can also bet live on tennis, basketball, cricket and pretty much any other sport that isn't over too quickly to make it impossible for them to monitor. As is the trend with Betfred, it's not the most advanced looking interface but it does the job.
If you want to keep up with the action on a live bet and there's no streaming option then there is a basic graphic that tells you the latest developments via a timer, text updates, and images to indicate dangerous attacks, for example. The match stats can be useful but aren't overly in depth.
There are some bet type categories but there needs to be more really or you could strain your eyes scanning for the bet you want. You can view the upcoming games by how far into the future they start though.
LIVE STREAMING
You can live stream a number of sports with Betfred, with football and horse racing once again being amongst the most popular. You don't always need to have placed a bet to do this, either; though you do need to be logged into your account and have real money in it.
When it comes to the company's coverage of greyhound racing and horse racing you need to place a minimum bet of £1 to be able to watch it live and the great news is that they stream every single UK and Irish race out there, so you won't find better from that point of view.
The live stream opens in a new window which I prefer but some may not, and there is also the Betfred radio commentary to consider.
Banking: Deposits/Withdrawals
| PAYMENT METHOD | MINIMUM DEPOSIT | MINIMUM WITHDRAWAL | WITHDRAWAL TIME |
| --- | --- | --- | --- |
| Visa/Mastercard | £5.00 | £5.00 | Up to 48 hours |
| PayPal | £5.50 | £5.00 | Up to 48 hours |
| Skrill | £5.00 | £5.00 | Up to 48 hours |
| Neteller | £5.50 | £5.00 | Up to 48 hours |
| Paysafecard | £5.00 | | |
| Bank Wire | £85.00 | £25.00 | 1-5 Days |
| Cash (In Shop) | £10.00 (in shop) | No Min | Instant (in shop) |
Betfred deposits and withdrawals are fee free with the exception of certain bank wire transactions. To be fair to them they allow one free standard bank transfer withdrawal every 28 days which might not sound much but it's more than you get at most other places. Deposits of £170 or more will always be free (terms and conditions apply) but charges apply for lower amounts.
It's also best to note that the withdrawal processing time applies to their end only, your bank's end of it might bump the time up a little.
BETTING INSTORE
One huge benefit of being a customer at Betfred is that they run over 1650 physical high street shops, so you can get some face to face time with the company if you want or need to. There is a shop locator on the website if you don't know which is your closest.
Betfred is the only high street bookie that hasn't got some sort of store card scheme in operation, but that doesn't mean you can't link your online account and your physical cash, you can, it's just not quite as convenient. To be more precise it's a pain in the proverbial.
You have to give the shop manager some personal details and they will then process the deposit via customer services. You can only withdraw from your online account instore if you also deposited this way, it will require photo I.D, and withdrawals of £250 or more require 48hrs notice – so you may as well just use another banking method in this situation.
Betfred: About
Founded by Fred and Peter Done in 1967, Betfred's popularity has exploded since the turn of the millennium. In 2003 it had a turnover of £550 million but this became £3.5 billion by the following year. It is strongly suspected that Fred is a Manchester United fan for reasons that will become apparent.
Betfred became the first bookies to pay out early before a result was guaranteed when they paid out on United winning the title in 1998, the year Arsenal won it by a point. In 2012 they paid out early on the Red Devils winning it again, only for City to win on goal difference thanks to Sergio Aguero's last-minute goal against QPR. Fred Done lost £1 million to Victor Chandler, a bookmaking competitor, when he bet that amount on United finishing above Chelsea. He is obviously a better businessman than he is a gambler.
Betfred love a bit of sponsorship, having been the official partner of Wembley stadium, Tottenham Hotspur and three of the country's main greyhound tracks. They have also sponsored the World Snooker Championship in Sheffield and the Scottish League Cup amongst others.
Contact Table
| CONTACT METHOD | AVAILABLE? | HOURS | ADDRESS |
| --- | --- | --- | --- |
| Email | Yes | 24/7 | support@betfred.com<;/td> |
| Live Chat | Yes | 24/7 | Chat Box Onsite |
| Phone | Yes | 24/7 | 0800 028 7747 |
| Twitter | Yes | – | @Betfred |
The company's UK licence reference number is 39544 and their customer service address is:
Betfred Online, c/o The Spectrum, 56-58 Benson Road, Birchwood. WA3 7PQ.
Alongside the FAQ there is also a useful Betting Glossary if you come across a term you have never heard before and don't want to be mocked by your mates for not knowing what it means.
The team are really friendly although they can be a bit hit and miss with how knowledgeable they are, but I hardly blame them because the terms are dense and the site is littered with contradictory information.
Why Betfred?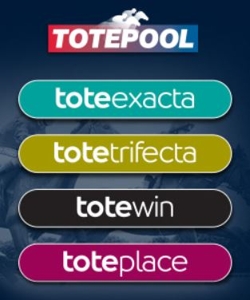 Betfred is known as 'The Bonus King', such is the extent to which they churn out offers and bonuses on losing bets. Some of their long standing bonuses on football are fantastic and make them worth using for that alone.
Tote betting is another reason to bet with Betfred if you like the nags, because even though they don't hold exclusive rights to this sort of betting anymore they have been running the Tote for over a decade now so they know what they are doing.
Betfred feels like a traditional bookie that has been forced into the modern age rather than embracing it, but they still have a few other cards up their sleeve:
Sports VIP – Not all bookies push this but Betfred have a nice package including fast track withdrawals, enhanced offers, race day passes, and some great hospitality rewards.
Cash Out – Everyone does it nowadays, but Betfred have Cash Out available on a lot more markets than some.
The Tote – Yes it's been mentioned, but since it is peer to peer betting as opposed to betting against the bookie, the rewards tend to be greater, so it's getting another mention. Essentially, all bets go into one pot and the winners split the pot accordingly. That means the fewer punters that win, the more the winners get.
Blog – A one stop shop for all the latest sporting news. Loads of articles go up every day across all sports, plus some tips and insights.