Coral is the third largest retail bookmaking business in the UK with a market share of approximately 20%, and it all started when Joe Coral formed the business in the 1920s to allow people to bet on greyhounds.
It's a long way from the 1920s to now, and Coral have kept up with the changing times by offering a huge website absolutely packed with features and markets including more live streaming then you are likely to find almost anywhere else. Their market range is vast, market depth is impressive, and the betting lines are interesting and varied.
With so many resources backing them up, Coral have no reason to offer anything but an exemplary betting platform and they deliver on every level. Add to that the ability to bet in cash using their high street stores and you have a bookie that covers every angle, meaning bettors have the freedom to wager on pretty much anything and in a way that suits them.
Desktop Site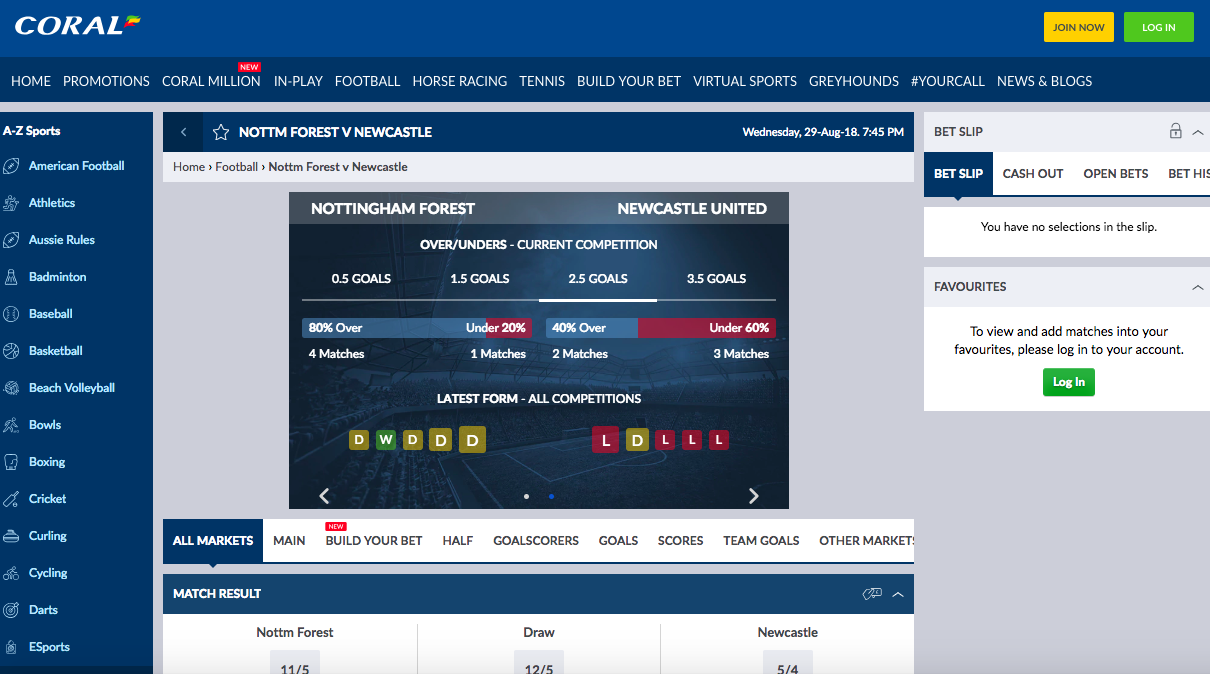 The Coral website offers clear tabs at the top of the page to select your area of betting, and things only really get clearer from there. It helps that their blue colour scheme brightens the page up and helps to draw the eye in all the right places. From your initial selection you will land on the Sportsbook homepage with a few quick link tabs to hand and an A-Z of sports with their associated symbols.
It's a typical layout that puts everything where you would expect it to be, with in-play fixtures ready to go on the homepage and each sport category having its own landing page of sorts. I prefer this approach over filtering using the sports list, it feels like the options are cleaner when they are put to you.
There is no search function on the site but the navigation system is such that you don't really need one; by the time you have typed and searched you could have just used the menu and found your event from there. Each sports' landing page gives you the option to view matches from today, tomorrow, or the future, and you can choose which betting line appears as default which is a nice touch, match results, BTTS, first half score, etc. You can also select markets from a list of competitions/leagues, jump to outrights, specials, coupons – it's put together brilliantly and knows how a punters brain works.
For a company that packs so much content, this website is astonishingly clean to look at and refreshingly simple to use.
Coral Mobile App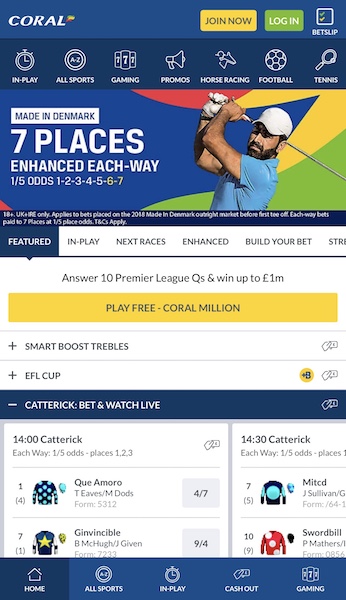 Coral have done a good job of condensing a heavy product into a smaller package for their app and mobile optimised website. There are quite a lot of different routes to take but it never feels overly complicated, it just turns it into a superior betting platform in my view.
Navigation is handled deftly using a combination of quick links, a scrolling menu bar, and a separate button that reveals the full sports list. This adds an extra tap if you aren't looking for a typical market but as the app works so quickly it takes all of an extra 3 seconds. Page loads are a little slower but the reaction time of the interface is spot on.
There is a quick link button to in-play and cash out as well as one that whips you straight back to the homepage. This was clearly built for the live bettor first and foremost but the design will suit anyone except perhaps a complete novice.
There is a lot to work with here so scrolling can sometimes become an issue, but I really like that they have kept all of the natty extra options you can find on the desktop site; even though they need space on the screen they make the app much more dynamic.
Not many other bookmakers can boast the level of content and services as Coral provide here. Access to every market available on desktop, full banking, history and stats, and you can even live stream sports and racing on mobile too. This is the full package.
Live Betting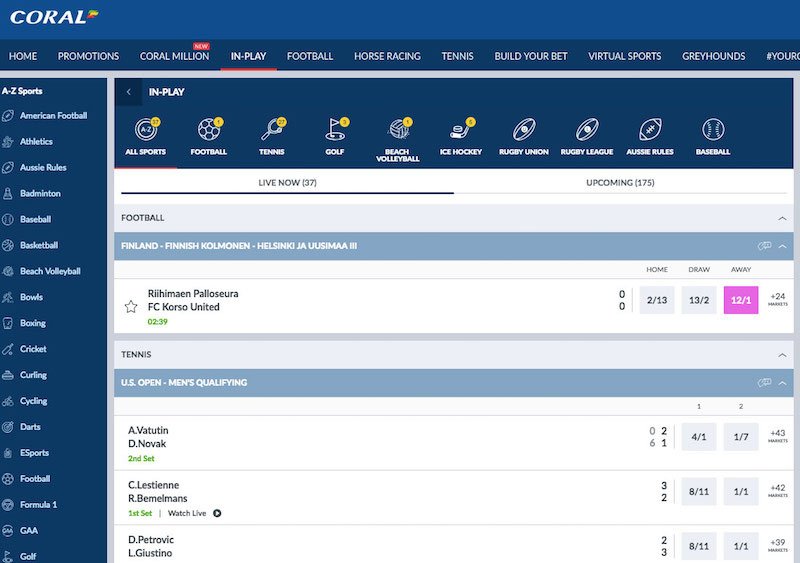 Clicking the 'In-Play' tab brings up a list of all of events that are taking place at that moment in time, and the chances are that if you can't find it here it won't be available anywhere else either.
You can select which sport you are interested in from the tabs which also denote how busy the market is, or simply scroll through the list of all live events and see what takes your fancy. Alternatively, if you can't find anything you like the look of you can switch to look at fixtures that are upcoming and plan ahead.
From event to event there is plenty of information upfront such as score, time on the clock, indications of odds changes and how many markets are available for that event. Clicking the latter will open event view, where everything is arranged using drop down menus and most are closed by default which makes browsing them much easier; you can just expand the one the markets you are interested in, make your bet, and close it again.
Cash out availability clearly noted – and it feels like it's available on everything.
This is a great in-play interface that has lots to offer in terms of markets and betting features. It's perhaps not the most stylish, but that's not going to be most peoples main focus.
Live Streaming
Coral streams many of its events, with horse racing and tennis seeing the most coverage but you can pretty much guarantee that major events in other sports will be available. Looking at the in-play menu you can actually select live streaming as an option so that only those events that are available to stream are displayed.
You can watch most live streaming events for free as long as you have a Coral account and there is some money in it, but you will need to be logged in. Horse Racing and Greyhound Racing are free to stream as long as you have bet at least £1 on the race and this is standard across the industry.
Coral are actually one of the biggest streaming betting sites around, with over 2000 events a week available to watch via their website and app. They stream most major sports with snooker, basketball, rugby, tennis and football, darts and ice hockey high on the list. On most events that they don't live stream, you can use a graphic visualization of the game complete with event stats and regularly updating information.
Betting Features
Being such a long established company, Coral have more betting features than most.
Obviously, one main selling point is that fact that they have physical shops to bet in and all of the extra benefits that brings, but they are a great destination for live streaming fans. This extends to live betting in general as both cash out and partial cash out are available site wide and are really easy to use.
They still retain an old school feel at the same time as being totally in tune with the modern betting world, which makes them practically perfect for anyone really. Old timers should feel happy with the service and this history of the brand, and newcomers can enjoy all of the latest innovations from a bookie with the bank balance to back them up.
One or two of my favourite features are:
Bet Builder – Build Your Bet is available on over 100 football leagues and allows you to choose multiple selections from a single game to build a multiple bet that suits you. The odds will calculate immediately too, so it's super fast to use.
News & Blog – I use this a lot to stay up to date with the latest in the industry, but also to get tips on where to put my money. Some regular writers are ALan Shearer, Jim Crowley, Joe Tizzard, and Tom Scudamore.
Virtuals – Virtual sports aren't for everyone, but if you are a fan you won't get much better than here. 9 categories await you including boxing and tennis which you don't often get.
#Yourcall – Can't find the market you are looking for? Ask them for it and Coral's team of traders will come up with odds for you, and maybe even add them to the site for other bettors to use.
Banking: Deposits/Withdrawals
| PAYMENT METHOD | MINIMUM DEPOSIT | MINIMUM WITHDRAWAL | WITHDRAWAL TIME |
| --- | --- | --- | --- |
| Visa/Mastercard | £5.00 | £5.00 | 1-3 Days |
| PayPal | £10.00 | £5.00 | 8 Hours |
| Paysafecard | £5.00 | | |
| ecoPayz | £5.00 | | |
| Trustly | £5.00 | | |
| ApplePay | £5.00 | | |
| Bank Wire | £5.00 | £5.00 | 2-4 Days |
There's little that you can't use to make a deposit with Coral and none of their methods incur any fees. This is no less than you would expect from an industry powerhouse like Coral. Withdrawals are fairly limited however.
Maximum payouts are large here, hitting the £1 million mark but top football for example, and there are no maximum deposits or withdrawals. If you did want to withdraw less than £5.00, you can contact customer services, however its likely they could add a fee if you keep requesting smaller withdrawals.
HIGH STREET BETTING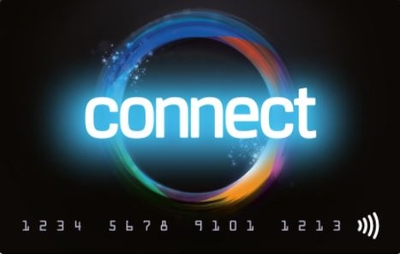 Having 1800+ shops on the highstreets of Britain also affords Coral's customers another option. They can use the Coral Connect card to link their banking activity online and in real life.
The maximum withdrawal in cash from a betting shop is £1000, so it's a great option if you are on your way to watch the game, for example, and want to make a quick bet as you travel using the app. You can do this using the funds in your online account, and if your bet is successful you can dip out from the pub at full time, nip into your local Coral and use your Connect card to withdraw your winnings in cash. No pending periods, no processing times, just instant cash in your pocket.
You can also top up your online account using cash in store, so it's hugely flexible. What's more, Connect customers get special exclusive offers and promotions and can collect reward points for their betting activity, and since it's free to sign up for the card it would be silly not to if you bet with Coral anyway.
Market Availability and Odds

Firstly, there are more than 50 different sport categories covered by Coral, which gives them one of the most far ranging sportsbooks on the internet. Curling, fishing and pool, join the ranks along with the more usual suspects like football, tennis, cricket, American football, etc. They could do with indicating how busy each category is though, to save punters from opening a more niche market only to find there are no events currently going on – that's a bit annoying.
They don't get too silly with market depth but they will offer more than 150 betting lines on Premier League fixtures, for example, so while you can find some online bookies that almost double this amount, in reality you still have more than enough to play with here. The range is definitely more impressive than the depth of the markets, but again, unless you are betting on something going on in the Andes you should be able to find your market.
Being old school the horses and greyhounds get plenty of attention at Coral, with best odds guaranteed on offer as well as very competitive odds in these markets in the first place. They look after their old timers here.
They can get a little bit cheeky with their margins at times so keep an eye out for that, but for the most part their odds are carefully competitive without making other bookies sweat too much. However, there are plenty of promotions and odds boosts on offer so if you jump on the back of them you can be in for some tasty returns.
About Coral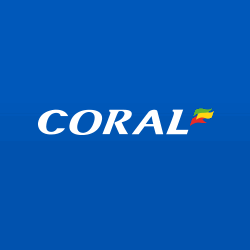 Joe Coral borrowed money from a café owner in 1926 in order to operate a pitch at a greyhound meeting. He was joined by his friend Tom Bradbury-Pratt and the two of them soon began to cover a number of greyhound and speedway meetings; something that is reflected in the fact that Coral still own some greyhound tracks around the country.
When offsite bookmaking shops became legal thanks to government legislation passed in 1960, Joe was one of the first bookies to take advantage. His first shop was opened in 1961 and the company soon gained a reputation as a bookie willing to take big bets and the risks associated with that. By the time it was bought out by Bass in 1981 Coral had about 650 shops across the UK.
Later, Ladbrokes made a few attempts to buy Coral, eventually succeeding in 2015, but not long afterward GVC Holdings became the owners and operators of both brands. These days, Coral operates more than 1800 betting shops, has been running a huge website since 2000, and employs 1100 staff.
I'm not sure if Joe Coral ever paid that café owner back but I'd like to think that he did.
Licence & Contact Details
| CONTACT METHOD | AVAILABLE? | HOURS | ADDRESS |
| --- | --- | --- | --- |
| Email | Yes | 24/7 | support@coral.co.uk |
| Live Chat | Yes | 24/7 | On Site |
| Phone | Yes | Mon-Sun 8am-1am | 0800 440 011 |
| Twitter | Yes | 24/7 | @CoralHelp |
Coral is officially based in Gibraltar for tax reasons. They have a UK Gambling Commission licence (reference number 39071). If you want to know where to send letters and fan mail then their address is here:
Coral, New Castle House, Castle Boulevard, Nottingham, England, NG7 1FT
It's worth pointing out that as well as a support number Coral are one of the very few bookies that also provide a telephone betting service. There is a £10 minimum bet to use this service and the freephone number is:
0800 242 232
It doesn't get much better in terms of customer support; I suppose they could keep the phone line open into the early hours but since live chat is available it doesn't seem necessary. There is also an FAQ that is really informative, having clearly been given some attention rather than just tagged on like it is at some other places.