Despite not having the brand recognition of some their rivals in the UK, Unibet are actually one of Europe's biggest online bookmakers. They have over ten million customers spread across a hundred countries give or take. They're Sweden's largest betting site, which will indicate their Scandinavian roots, despite actually being formed in the UK.
The company has been around since 1997 but has really stepped up its game to appeal to the British market from around 2010 onwards. Originally it offered telephone betting before joining the world of online betting two years later.
Perhaps their most appealing feature is the fact that their continental origins means that they offer markets that not all UK-based bookmakers promise.
Award Winning App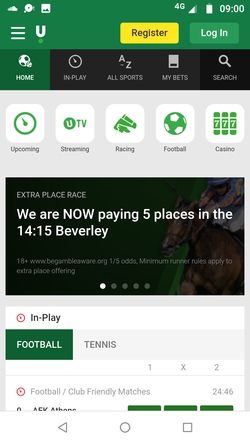 I liked the mobile app as soon as I opened it up for the first time. It follows the same simple design as the main website but it works even better on a small screen. The interface looks smart and is really responsive to anything you ask of it, although it can feel jerky from time to time.
It is an award winning app so you know you are using something that has gone down well before, and I think the in-play section probably had a lot to do with that. Every time you click on a sport it will show any in-play options first and foremost and if you then click on a specific event it will tell you whether or not it's being live-streamed.
Everything you can do on the desktop site can be done equally well on the app, and it manages to keep scrolling to a minimum with some thoughtful organisation and layout decisions, as well as a few natty little innovations that let the app react to what the user is doing.
The only thing about the app I don't love is that it depends a little on menus that open up other options and they're located right next to each other. That can lead to confusion if you haven't used the app for a while and have forgotten which one does what.
How's the Live Betting?
Much like the rest of the site, Unibet's in-play betting section is streamlined and easy to navigate. The main page gives you a list of every live event available in a list, separated into the different sports. Along the top there's also a list of all of the sports, should you wish to go straight to one in particular. There's an 'Upcoming' tab too, so you can have a look at any scheduled events.
One small bug-bear for me is that if you click on a sport and there's no live event at that particular moment, the site doesn't tell you when the next event is scheduled. Instead it just says 'There are currently no match events available', which is a little irritating and causes you to needlessly have to click onto the Upcoming section. A small thing, but an irritant nevertheless.
STREAMING OPTIONS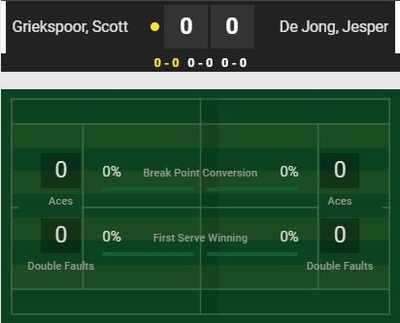 When it comes to live streaming, Unibet are up there with the big boys. They promise over 40,000 live events and their continental outlook means you may well find some events that other bookies don't cover.
There's also a streaming schedule published on the site that tells you what's coming up over the next week. That allows you to plan your viewing, which is handy. Importantly, the live streaming is also available through the mobile app.
You need to have a funded account to watch the streams but even if you don't there is still a match graphic to make things a little more immersive.
Using the Desktop Site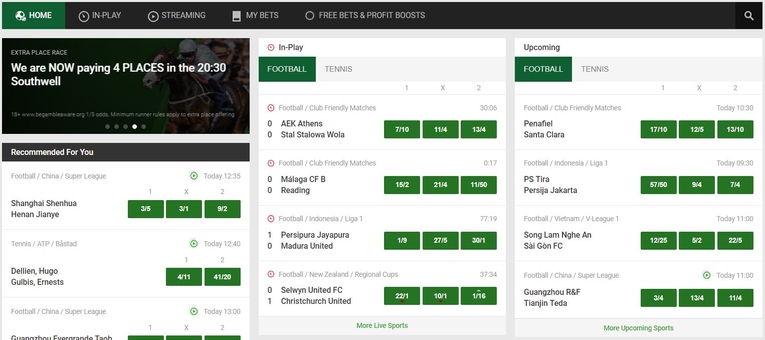 It's a clean interface that Unibet present, which means that you can navigate to the things you want quite easily without being over-whelmed by colours and needless text. They've kept it very simple and that's admirable, it also helps when you are scanning for information or a specific sort of bet.
Along the main top bar you'll find quick links to all of the various products on offer, such as the sports book or casino. The sportsbook interface shows a list of popular links as well as all of the sports covered by Unibet, and then quick links to the most popular competitions of the moment (normally the Premier League) as well as some of the in-play bets available. These highlights feel like they have been thrown at the screen and kept in whatever order they landed.
It's a good job navigation is so good then, and the search feature comes into its own here. There is also lots of useful info associated with what you might be looking at, for example the league table shows up at the bottom of the football section.
Markets, Bets, Odds, Offers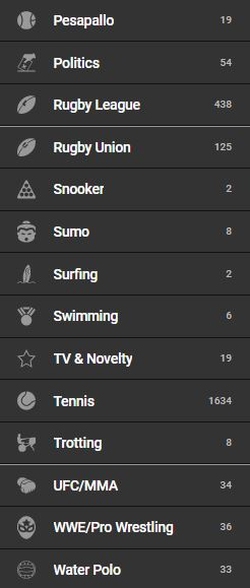 Have you heard of Trotting? How about Bandy? Is Cyclo-Cross something you're intimately familiar with?
The range of markets available through Unibet take some beating, I'll tell you that much. There is something to satisfy even the strangest of tastes here – even sumo!
It's not as if they sacrifice more typical markets to accommodate them either, with all of the usual UK favourites such as tennis, greyhound racing and the horses in their too.
The depth of the markets is tremendous as well, with only a couple of the big companies able to match them for the number of lines they offer on the big events.
When it comes to odds you won't be disappointed. Unibet are rarely beaten on odds on the major events and promise even better odds than their competitors on some of the less well known European sports.
Because they're not always taken into account by odds comparison sites it's worth checking in with them if you're thinking of placing a large bet or betting regularly on something.
The other standout thing about Unibet is that they often offer decent price boosts that make their odds even better again than other bookies.
Banking: Deposits/Withdrawals
| PAYMENT METHOD | MINIMUM DEPOSIT | MINIMUM WITHDRAWAL | WITHDRAWAL TIME |
| --- | --- | --- | --- |
| Visa/Mastercard | £5 | £15 | 1-3 working days |
| PayPal | £10 | £10 | up to 12 hours to process |
| Skrill | £5 | £10 | up to 12 hours to process |
| Neteller | £5 | £10 | up to 12 hours to process |
| Paysafecard | £10 | | |
| Trustly | £10 | | |
| ApplePay | £5 | | |
| Bank Wire | No minimum | £10 | 3-5 working days |
A combination of super fast withdrawal processing, £50,000 max withdrawal per card transaction, and fee free payments of all kind make this a great bookie from the customers point of view.
You might find some info on the site that isn't the same as what is stated here, but that probably just needs updating; after talking to customer service reps this is the information that was given.
The max payout cap is £250k for major football and horse racing though, which is low compared to their contemporaries, and it only gets lower for other sports. This means you should keep an eye on accumulators and the like – there is no point staking more than necessary before you hit the cap.
About Unibet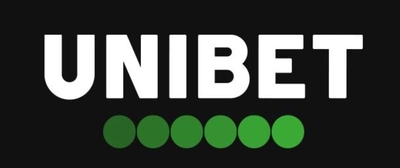 The headquarters of Unibet are located in Malta. The company is owned by Kindred Group plc, a public company set up to manage Unibet and their ever growing list of acquisitions, and it is listed on the Nasdaq Stockholm.
Unibet was founded in 1997 in a bedroom in Earl's Court, and has gone from strength to strength since then, acquiring numerous other companies along the way to ensure it grows exponentially where possible. That includes the 2012 acquisition of the Danish online bookmaker Bet24, and well known casino 32Red.
The company was one of the founding members of the European Gaming & Betting Association; proof were it needed that they take their customer's safety online very seriously. They have long been at the forefront of emerging technology, being one of the first bookmakers to launch a live betting option back in 2003.
They also have a Player Safety Early Detection System, which monitors your play and ensures that you're staying in control of your betting. A genuinely helpful thing that more bookmakers may look to introduce in the future.
Are Unibet Right For You?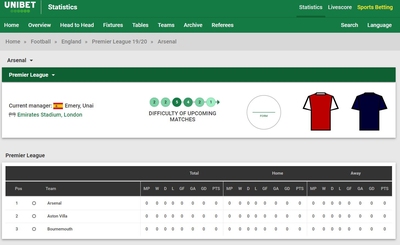 I think they would be right for just about anyone to be honest, and I'm shocked that they aren't mentioned in the same breath as the biggest online bookies in the industry.
If you bet mostly using your phone then these guys will be great for you, if you like betting live then even better.
The odds stand up and you won't find many bookies with more markets to bet on – I don't really know what else a punter needs. Nevertheless, alongside all of the offers, the casino and poker products, and the loyalty schemes, there are a few other features that bulk out Unibet's product even further:
Unibet Community – It's a unique one this. A forum for punters to discuss whatever they like and also a place to find help and advice. Bringing an element of the social scene found in bricks and mortar bookies.
Stats and Live Scores – This is a comprehensive betting tool to say the least. A treasure trove of information even on the less popular sports.
Betting Guide – Everything you could possibly need to learn about betting on something new, or using a new bet type. Great for both beginners and veterans looking to expand their betting portfolio.
Blog – This is one of the busiest blogs I've seen with a veritable army of writers. Multiple articles go up each day, and you can even filter by the sport or topic you are interested in.
Contacting Unibet
| CONTACT METHOD | AVAILABLE? | HOURS | ADDRESS |
| --- | --- | --- | --- |
| Email | Yes | 24/7 | info-uk@unibetsupport.com |
| Live Chat | Yes | 24/7 | On Site via Help |
| Phone | Yes | 24/7 | 0800 323 393 |
| Twitter | Yes | – | @Unibet |
The best way to get in touch with them is via their online chat, though you can also speak to them over the phone. You can email them too, though it'll take longer for them to get back to you that way – although saying that they are pretty slow on the uptake by any contact method.
Social media presence is strong but customer engagement isn't. They have various accounts but use them to push their own advertising more than to talk to punters.
Unibet are licensed and regulated in Malta but have a full UK Gambling Commission licence, reference number 45322 and held by Platinum Gaming Ltd.
If you're interested, the registered address of Platinum Gaming Ltd is: Kindred London Ltd, Kindred House, 17 Hartfield Rd, London, SW19 3SE.
Kindred Group plc themselves can be found at: c/o Camilleri Preziosi, Level 2, Valletta Buildings, South Street, Valletta VLT 1103, Malta.