Based in the Republic of Ireland and offering sports and casino services to customers all over the Emerald Isle as well as in the UK, QuinnBet is the brainchild of former multi-billionaire Sean Quinn. The site was launched on the FSB Tech platform in 2017 and Quinn said that his aim was to 'ruffle up' the feathers of bookmakers in Ireland and the UK. What that means exactly isn't totally clear, but the likelihood is that punters will be able to take advantage of exciting offers and decent odds as the Quinn family attempt to re-establish themselves after the collapse of the Quinn Group in 2010.
It's very much a family affair, with Seán Quinn being the sole owner and his son, Seán Quinn Jr. taking on the role of CEO. It's not without outside backing, though, given that Séamus McMahon of Belturbet is listed as a director.
The link with FSB Tech also grants them the use of one of the most popular casino and sportsbook platforms in the business, leaving QuinnBet then able to concentrate on providing good service and unique offers for its customers. It might be young in relative terms, but QuinnBet has already worked hard to mix it with the boys of Ireland before coming over to UK shores.
Banking: Deposits/Withdrawals
| PAYMENT METHOD | MINIMUM DEPOSIT | MINIMUM WITHDRAWAL | WITHDRAWAL TIME |
| --- | --- | --- | --- |
| Visa/Mastercard | £10.00 | £10.00 | 2-3 Days |
| Skrill | £10.00 | £10.00 | Up to 24 hours |
| Neteller | £10.00 | £10.00 | Up to 24 hours |
All deposits are instant and the maximum deposit per transaction is only £5,000 while the win cap per 24 hours is £50,000, so this is a bookie better suited to those on a regular budget, and all deposits are instant.
Fee's shouldn't be an issue unless you try and withdraw money you haven't wagered with. In this case you may be charged a fee for wasting the company's time. It's good to see that withdrawal are processed within 24 hours, too.
Skrill/Neteller my not be acceptable to use with any bonus offers, so check this before you deposit.
Markets, Odds and Features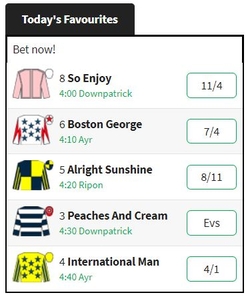 It would be untrue to say that QuinnBet offer the sort of market depth that you might have come to expect from a bigger named bookmaker, but that's not to overly do them down. They cover both horse racing and greyhound racing better than some of their rivals, whilst also offering many of the same matches and events in the more mainstream sports that you'd expect.
This will do fine for most bettors, but those of you that enjoy exploring far off 3rd tier teams in Nepal or the Arctic might feel a bit restricted. If you are just betting on the Premier League, for example, you will be absolutely fine.
There are plenty of different bets to try, and there are some markets like hurling and Gaelic football that are better represented here than at other places. The selection is smaller though; at around 23 different sports it's one of the smaller books out there.
The odds can be a little bit hit and miss, often stronger with sports that are more favoured by Irish audiences. However, it's worth noting that QuinnBet offer a plethora of promotions that will boost your odds or winnings, with acca bonuses and money back free bets being common. Odds come in decimal as standard.
QuinnBet: Backstory

QuinnBet might have only launched their sportsbook in 2017 but it's the work of a company that has a much older history than that. Sean Quinn knows what he's doing when it comes to offering people a top-quality service, so you're unlikely to be disappointed if you sign up and give the site a go.
We're not looking at just another site that is the work of a faceless corporation desperate to take advantage of your willingness to win; instead, it's a family run business that want to keep customers happy in order to give the bigger bookies a run for their money.
The company is part of a family that is well-known in Ireland and is risking a lot by putting their name to the brand. That's so much more encouraging to hear as a punter than a site that's the idea of an investment company that just wants to make a quick profit.
The company itself has stated that the customer experience is the most important thing, and having been humbled once before (the Quinn Group went bust in 2010), they need this to work to re-establish themselves. If that isn't an incentive for them to provide a good service I don't know what is.
Website Report
If you've ever used a site that employs FSB Tech then the layout and theming of QuinnBet won't take you by surprise. They've opted for a colour scheme of white, green and black, which lends it a very clean and clear look as well as hinting at its Irish roots, but as usual with FSB sites, it also feels a little plain.
As you'd perhaps expect from an Irish bookie, QuinnBet put horse racing front and centre of their sportsbook homepage. A mixture of a race calendar, next up, and daily favourites dominate, before the greyhounds get a look in. You need to do a lot of scrolling to find other sports, although a small in-play console is also easily available.
The A-Z works as a drop down which frees up screen space for other things, and the betslip stays out of the way too, even if you make selections, unless you specifically ask it to reveal itself. I like this, it gives the user more control, and there are plenty of quick links to popular sports and competitions so it doesn't slow you down.
The site is nice and quick and I like the overall structure too; from one sport to another the available leagues appear first to allow faster navigation, before live events and popular leagues/competitions are suggested below. You can also navigate by country. Lots of options here and presented in a user friendly way.
Small Screen Capability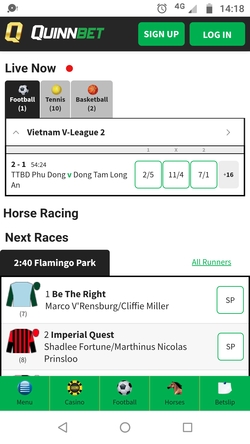 The clean and accessible nature of the site really comes into its own if you're viewing it on a mobile browser; the simplicity helps no end with navigation.
The live betting takes more of the centre stage on mobile, which makes sense, followed by trusty horse racing and quick links. Live events are broken up into tabs for ease of switching between them, but the act of loading up a new screen can be a bit of a trudge. I found the mobile offering to be a bit sticky in places.
The main menu button is also the A-Z and this works in perfect harmony with the rest of the site. It's also your access point for pretty much everything else except your bet slip, which has its own spot on the footer menu. Again, keeping them out of the way unless summoned works for me.
The mobile site might not be as smooth as the desktop site, but it is unquestionably easy to use which is half of the battle when you're out and about and trying to place a bet.
There is an app too which works in much the same way. It's a heavy-ish download, but if you prefer apps you will no doubt be ready for that.
The mobile offering isn't much of a looker, but she will be there for you when you need her.
In-Play Experience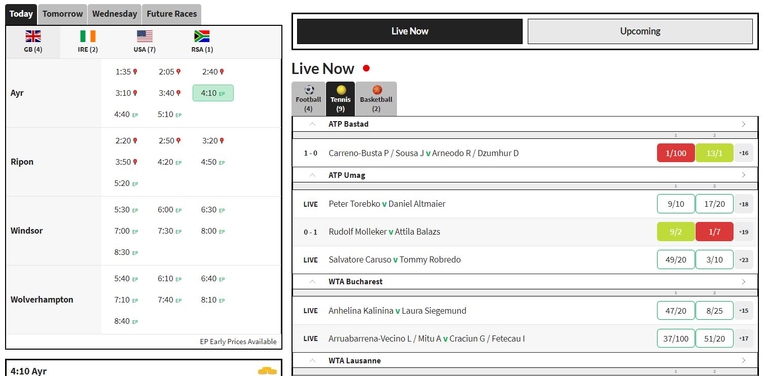 QuinnBet's in-play betting is easy to access thanks to a quick link tab right at the top of the page. It also follows the rules set out by the rest of the site in the sense that it's organised in the same fashion and uses drop downs and tabs to keep everything tidy and flick between sports.
You'll notice green and red flashes as the odds on any given event change every few seconds, making it no bother to keep track of the changes concerning any event you have your eye on.
There aren't always as many live events on show as you can find at other bigger bookies, but you will certainly be able to bet on anything popular in the UK, and I like that they display how many betting lines are available for each market – this can save some unnecessary back and forth.
In event view, cash out is instantly recognisable (pile of coins next to the odds) and the various bet types is divvied up into various categories to save your scrolling finger. You can also continue to browse other events in other supports while in event view, which gives it an extra dimension.
LIVE STREAMING
There's only greyhound and horse racing streaming available right now, but it's a relatively new site so it's entirely possible that that will change in the not too distant future.
The match graphic is fun on QuinnBet though. It offers useful match stats, head to head comparisons, team line-up, relevant league tables, and event incidents alongside the graphic itself, which highlights the score, corners, free kicks, dangerous attacks and so on.
It's the next best thing to watching live.
Contact Us and Licence
| CONTACT METHOD | AVAILABLE? | HOURS | ADDRESS |
| --- | --- | --- | --- |
| Email | Yes | 8.30am – 11pm | support@QuinnBet.com |
| Live Chat | Yes | 8.30am – 11pm | On Site Speech Bubble |
| Phone | No | – | – |
| Twitter | Yes | – | @Quinn_Bet |
QuinnBet have plenty of room to grow here, but they have recently added live chat as a contact option where only e-mail existed before, which shows they are improving as time goes on.
It isn't the quickest service in terms of connection speeds, but once connected your query will be handled very quickly, and the reps are pleasant to chat with too. The FAQ is decent if you want to solve your own query, and it's searchable too.
Based in Ireland, QuinnBet hold their own Gambling Licence held by Belbridge Consultancy Limited, also based in IReland. The Gambling Commission licence number, should you need it for some reason, is 55971.
Should you be desperate to write the QuinnBet themselves you can do so here:
Kilconny, Belturbet, Cavan, Co Cavan, Republic of Ireland.
What's So Special About QuinnBet?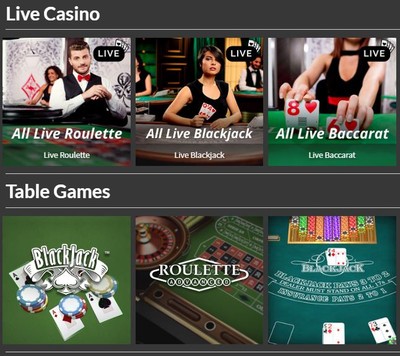 Perhaps the most impressive thing about QuinnBet is the amount and variety of promotions on offer on a regular basis. They are showing a lot of willing here and trying to engage customers.
They have also launched a rounded product that is a lot more impressive in range, depth, and performance than many start-up bookies can manage. Fans of racing and Irish sports will be happy as pigs in muck here.
There are a few other applaudable features that didn't make it into the review so far:
Virtuals – There are only four categories but they are really fun. I can't claim the graphics are the best but the events are every 3 minutes and the variety from one to the next is great.
Casino/Lotto – If you fancy a quick break from sports betting you can nip across to the casino and take advantage of a multitude of slots and table games.
Specials – Alongside traditional sports bets QuinnBet supply a decent roster of special bets such as sports personality, politics, and even Love Island, God forbid…