RaceBets is an interesting one.
Whereas most bookies style themselves as a 'Jack-of-all-trades' that cover as much as possible, RaceBets have specialised in one specific area. As you may well have guessed from the company's name, they only look at horse racing and greyhound racing.
That means you're only going to use RaceBets to replace your current bookmaker if you bet on racing and nothing else, but if you like to bet on racing alongside other sports you'd be mad not to check out the odds and offers you can get here, and consider them as part of a portfolio.
Markets Depth, Odds, Promotions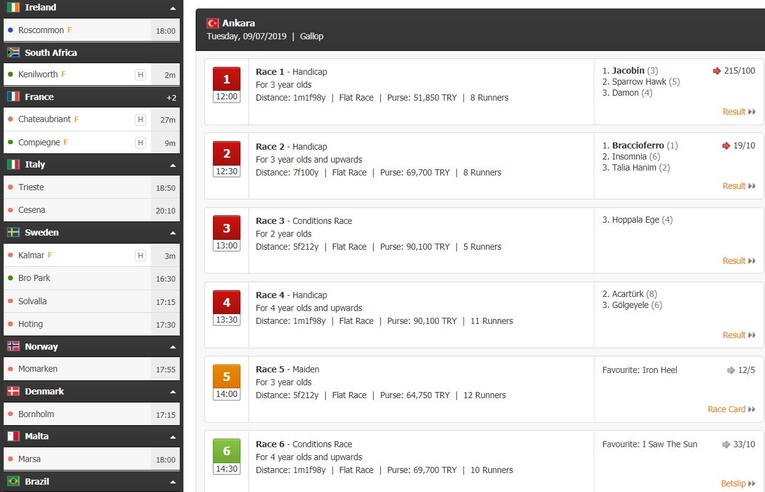 If there's one area where RaceBets excels then it is unquestionably in their market depth. They've got racing covered, whether you're interested in flat racing, jumps, trots or greyhounds.
They offer odds on more than a quarter of a million different races every year, covering events from forty different countries. These include the likes of Finland, Turkey, Italy, New Zealand, and the United States. No one else can touch them here,
Odds-wise they're also quite impressive in the ante-post market. These guys know their onions, so if you're looking to place a bet on a horse race or a race at the dogs then you simply have to check out their offers to see what suits.
BOG is available on all UK, Irish, UAE, and South African races, which is more than you usually get, and there are many promotions to make things more lucrative. These can include, first past the post, first fence fallers, and win bonuses on specific markets.
RaceBets Syndicate
The syndicate is a betting pool similar to our beloved Tote here in the UK, but it works a little differently. It focuses on German racing but it's still a fantastic way to potentially win big from smaller stakes.
If you like to make big bold exotic bets but don't always have the budget for it then this is the place to go. Here's how it works:
You place any stake you like into the pool for that race.
The RaceBets experts are the ones making the selections, and these are shown on the site so the punter can follow what's going on.
If the selections are correct your share of the winnings will be calculated on percentage, based on how much you put into the pot. So if you put 2% of the pot in as your stake, you will get 2% of the winnings.
That's it, simple. You can see the experts' previous form on site too, so you can get an idea of how well they have been doing recently before you decide to trust their instincts with your bet.
Payment Methods
It's good to see that payment terms and time frames are fair at RaceBets. There are no fees attached to withdrawals unless you make more than 3 in a 30 day period, which is fair enough.
| PAYMENT METHOD | MINIMUM DEPOSIT | MINIMUM WITHDRAWAL | WITHDRAWAL TIME |
| --- | --- | --- | --- |
| VISA/Mastercard | £10 | £20 | Up to 72 Hours |
| Skrill | £10 | £20 | Up to 72 Hours |
| Neteller | £10 | £20 | Up to 72 Hours |
| Paypal | £20 | £20 | Up to 72 Hours |
| Paysafecard | £1 | Not Available | N/A |
| Bank Wire | £5 | £20 | 3-7 Days |
There is a daily £100,000 win cap to be aware of, and withdrawals over £5k might need to be split into more than one transaction, but the team are very accommodating here and won't try any funny business.
They also try to process all withdrawals within 24 hours where they can. I'd like to see more bookies behaving like RaceBets in the payments department.
Handling the Website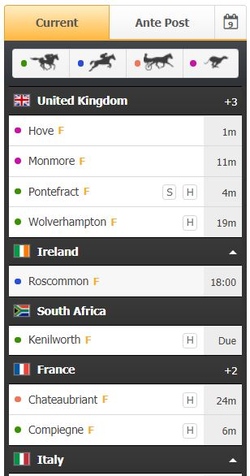 The RaceBets site undoubtedly benefits from only covering racing.
I know that might sound silly, but some sites simply have too much to cover so they're really busy and full of information.
It may not be the most welcoming website in the entire world if you've never placed a bet online before, but if you have then you'll be familiar with the layout straight away. You might not be so familiar with the race selection tool though.
It's fantastic.
You can use it to filter flats, jumps, trots, and greyhound races, which will then be displayed by the country where they are taking place. You can also toggle between current, ante post, and a calendar allowing you to see hundreds of racecards from one place and with no page reloads.
A more traditional main menu has links to streams, stats, offers, a blog, and more, and all of these load in no time thanks to a powerful website that isn't overloaded with content.
Mobile Betting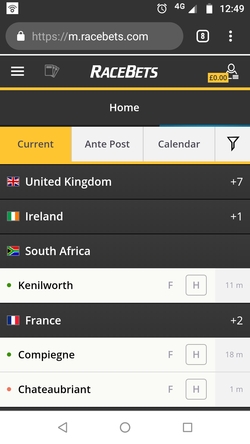 There isn't a mobile app at the time of writing, but there is a website that has been specially crafted for a mobile phone, and it's not just a pared back version of the desktop site.
The homepage is more or less just the race selection tool and it works in the same way apart from not being able to display the racecard beside it. Instead you have to jump back and forth from the racecard to the homepage to make a new selection, but this isn't an irritation. It helps that the mobile site is just as snappy as the desktop site.
A menu button in the top left opens up a selection of areas, including the next races by time and live streams. It's unexciting, but if you're there to place a bet and not much more then you'll find that it does precisely what you want it to.
Further navigation is handled from a betting menu button which links to streams, next races, extras, highlights, etc., and and account menu which you will use for banking, bet tracking, and bonuses. The betslip itself is the only other button and will drop in from above when selected, then tuck itself away just as easily.
I really like the whole package. It's simple but it's neat and effective, as well as feeling dynamic at the same time.
Live Betting/Streaming
It's tricky to live bet on racing, given that it's normally over before you've had time to look up from the device you placed your bet with.
However, you can stream numerous races in high quality from all over the world, and that's not to be sniffed at. When it comes to racing streaming there are few better, and this easily makes up for any deficiencies you might find with the RaceBets site.
Whether you're looking on the main website or the mobile site, there's a link to live streaming so that you can watch exotic races such as the Dubai Cup in the comfort of your own home wearing nothing but your pants, should you wish to.
We all have our own ways of enjoying things…
RaceBets: Who Are They For?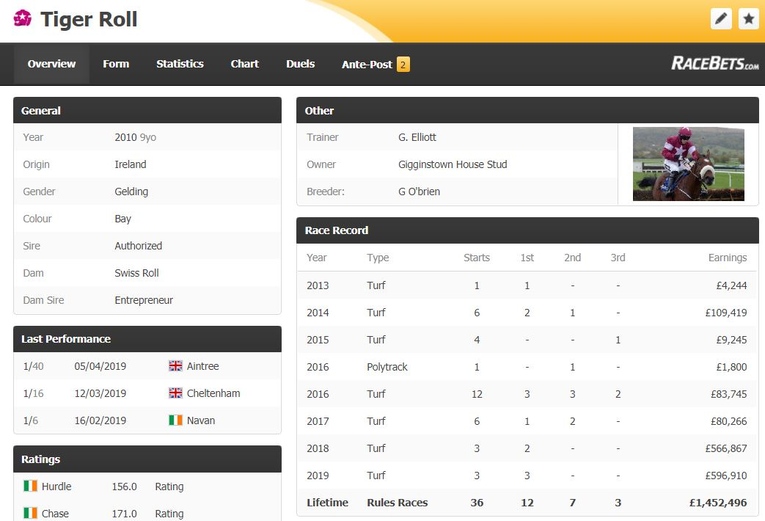 Do I really need to say it?
If you bet on horse or greyhound racing, even if it's only every now and again, do it here. If you bet on it more often than that you would be mad not to at least have RaceBets in your portfolio.
Nowhere else offers the depth of market or tailor made racing betting interface that these guys do, and although they are a one trick pony (I thank you) they know their corner of the market inside out. Here is what else they offer:
Form Guide – An essential tool for research. This lets you search any horse by name to see it's form, stats, duels, as well as make notes. You can study jockeys and trainers too.
Editorial – This is more than just a blog. The RaceBets experts also offer gallop and trot tips, giving you their three favourites for every important race.
Knowledge Base – If there was a degree in race betting it would be like the knowledge base. Full of detailed information explaining how racing and betting work that can enlighten newbie and veteran bettors alike.
Offers – Not the regular promotions, but features like Bash the Bookie, Pick 6, The RaceBets Million, and the Login Game. These are all relevant games or promotions that enhance the betting experience.
RaceBets Company History
RaceBets might be relatively new to the UK market, only arriving to fully cover UK and Irish racing in 2012, but that's nothing to be wary of. They were set up in Germany in 2005, taking just two years to become the largest bookie in the country, and just three years after that they put their money where their mouth is, so to speak, by inviting German Racing to become company shareholders. That means that a portion of the company's profits are re-invested in the sport, which is pretty impressive.
2010 was also the year that RaceBets relocated from Germany to Malta. This wasn't an entirely geographical decision, instead allowing the company to spread its wares throughout Europe and gain a foothold in the lucrative UK & Irish game.
They want to impress you and keep your business, which is why they work so hard to have some of the best odds and unbeatable market depth. What's more, race bettors are a fussy bunch, so the fact that RaceBets has decent customer retention speaks volumes.
Support Options
| CONTACT METHOD | AVAILABLE? | HOURS | ADDRESS |
| --- | --- | --- | --- |
| Email | Yes | 24/7 | support.en@racebets.com |
| Live Chat | Yes | 9am – 10.45pm | On-Site |
| Phone | Yes | 9am – 10.45pm | 0808 238 0022 / 0203 747 6778 |
| Twitter | Yes | – | @RaceBetsCom |
The service is good here. E-mails will be answered with 24 hours, and although support available 24 hours it's available when there is any racing on, so you shouldn't really need it outside of these hours anyway.
The FAQ is also really good, and if you do need to talk to support they are genuinely knowledgeable about all things racing so you can have a fruitful conversation with them.
If you want to check them out their profile at the UKGC website then the licence number is: 39428.
The company's registered name and address is:
RaceBets International Gaming Limited, Dragonara Business Centre, Dragonara Road, St Julians, STJ 3141.