Sometimes a new bookmaker comes onto the market and it's plain to see that they don't offer anything particularly new or exciting. You'll have seen the design and layout before, perhaps even recognise the software, and potentially notice that the odds are almost identical too. Others meet the need for something different, a new approach that many punters are crying out for.
Black Type, which is a new online bookmaker that is based in London, is attempting to be that 'something different'. They only hit the scene back in 2016, but don't misunderstand me, they're not Johnny-come-lately types who are winging it as they go along. Their site is powered by the ever-popular FSB Technology platform, meaning that it was fully stocked and ready to go from the moment the company launched.
It's just that the way they go about their business is a little different to what you might have experienced previously. Great odds throughout and a pledge not to cast out regular winners has already caught the eye of many punters.
Available Sports and Prices
When it comes to the depth of the market, Black Type cover all of the major sports but don't veer too far off that track. You'll get everything you're likely to want to have a wager on if you're a mainstream bettor, such as football, tennis, golf, horse racing (this is a particularly strong area), greyhound racing and cricket, but if you're interests are a little off-piste then you might well be disappointed.
Even when they do cover some rarer sports like American football, the bets you can place tend to be on the biggest field such as who will win the Superbowl. In other words, don't head to Black Type expecting to be able to have a flutter on a game of tennis in the Russian Southern District's Under-18 division.
The good news is that the odds on most events will be very competitive indeed. I checked across a good number of different sports and Black Type's odds were either the best or equal with the best from a host of other bookmakers. In that regard, therefore, they're well worth checking out before you place your wagers. Even when they didn't have the best odds, unless you were betting with tens of thousands of pounds you wouldn't really feel the difference.
Live Betting at Black Type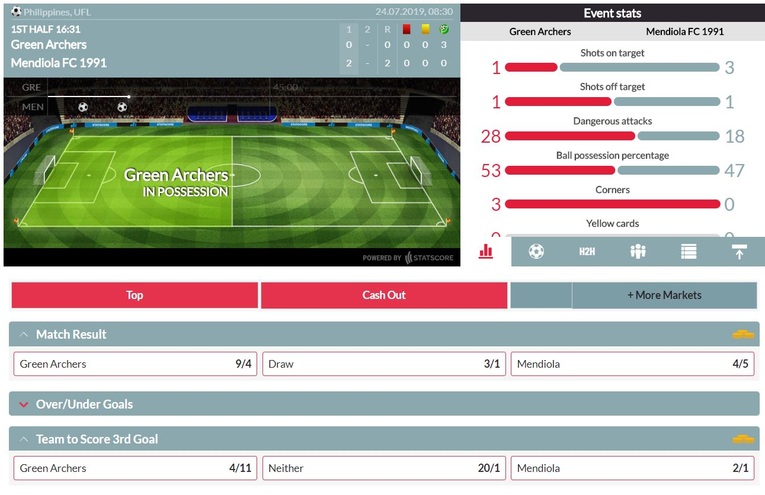 Black Type have an excellent in-play offering when operating at full capacity. I see this because a lot of the less glamorous fixtures are packaged in a much more basic way than others.
You can get to the in-play area easily thanks to the tab in the main menu or the links dotted around the site, and once there you will find the live events separated first by 'live' and 'upcoming', and then by sport and league/competition. This feels like a natural way to do things, and it's an instant process to hop from one sport to another using the tabs.
We have the issue of a boring interface again here, but I like that you can see how many betting options there are for each event before you open it, and the odds changes are impossible to miss.
Event view is fantastic when the game visualisation is included (it's not always) presenting a healthy mix of event stats and overall stats that are fun to flick through. The graphic updates every few seconds too, so you can get immersed.
Cash out is denoted by a pile of coins that would look more at home in a 16 bit video game, but it does the job. Live streaming, sadly, is not yet an option at Black Type on anything other than horse racing.
Thoughts on the Desktop Site
When it comes to the main site of Black Type, FSB Technology have achieved what other platforms seem to find impossible; they've managed to come up with a site that has plenty of information on every page, yet still looks clean and unfussy.
This approach does mean that the site doesn't do much to add to the excitement visually – it's all pale blue, black, and grey – but it's very easy to digest what you are looking at. It also keeps the site moving at a good pace. There's plenty of space on the screen and selections are big and bold.
Navigation is handled by quick links across the top, which is also where you're A-Z is hidden, a search bar, and then further filtering options are handled using 'leagues' and 'countries' boxes on the right. Not many sites go for this approach and, to be honest, it doesn't feel intuitive, but perhaps that's just because I'm so used to seeing something else; this way of doing things is just as quick and easy if not more so – worth the short learning curve.
There is usually an area of the screen showing in-play activity wherever you are, so you can keep half an eye on it whatever else you might be doing, but they do push their casino a little too much for my liking. I know it's there, I haven't forgotten, just relax.
Banking Options
If there's one area that Black Type can look to immediately improve then it's surely the banking options given to customers. This is sure to put some people off.
| PAYMENT METHOD | MINIMUM DEPOSIT | MINIMUM WITHDRAWAL | WITHDRAWAL TIME |
| --- | --- | --- | --- |
| VISA/Mastercard | £10 | £10 | Not specified |
| Trustly | £10 | £10 | Not specified |
Despite the lack of choice, the low minimum is good to see, and they also don't put massive restrictions on how much you can withdraw either, which is good for those of you that tend to win regularly.
Maximum deposits sit at £5,000 for card payments but if you use Trustly it could be as high as £100,000 depending on your bank.
Max winnings in any 24 hour period is £100,000, so watch your stake levels.
Black Type's Ideal Punter
This is a bookie for the everyday punter who likes to bet on traditional sports without too much hard work. The odds are universally good so you don't need to worry about shopping around too much, and they will always have markets in the event you are after.
Horse racing is a particularly strong area for them both in terms of odds and availability, with races from around the world covered and best odds guaranteed on all UK and Irish races.
Here are a few other bonus features that are worth knowing about while mulling them over:
Hong Kong Pool Betting – Huh? Just think of it like the Tote, but for races in Hong Kong. It's been really popular the last few years and is available at Black Type.
Virtuals – 2004 called, it wants its graphics back. Alright, it might look a bit dated but there are four different virtual sports to bet on with new events starting ever 3 minutes.
Blog – Not as deep as some others but it is full of interesting articles with some useful tips thrown in too.
Casino – They might shove it in your face a tad but with good reason. If you like online gaming then you will find everything you could ever need here.
Black Type Mobile App
The first bit of good news is that Black Type actually do have an app, which is a marked improvement over some of the other new companies on the market that don't bother. I'd be lying if I said that it was lightning fast, but you won't want to throw it out of the window either.
It's really easy to navigate, with tabs at the bottom of the screen for In-Play events, your betslip, horse racing, and football – alternatively, there's a Menu button that will present you with every single sport that they cover. Having these at the bottom is really useful, because they are well placed for your thumb when you are holding your phone. I'm surprised more firms haven't cottoned on to this.
The colour scheme is still the same as the main site, meaning that everything remains blessedly uncluttered yet on the bland side in terms of appearance. There is still plenty of space, and thanks to the design there are few situations where you will find yourself scrolling for long, but the event you are looking for should never be more than 3 or 4 taps away.
There's also a settings button where you can handle notification preferences. It's a little thing but it gives the user power over the sorts of quirks that could either irritate the hell out of you or really add to your experience.
It's a solid app from a newbie bookie, with room for improvement sure, but plenty of potential.
Player Services & Legal
| CONTACT METHOD | AVAILABLE? | HOURS | ADDRESS |
| --- | --- | --- | --- |
| Email | Yes | 24/7 | info@blacktype.bet |
| Live Chat | No | – | – |
| Phone | No | – | – |
| Twitter | Yes | – | @BlackTypeBet |
When I couldn't find the live chat I thought I must be doing something wrong, but it's definitely not there. I have to say this is one of the worst customer service selections I have ever seen.
Who knows how many people operate the email account but leaving your punters with no one to turn to is just not on. The team are probably great, but it shows a major lack of judgement to hide them away like this.
Should you wish to write to Black Type, here's where you can reach them:
Black Type Services Ltd, 3 Lloyd's Avenue, London, EC3N 3DS
Black Type Services Limited are based in London, as are FSB Technology. It's the former company that now holds the Gambling Licence for the site (it used to be FSB), which has the number 49474.
Short History of Black Type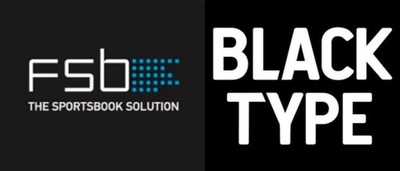 FSB Technology isn't just the company that has provided Black Type with its software platform but it was also the originally the operator and licence holder of the site. They also run other such sites like 138.
Some of the folk involved with FSB Tech used to work for Betfair, which perhaps explains how a company that is relatively new to the market has been able to make exactly the right moves to endear themselves to bettors en masse.
The site itself was owned by Black Type Services Limited, however they went into administration in early 2020 and the brand is now wholly run by FSB.
The interesting thing about Black Type is that, unlike other sites that have sister bookies running on the same platform and all looking quite similar, they've chosen to do something quite different in terms of set-up and look. This is a site that has focussed on making it easier for the user at the front-end as well as competitive when it comes to pricing. They want you to feel as though you're getting the best odds, the best user-experience and the most traditional type of interaction that it's possible to get with an online bookmaker.