Arguably one of the best-known bookmakers in the land, Ladbrokes is certainly the most established, having been set up in 1886 – though not initially as a bookie. In its first iteration, the company was a commission agent for horses that had been trained at the famous Ladbroke Hall in Worcestershire. In 1902 the company moved to London and took on the name formally as a play on words because they were also 'broke lads' – or so the legend goes.
The company grew in size and strength over the years to the extent that they now have over 2500 brick and mortar shops in Europe. They were also one of the first of the 'traditional' bookmakers to develop an online operation, launching theirs in 1998. They have a massive sportsbook and often run solid promotions. They also have an excellent in-play betting mode and their live streaming is good enough to compete with the most popular sites around.
Markets and Prices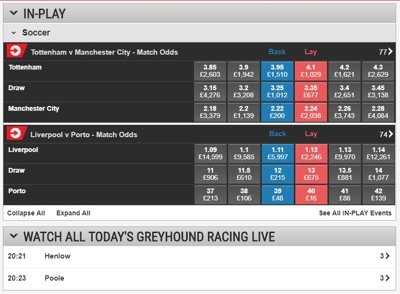 The funny thing is that these two things are intertwined and you might like one but not the other.
When it comes to the number of betting markets on offer then you're going to struggle to do better than Ladbrokes – their sportsbook is huge and the number of betting lines available from one event to another is difficult to beat. That goes for specials like politics and TV shows as well.
On top of that the betting exchange opens the door to a whole new dimension of betting. Very briefly; the exchange lets you bet against other people instead of the bookie. So you can offer your own odds and if someone takes them your bet goes live. Ladbrokes take a small commission but even with that you can find better profits at the exchange.
On the flip side of that, they don't always have the best odds around. In fact, they hardly ever have the best odds around. They are always decent enough, but the simple fact is that Ladbrokes are a powerhouse of a bookie and they don't need to chase customers by over-inflating their odds and so they don't bother.
One thing that can tip the scales in their favour is the amount of enhanced odds and daily price boosts alongside other promotions. These can turn average odds into better than average ones, and if you're not a big fan of shopping around but you want access to a monster of a sportsbook then Ladbrokes is worth a second thought.
Banking: Deposits/Withdrawals
| PAYMENT METHOD | MINIMUM DEPOSIT | MINIMUM WITHDRAWAL | WITHDRAWAL TIME |
| --- | --- | --- | --- |
| Visa/Mastercard | £5.00 | No minimum | 3-5 Business days |
| PayPal | £10.00 | No minimum | 6 Hours |
| Neteller | £10.00 | No minimum | 6 Hours |
| Entropay | £10.00 |   | 3 -5 Business Days |
| Cash (In Shop) | £5.00 (in shop) | £5.00 | Instant (in shop) |
Good news straight off the bat – you won't pay a fee no matter which payment method you use to deposit or withdraw, though bank wires might incur a fee which is unavoidable.
Maximum deposits sit at £100k and maximum withdrawals are stated as £55k, but if you had a stonker of a win something could probably be arranged.
You can even bet over the phone if you would like to but there is a minimum bet of £25 in place to make it worth their while.
THE GRID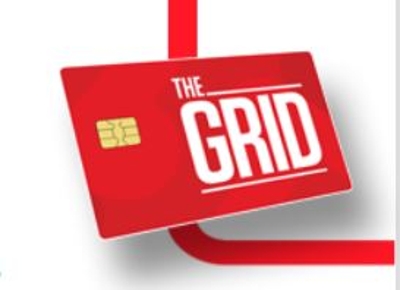 Since Ladbrokes have over 2300 high street shops, betting with old school cash is also a very real option. Even better than that, they have come up with a way to let you use your online account and your cash in your pocket all as one.
Enter The Grid. The key benefit of signing up to this free service is that you can use cash to top up your online account in a high street shop, but even better, you can also withdraw from your online account in cash. That means if you win £50 on the golf, you can withdraw it as cash in your hand 2 mins later and head straight off to enjoy it.
Added benefits include exclusive promotions and offers and a rewards system that gives you points which can be traded in for goodies.
Main Website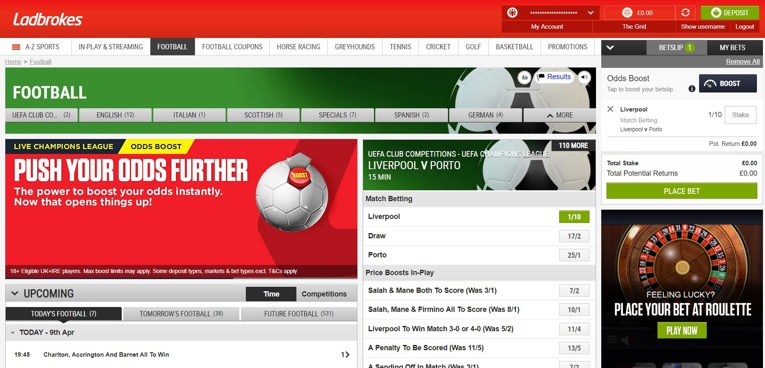 The homepage has quick links to all of the usual places, from the sportsbook through to the casino. Within the interface of the sportsbook itself there are more links to all of the most popular sports and a list of all sports that opens up when you tell it to, freeing up space elsewhere. You won't be able to miss the deals either as they scroll through a colourful link box. There's also fast access to the bets of the moment, the horse races that are next off, and any of the most interesting bets of the day.
It's very easy to move through the site and you will have no problems with loading times or responsiveness. One thing I like is how they have come up with a few little ways to give you control over how the site functions. There are certain menus you can opt to have showing or to hide for example which is a nice touch.
The site is actually a very good reflection of Ladbrokes as a company; quite classic and traditional with a few bells and whistles to add a bit of excitement to the whole show. There's no search function, which is a bit annoying, but otherwise it's a pretty standard website that does what you expect of it well, but not too much more.
Mobile App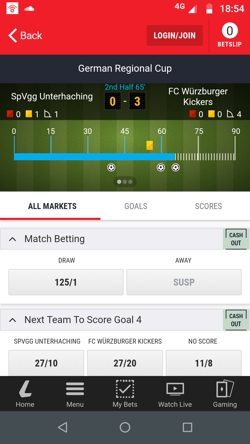 The Ladbrokes mobile app is much the same as the website. There's not a lot wrong with it but it doesn't charm your pants off.
The layout is like a mini version of the website including the same links and the same colour scheme. There aren't any fancy graphics or anything slowing the app down, so it's nice and responsive and one of the quickest sports betting apps out there. Sadly though, it also lacks some of the excitement of apps made by the company's competitors.
That doesn't take away from the fact that the app is really easy to use and manages to do everything the main site can do, and when you consider the size of the desktop site that is no easy feat.
You can still stream, bet live, bet on virtuals, manage your account, contact help through live chat; there was nothing I could find that was missing. It feels like it was built for live betting as there are quick links to Watch Live and Open Bets, plus, in-play games are first to show up on the homepage.
You could argue that with their resources they should have done more with their app to make it stand out, especially since they have been working online since the late 90s, but then not everyone wants this from an app and as long as it is fast and functional they are happy.
This app is certainly that.
Betting In-Play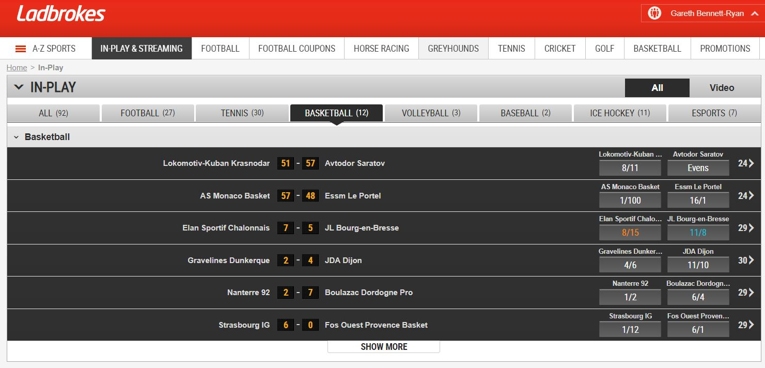 Ladbrokes' live betting is where the company really excels, in my opinion. They even give the market leaders a run for their money on this front. You'll find a very impressive array of betting lines here, with statistics and live scores letting you know exactly what's going on.
Once again, the interface itself isn't amazing to look at, but it's in keeping with the rest of the site so that's not really a surprise, and the live match graphic bucks the trend and looks brilliant. It's extremely functional, though, and at the end of the day that's the most important thing with a betting website.
One thing that is very good about it is that you can sort the live events Ladbrokes are covering by things such whether or not it's streaming live – a nice touch for those that like to bet on something that they can watch at the same time. You can also keep an eye on other matches in event view.
LIVE STREAMING
Though mainly targeting football and horse racing, Ladbrokes live stream a number of different sports that will excite those of you that like to watch a random sport or two.
You can tell which events are being streamed live because there's a little TV symbol by it. You'll then be able to watch it as long as you've either got a positive balance or you've placed a bet in the previous day.
The rules are slightly different for horse racing and you have to have placed a bet on the race you want to watch, but this is the same anywhere you go.
Key Highlights
For me the biggest positive about Ladbrokes is their size, longevity and brand name recognition. They have strong betting markets with fantastic depth, especially when it comes to football, but the fact that they are such a tried and trusted bookmaker in an ever-expanding market can only be a good thing.
Their in-play betting and live streaming is also a real plus point and should attract plenty of customers who want a thorough service on that front, and I have barely even mentioned the exchange which is a massive draw.
Ladbrokes might not be the coolest kid in town, so if you like the latest bells and whistles (or the very top odds) they might not be for you. Here are one or two highlights:
Betting Exchange – Exchange betting is not widely available so to have it tied in with your sportsbook is great and saves time.
Cash Out – You can find this a lot these days but not usually on as many markets as Ladbrokes, and they also offer partial cash out.
Promotions – It might sound a bit general, but that's because they change all the time which keeps them interesting. There are loads of competition specific offers that come up as well as the ability to #GetaPrice (ask for odds on something not listed).
Touch Line – This is their stats service and it is first rate. Perfect to use with live betting offering historical data to help you choose your next move.
Legal & Contact
| CONTACT METHOD | AVAILABLE? | HOURS | ADDRESS |
| --- | --- | --- | --- |
| Email | Yes | 24/7 | care@ladbrokes.com |
| Live Chat | Yes | 24/7 | Onsite via Contact Icon |
| Phone | Yes | 8.00am – 10pm | 0800 731 6191 |
| Twitter | Yes | 8am – 12pm | @Ladbrokescare |
Ladbrokes hold both a UK and a Gibraltar gambling license. That means that their operations come under the guidelines of the UK gambling commission, meaning that they're one of the safest companies to bet with. If you're interested then I'll tell you that their UK licence reference number is 1611.
Alongside their dedicated customer services social media account they also run another specific to the sportsbook with odds info and news etc which is useful to know.
Of course, the company also has a traditional postal address if the likes of live chat and Facebook is all too much for you, although it's not specifically for customer service:
Ladbrokes Betting and Gaming Ltd, One Stratford Place, Montfichet Road, London, E20 1EJ.
Their registered address is:
LC International Ltd, 57-63 Line Wall Road, Gibraltar.
Lastly, if you wanted to use their phone betting service then call: 0800 777 888
About Ladbrokes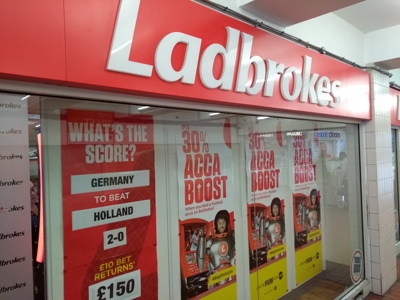 Ladbrokes are one of the last remaining, and subsequently best-known of the 'traditional' bookmakers in the UK. Long before the new wave of online-based bookies came along and stole the headlines and the recognition, Ladbrokes were to be found on high streets up and down the land as a bricks and mortar location to go and place a bet. The company was originally founded as a commission agents before Arthur Bendir came on board and changed its direction.
To begin with Ladbrokes catered almost exclusively to the British upper classes, targeting members of gentlemen's clubs in Central London. After the Second World War their fortunes began to decline and the company was eventually bought out by Mark Stein and his nephew Cyril. They timed their purchase perfectly, with the 1961 Betting and Gaming Act seeing the legalisation of betting shops and Stein became the first bookie to introduce fixed odds betting for football.
From there the company developed into the giant it is today, and has even merged with Coral to become Ladbrokes Coral, before being taken over and run by a company called GVC Holdings plc.