Betway was launched in 2006. Though they are based in Malta they actually have a much more international flavour to them than many bookies. They've got offices in Stockholm, South Africa, Guernsey and, of course, London. It goes without saying that they have a UK gambling license else I wouldn't be writing about them, but you may also be interested to know that they hold licenses in Denmark, Italy, Spain, Germany, Belgium and their home state of Malta.
Perhaps this international feel is why their sportsbook is so impressive, with an array of different markets on offer from all over the globe. It's also likely to be part of the reason that they have such a slick operation in place; you can't realistically appeal to a broad range of bettors with a system that is anything other than top-notch.
As well as covering all of the usual markets they also have good lines in minor sports plus live streaming and in-play betting to keep your attention. They're a strong all-rounder.
WebSite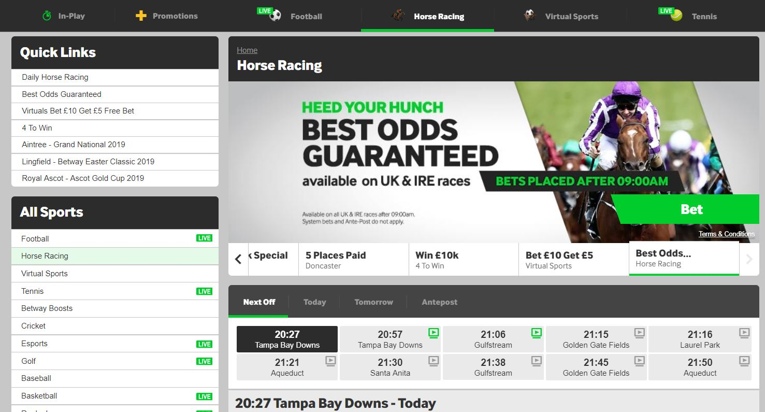 Betway's desktop site is one of the best in business in my opinion. It looks great – which you might think is a given yet is not guaranteed even for some of the biggest bookies out there – and it's also quick to respond to whatever requests you make of it. Every page holds a lot of information but without being so busy that you can't tell what's going on, it has been put together well in that respect. That's possibly helped by the black and white colour scheme with some green thrown in just to mix things up a bit and highlight things like cash out.
At the very top of the homepage you'll find tabs for the sportsbook, casino, in-play betting and more. A trip to the sports section presents you with the day's most relevant offers as well as quick links to the most popular bets. The centre of the page is dominated by any in-play events that you'll want to know about and there's also a list of all sports covered by Betway which take you to a page dedicated to the sport in question.
These pages have a few filtering options, so you can view only games from certain leagues for example rather than having to trawl through everything; you can do the same thing with betting lines when you are looking at a certain match, too.
All in all it's sleek and smart and though some people might think they're too keen to drown you with their offers, I like it. All credit to Microgaming who built the platform that the site runs on.
The App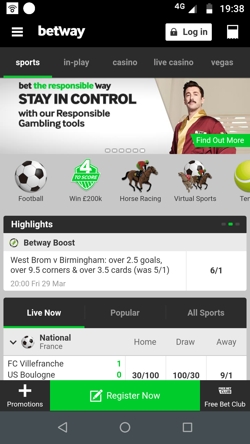 In theory I should like the mobile app just as much as the website. After all it follows a very similar design and is just as quick if not quicker at responding to instructions. Yet for some reason I'm not quite as keen on it as I am on the desktop site. It might be because they've abandoned the white writing on black background in favour of black writing on a white background. This sounds petty I know but it makes it look less sleek and interesting and perhaps slightly cheaper.
Of course, what most people are interested in is not what it looks like but how it works and on this front there are no real complaints from me. You've still got the links to the casino, sportsbook and so on along the top as well as current live events in the main body of the home screen.
Navigation is actually even easier on the app because of the quick links menu to popular sports, and the various scrolling boxes that give you lots of options for a small amount of screen space.
You can find everything else in a pull-out menu. There's also a search function in there, should you be looking for something specific. One other thing that's great is that the bet slip doesn't get in the way unless you open it. It pops up when you make a bet on other apps but here it just logs the bet until you want to go in and confirm it which is easier for multiples etc.
In-Play
Betway are very proud of their in-play betting system and rightly so. It is easy to operate, clear, and really cool to use. There are links to the live betting part of the site on every page and when you go there you'll find every live event on offer broken up by sport, and there are lots of them too. You can switch between the most popular bets on the main interface before you go into an event if you like.
Clicking on an event will take you to the betting markets and there are hundreds to consider for big events like Premier League games. There's also a nice graphic at the top of most sports telling you what's going on at any given moment. This can double as a useful analytical tool for a good number of games.
Of all the bookies I use I think Betway's live betting might be my favourite. There is a lot of detail and it feels like it is pushing boundaries that other bookies are only just in sight of.
LIVE STREAMING
Live streaming is available on numerous different sports. As I type there are two different snooker matches being covered, with horse racing also on offer. For the latter you need to bet a minimum of £2 to live stream but for most everything else a funded account is all you need.
Betway does a good job of letting you know if there's a live stream available, so don't be worried that you're missing something.
Payment Methods
| PAYMENT METHOD | MINIMUM DEPOSIT | MINIMUM WITHDRAWAL | WITHDRAWAL TIME |
| --- | --- | --- | --- |
| VISA/Mastercard | £10 | £10 | 1-2 Days |
| Paypal | £10 | £10 | 2-24 Hours |
| Skrill | £10 | £10 | 2-24 Hours |
| Neteller | £10 | £10 | 2-24 Hours |
| ecoPayz | £10 | £10 | 2-24 Hours |
| Entropay | £10 | £10 | 1-2 Days |
| Paysafecard | £10 | No withdrawal | No withdrawal |
| Bank Wire | £10 | £10 | 1-2 Business Days |
Betway seem a bit confused about some of their limits and they aren't always what is stated on the website, it may depend on your individual circumstances, so watch out for that.
There are no fees for regular deposits or withdrawals but a bank wire could always cost you regardless of who you bet with. Obviously, being an online only bookie cash will not be an option.
General Info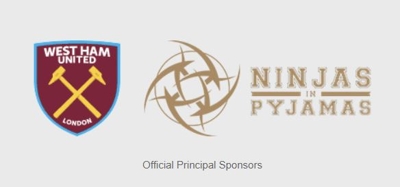 Betway don't have the luxury of physical shops and so they've put all of their efforts into making themselves one of the best online bookies in the business. Part of the larger Betway Group, the sportsbook has earned itself recognition in the UK particularly through its many sponsorship deals.
Back in 2014 they signed a three-year deal to sponsor Premier League Darts and they were also one of the main sponsors of the Groves v Froch fight that took place at Wembley Stadium.
The following year they made an agreement to be the sponsor of the UK Snooker Championship for three years and also became a principle partner of West Ham United Football Club. This latter deal was extended in 2016 when the Hammers moved to the London Olympic Stadium and the deal was improved to be worth around £10 million a year. This includes shirt sponsorship as well as branding around the ground.
They can provide their site services in 13 different languages and employ more than 500 staff. In 2018 they covered over 190,000 events in-play across 50 sports.
Betting Markets & Odds
Betway's market range is impressive to say the least, with the international influence I mentioned earlier clearly on display when it comes to the depth of their coverage of individual sports. Betting on Azerbaijani football is no longer just a pipe dream thanks to Betway.
There is also better market depth than usual for many of the more forgotten sports like squash and handball. Non-sporting events get a decent bite of the cherry, especially politics, and if you like Esports then there is more range and depth here than at any other online bookies.
Where Betway really shows their strength though is with their odds. They are continuously up at the top end on odds comparison sites and frequently take top spot, so you should definitely have a look at what they've got to offer if you can't be bothered to shop around.
Sometimes good odds can mean few or low value offers, but even that's not true here because enhanced odds are a mainstay on the Betway site and other promotions are plentiful too, although they aren't all that varied. They do pop up for sports that often get overlooked though, not just the most popular sports.
Special Features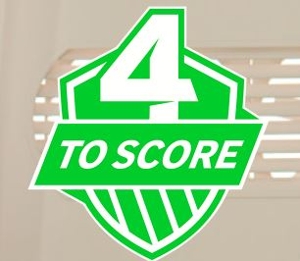 Betway is the place to go for international fixtures and good market depth on more minor sports, but it also boasts one hell of an in-play betting service. If I had to pick one overriding feature it would be that.
It's probably more suited to people who like a contemporary place to do their betting and the top quality app shows that their focus is on the future not the past.
There are one or two things that haven't got a mention yet that make Betway different from the rest:
4 to Score – This is free to play. You have to pick the first four goal scorers in four games chosen by Betway. £25k is at stake and it rolls over if no one wins. That's not bad for free!
4 to Win – Another freebie. The horses this time, just pick 4 winners from four pre-selected races and pocket £1k if you are right.
eSports – I need to emphasize just how much attention Betway gives to this category. There's nowhere better, they even have coupons, live betting, and specific eSports offers.
Tier/Plus Points – The loyalty reward scheme is another way they look after the regulars. It's a simple case of points mean prizes and if you use the site enough they do build up.
License & Contact
| CONTACT METHOD | AVAILABLE? | HOURS | ADDRESS |
| --- | --- | --- | --- |
| Email | Yes | 24/7 | support@Betway.com |
| Live Chat | Yes | 24/7 | On Site via Help |
| Phone | Yes | 8.00am – Midnight | 0808 238 9841 |
| Twitter | Yes | 8am – 11pm | @Betwaysupport |
The team are great when you speak to them, but I'm not impressed with how difficult they make finding the contact details and accessing live chat. It feels deliberate to fend you off. It's there is the help centre but you have to go looking for it and jump through a few hoops.
Betway have a solid Twitter game to boast about, though. They constantly keep you up-to-date with whatever event is the flavour of the day and also tweet out competitions that give you a chance to win free bets and so on.
When it comes to the important stuff like UK Gambling Commission registration you should know that Betway are covered by licence reference number is 39372. If you're quite old school and like to interact with companies via paper and pen then you can write to them at:
Betway Limited, PO Box 70417, London, NW1W 7LN.