Mansion is a betting company that have slowly but surely begun to carve out a slice of the UK market after years of graft, having been established in Gibraltar back in 2003. They sponsored Tottenham Hotspur in 2006 which got the attention of English football fans for the first time, and have since gone on to have similar deals with the likes of Manchester City, Crystal Palace and Bournemouth, even going so far as to become the Principal Betting Partner of the Cherries ahead of their 2017-2018 Premier League campaign.
Mansion, therefore, is not just a flash-in-the-pan newcomer to the online betting market, and are in it for the long haul. They've established themselves by taking a more conservative approach, earning trust over time and acquiring a weightiness that some bookies never manage.
This has won them a loyal customer base, filled with people who like the way that the company operates. I'm one of them to be honest; the odds are great and the promotions and features are as good as you will find anywhere else. There's lot's to love at Mansion Bet.
Opinion on the App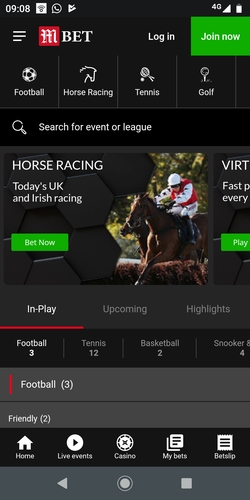 Mansion split their sportsbook and casino into two separate apps which is great if you don't tend to use both, but slightly annoying if you do. For those of you that never touch the casino it will be perfect since it takes up less storage space.
The app is structured well with some sensible quick links including a 'home' button so you don't end up hitting 'back' all the time, plus a well placed search bar and scrolling menu. In-play events are offered first as standard but everything else is only a tap away via the menu bar or the menu button itself, which also contains an A-Z of sports.
You might have to bear with it from time to time but it won't keep you waiting as long as your other half before a night out, and one thing I love is that there is usually more than one way to get to where you are going. This makes it a good app for lazy thinkers as whatever you need is usually right in front of you thanks to the layout being thoroughly thought through.
From sport to sport you can opt to view events by a daily match list, top leagues or all leagues, and there is also a calendar view. When viewing the daily match list you can toggle to display events by league or by time which is a nice feature.
There's not a great deal to complain about with this app, it does everything you could want it to so a lot of it will just come down to personal taste.
Opinion on the Website
I like the SB-Tech powered Mansion site a lot, it's probably my favourite betting platform as it is so clean and user friendly, but it also means that Mansion's package is complete and feature rich. The black, white and red colour scheme lends a more mature air to the site and also helps the eye to settle on what it is looking for quickly.
The site is also quick to respond to commands, meaning that you're not waiting forever for your click to have an effect on proceedings. That's enormously helpful when you're trying to place some in-play bets, for example. It feels like a capable platform to use with a lot of power, working hard for the bettor but making it look so easy.
As you navigate the site you will realise that you travel through it with no messing about; there aren't endless lists to select from, instead a few simple choices from the homepage should get you to your event within 10 seconds, or you can use the search bar if you prefer.
The homepage won't overload you with choices but is laid out cleverly so everything you need is within reach, without being an assault on the senses. Once looking at a particular sport, everything is arranged into handy drop down boxes so that it's plain to see if you are looking at one league over another, for example,
Betting Live at Mansion
The in-play section of the Mansion website is a pleasure to use, giving enough features to make it interesting and fun to use without going over the top and making it feel like work.
To begin with you will face a rather plain interface showing live events sport by sport then league by league (or competition). At this point you will also be able to see the current score, time on the clock, depth of market for each event, and winner odds for each fixture. That means you could make some basic bets without having to open event view at all.
You would miss out if you didn't though, because event view is where you will find the event stats and match visualisation tool, both of which offer loads of insight into the game and the graphic is fun to use to track the games' progress.
Betting categories help narrow down what is often a substantial number of markets, and holding them inside drop down bars means no scrolling marathon for the punter. It's a perfectly balanced live betting product if you ask me.
ON LIVE STREAMING
This is one of the only features Mansion haven't yet integrated, but it doesn't feel like a huge loss because everything else is so positive here. A lot of similarly sized online bookies are in the same boat, but not all score so many points elsewhere.
The game visualisation graphic is the next best thing to a live stream, and some might actually prefer it because of all the live stats built into the module. You can use it to track areas of action, where and when key events have taken place, cards/corners/goals/freekicks, state of the pitch, weather, who the ref is, last 5 games for each team, and even more.
Mansion can't be considered a young company anymore, so the fact that they haven't added live streaming yet suggests they probably aren't going to. If this is a deal breaker then look elsewhere, but you would miss out on so much more if you did.
Banking: Deposits/Withdrawals
| PAYMENT METHOD | MINIMUM DEPOSIT | MINIMUM WITHDRAWAL | WITHDRAWAL TIME |
| --- | --- | --- | --- |
| Visa/Mastercard | £10.00 | £10.00 | Up to 3 days |
| PayPal | £10.00 | £10.00 | Up to 3 days |
| Skrill | £10.00 | £10.00 | Up to 3 days |
| Neteller | £10.00 | £10.00 | Up to 3 days |
| Paysafecard | £10.00 | | |
The timeframe stated is Mansion's maximum processing time, and so you will need to account for your payment methods timeframes as well. This is a potentially lengthy process then, even when using Paypal. Not great.
The maximum amount you can put in your account in one go is £25,000 while the maximum you can withdraw in a single day is £100,000 for the Sportsbook.
Market Range, Depth, and Value
In terms of market depth, I'd say that Mansion are decent without being exceptional. Purely in terms of the sports on offer, you'll find all of the usual options such as football, tennis horse racing and rugby. You'll also see that there are a number of other less common sports on the list, including mixed martial arts, trotting and Aussie rules. Yet there's nothing on the list that sets Mansion apart from a dozen other bookies with an online presence.
From sport to sport the market depth is up and down. You can bet on football leagues I didn't even know existed, but less popular sports might only offer the more obvious fixtures or competitions.
When it comes to odds, they're always competitive. They might not necessarily consistently have the very best odds, but unless you're betting with hundreds of thousands of pounds you're unlikely to see the difference between the odds from Mansion and the odds from even the most competitive bookie. Pick something slightly more unusual, such as the Indian Premier League cricket, and you'll probably find that you'll actually get marginal gains from betting with Mansion.
Tennis is the only area that can be a bit flabby with the prices, whereas football and rugby are particularly strong areas. If you're a Bournemouth supporter then you'll be pleased to see that you can place bets on the Cherries with more markets offered by Mansion thanks to their sponsorship of the club.
About The Brand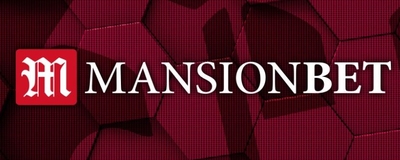 Mansion (Gibraltar) Limited was founded back in 2003, in Gibraltar, funnily enough. It was the brainchild of private investors who were looking to launch a new online gaming company. MansionCasino.com went live in 2004, quickly catching the eye of producers at Fox who teamed up with the Mansion crew to produce Poker Dome Challenge for US TV; it was so successful that it actually won an Emmy. The following year they sponsored Tottenham Hotspur, whilst casino.com was acquired the year after that.
They've gone from strength-to-strength since then, branching out their sponsorships to various other football clubs, and it's probably fair to say that football is a sport that the company likes to focus on, chartering a plane ahead of the 2006 World Cup to fly staff members and competition winners out to Frankfurt in order to watch England's first group match. That was noteworthy because of the fact that they completely re-branded the Flybe jet with their own colours and branding, gaining a fair amount of media attention.
As well as football the company does a lot for poker, regularly holding competitions and tournaments both online and in Las Vegas. This sort of 'outreach' is good business and marketing for them, and is typical of the approach they use. Another example is hiring football funny man Darren Farley as an ambassador, a great way to engage customers and give them more than just a betting platform.
The Mansion USP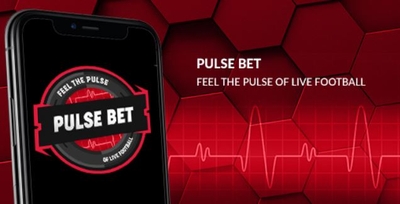 Those that like a little more engagement would enjoy betting with Mansion Bet, as they are active on social media and post genuinely amusing content alongside news and offers.
They're other biggest selling point is their consistently high odds. It's rare for a bookie of this size to compete at this sort of level, and what with the number of promotions they offer as well you really can get value at Mansion Bet.
There are other features that have to get a mention however, like the virtuals section, the casino and live casino, best odds guaranteed on UK and Irish racing, as well as these little beauties:
Fast Markets – When betting live, fast markets give you the chance to bet on corners, goals, free kicks, etc. happening within the next few minutes. If the game is a bit boring this is a fantastic way to inject some excitement.
#Makeabet – You don't need to wait for Mansion to list your bet, you can create your own unique acca with up to 6 selections and get instant custom odds.
PulseBet – Different to fast markets. Bet on a goal within the next 30 secs, 1, 5 or 10 minutes, and the closer to the end of the time that the goal occurs, the more you win. That means you want it to happen but don't want it to happen all at the same time. Confusing and exhilarating!
Actionbet – App only. The app will alert you to last minute in-play bets so you can take advantage and get a bet on where you otherwise wouldn't have had time. It's up to you, but think fast.
Getting Hold of Support
| CONTACT METHOD | AVAILABLE? | HOURS | ADDRESS |
| --- | --- | --- | --- |
| Email | Yes | 9am – 11pm | support@mansionbet.com |
| Live Chat | Yes | 9am – 11pm | Via Contact |
| Phone | Yes | 9am – 11pm | 0800 279 2688 |
| Twitter | Yes | – | @MansionBet |
Mansion Bet have a good support service all told. Alright, it's not 24/7 but there are plenty of contact options and most events will fall inside their opening hours. If you do get caught in need of help post 11pm you can always email them for a timely response in the morning.
Their physical address, in case you need it is as follows:
Mansion Europe Holdings Ltd, Building 7, Unit 732, Europort, Gibraltar, GX11 1AA
As mentioned before, Mansion are based in Gibraltar. The move out there allows them to sell their wares to a British market under a Remote Operating Licence from the Gambling Commission, the number of which is 39448.