Bet365 it is one of the biggest and most successful online bookmakers in the world, employing around 3500 people in the UK alone! They have millions of customers and billions worth of bets placed every year.
That is in no small part down to the fact that it is one of the most dynamic gambling companies around. Some of the online bookie services that we now consider standard were developed or co-developed by Bet365, including things like cashing out bets. They are continuously developing more ways of betting in an interesting and exciting way, which is great news for both the industry and their customers.
They have a huge market depth, offering the chance to bet on many international sports and area specific sports from countries worldwide.
Desktop Site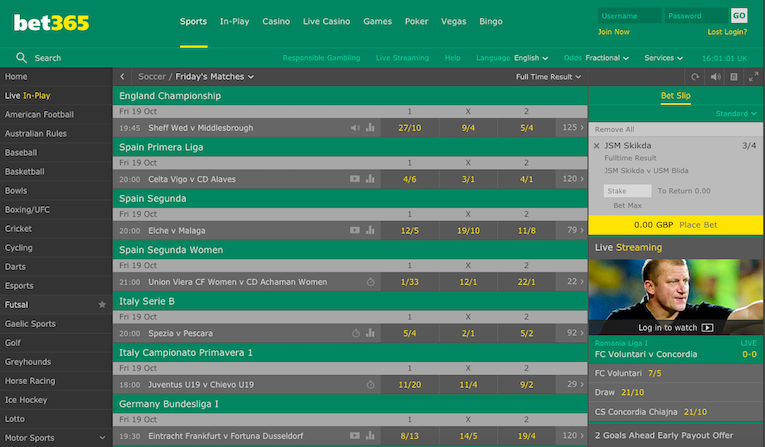 Bet365 unlike some other sites, keeps the home page very simple! They don't bombard you with adverts and the tabs bar across the top of the page is clear and easy to find what you want.
It manages a tricky thing of simultaneously having loads going on but also have a clean and easy to follow interface. On the left there is a list of all of the different sports you can bet on. Despite them offering many sports and games they have kept their list manageable and still manage to make it intuitive and easy to navigate.
Just above this list there is also a clear and easy to find 'search bar' allowing you to navigate away from the lists and find what you want quickly. This sounds like an obvious thing to have on a website but a lot of betting websites often don't have them.
One downside is that if you are looking for blogs or stats on the website, they are all there but you have to find. There are two very small, almost missable icons in the top right hand corner and sort of 'explore' what they might be.
The site is quick to open and to navigate through your selections. This is largely thanks to Bet365 'keeping it simple' and not overloading the site.
Bet365 Mobile App
The mobile app does the same thing as the website, in the sense that it does a lot but does it in a way that's easy to understand and use. The menus and shortcuts are well designed yet again to help users move around their massive range of sports and gaming products.
The app and mobile site are both quick, responsive and a easy to use. This is not something you should take for granted, many apps I've used from other bookies can be infuriatingly slow and they only provide half that of Bet365.
I find speed and reliability are the most important aspects when betting on mobile devices as you tend to be on the move (often using slower mobile networks) and at the same time you generally want to place your bets quicker, especially if in play.  In my view Bet365 have the best all round mobile product for both having the markets you want while giving you the ability to bet on them quickly.
You can't help but notice the amount of resources that go in developing good products for the user with this company.  I like the website a lot but I prefer the app, which says plenty about it.
Live Betting and Live Streaming
Bet365's live betting section in my view is the gold standard for the industry. It is intuitive, uncomplicated and really easy to use. It's some compliment to the company that most of its competitors I've seen base their own live betting system on the one used by Bet365.
In short, there's not much wrong with live betting at all and Bet365 know it. That's why I've seen that they often have promotions encouraging people to use it. What I would say is that the mobile app isn't quite as good for live betting as it's harder to navigate to the bet you'll want. Surely the point of live betting is that it's really easy to get to the bet you want to place?
There are loads of live streaming options through Bet365 and it is easy to see which events are streamed in advance.  Streaming can also be accessed without costing much at all, I have always been able to stream sports if I've placed a wager within the last 24 hours of by just having a positive account balance.  It is worth noting though if you bet on racing you will usually need to bet on the race itself to be able to stream it.
From what I've seen over the years Bet365 look like they stream more than any other betting sites, to the point where I think they could match some of biggest sports broadcasters around!
Markets and Odds
As one of the biggest bookmakers in the world it's no surprise that Bet365's market is impressive. There's barely a sport that you'll want to bet on that you won't be able to here. There's also plenty of depth to the specific sports you choose to bet on, with a major football event often offering more betting lines than I knew existed.
Bet365 odds aren't always the best in the business in my experience, but they're generally very competitive. Though you can't always be guaranteed the top odds in the more random sports I've found they won't be too far of, allowing you can bet with a reasonable degree of confidence. Of course it's worth having a look at different bookies if you're determined to always get the best odds or you place huge wagers, but otherwise you're pretty safe here.
Banking: Deposits/Withdrawals
| PAYMENT METHOD | MINIMUM DEPOSIT | MINIMUM WITHDRAWAL | WITHDRAWAL TIME |
| --- | --- | --- | --- |
| Visa/Mastercard | £5.00 | £5.00 | 1-5 Banking days |
| Paysafecard | £5.00 | £5.00 | 24 Hours |
| ApplePay | £5.00 | | |
| Bank Wire | £100.00 | £5.00 | 1-5 Banking days |
I've used three different deposit methods in my history of betting with the company and I've never run into a problem.  Transactions in my experience have been very fast, reliable and trustworthy.
It is worth noting however that when I've been betting with Bet365 if I deposit with a certain method I generally also have to withdraw any winnings from that deposit using the same banking method.
Other Products
Bet365's real selling point for me is its sportsbook, but that isn't all it's got to offer. Its poker games are impressive on the few occasions I've played them, as are the casino and Vegas section of the site.
There's also a bingo area, should you want to keep an eye out for two fat ladies, and you can even bet on the lottery through Bet365 if you want to.
I'm only an occasional gamer being honest but I find Bet365 have got everything I need.  I've spoke to some of my friends that do like casino though and they say there are few better all-round sites.
In addition to the other products I've also found the Bet365 statistics, form and result sections to be very handy for sports betting.
About Bet365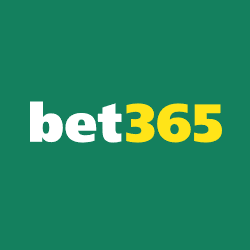 Bet365 have a hell of a lot of customers in a huge number of countries. It's fair to surmise from that that they are one of the biggest online gambling companies around.
PROS
The in-play betting system is without doubt one of the best in the industry and a real plus point for one of the finest betting sites around. The integration with their live streaming is also hugely impressive.
The website and app are both perfectly functional if not the very best around, meaning that you can use them comfortably and not get too stressed trying to figure out where the bet is you want to place.
CONS
That their odds aren't consistently the best in the land is a bit of a shame, though it will really only bother high-rollers or those that like to get the best odds possible out of principle. It's also totally fair to point out that they do offer plenty of great value reliable existing customer promotions that very often will offset the better odds you might get elsewhere.
There's also plenty going on with their website that makes it slightly difficult to get to grips with if you're looking for a specific bet.
Licence & Contact Details
Bet365 hold a UK gambling licence so you're as good as guaranteed that the company practices its work within the stringent guidelines laid out by the UK gambling commission. If you're interested then I'll tell you that their licence number is 39563.
When it comes to customer support they are reachable in all of the usual ways. I've discovered that Bet365 have a good Twitter account that helps you with any problems you're having with your betting and will even give you odds on things if you ask them nicely. Their Facebook account is also good but not quite so interactive with people I find. If you have issues you can call them or live chat with them and in my experience they sort things for you really quickly.