If you've ever placed a bet on a race when you were physically on a racecourse then it's more than likely you'll have done so with The Tote. This isn't the same company, as it happens, though it is the Irish equivalent. It is owned by Horse Racing Ireland, taking on the responsibly for operating a pool betting system on all of the Republic of Ireland's twenty-six different racecourses. Though it's not linked to the Tote in the UK, its history comes from the same basis and was set up at around the same time. You can also bet on all UK races through this site, it isn't just Irish.
Though the company is inexorably linked to the world of Irish racing, it would be untrue to say that horse racing is all that they cover. They'll also offer you odds on the likes of greyhound racing and football, though the type of betting you'll do is something that you're probably not used to. It's all totalisator betting, so you'll be paying into pots rather than going up against a traditional bookmaker that offers fixed-odds. I'll tell you more about it on this page, as well as how they cover the different sports that you can bet on through them.
Desktop Site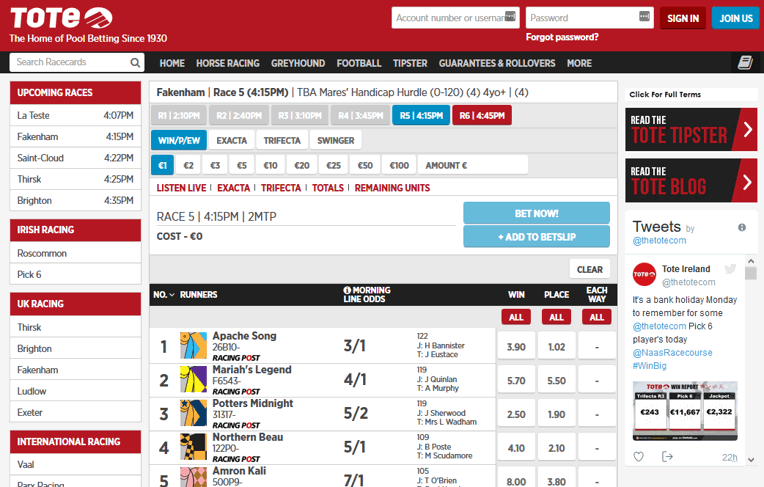 In many ways, the desktop site is similar to plenty of the more traditional bookies that you'll have been using for a number of years. The major difference is that the limited number of sports on offer means that everything has a bit more space. Unlike a bookmaker that covers practically any sport you can think of and therefore needs to cram links into every available space, the Irish Tote keeps things simple. The landing page, which is made up of a colour scheme of red, white and black, has a strip across the top that can take you to horse racing, greyhound racing, football coverage or other parts of the site. At the top of the main page you'll see a rolling advert for their best offers, keeping things interesting.
Down the lefthand side of the page are nice, clear links to upcoming races as well as Irish racing, UK racing and international races. You get essentially the same links in the middle of the page, as well as quick links to Pick 6, Placepot and other selections. Things remain delightfully clear and simple when you go to the specific page of a race that you want to bet on. All of the jockey's colours are there next to the horse's number and name, meaning that you can easily identify the one that you want to bet on. Scroll down a little bit and you'll see a list of common stake amounts to make life easier. Everything loads quickly when you've clicked on it, meaning that you're not having to wait for ages for pages to load or anything. I'd describe the experience of using the site as 'perfectly pleasant'.
Tote Ireland Mobile App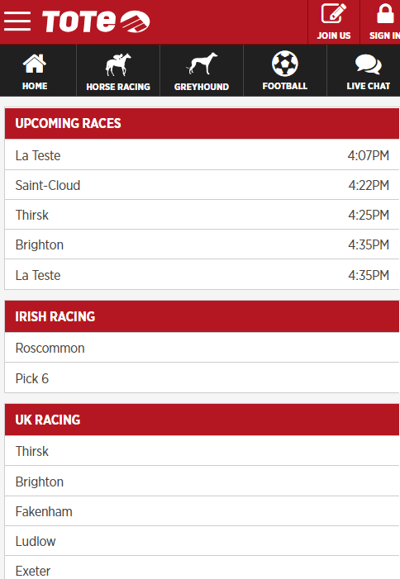 Given the pleasant nature of the desktop site, I found the mobile app itself to be a major disappointment. It's take the idea of keeping things simple far too far, offering just four options in a square when you first load it up. Actually, that's not quite true. When you first load it up you're greeted by an advert that you've got to actively dismiss in order to begin using the app proper. After that, you can choose from 'Trending', 'Bet Now', 'Results' and 'Tips'. In my opinion, the app isn't really worth using. You're much better off loading up the webpage and using the optimised site. If you tend to use the desktop site fairly regularly then you'll prefer it anyway, given that it's essentially a shrunken down version of the main page.
Once again, there's a list of quick links across the top of the page which, if anything, are even clearer and more obvious than on the desktop. You'll still see the advert scrolling across the top, as well as the links to Irish, UK and international racing. In the top lefthand corner you'll find a menu button that will let you go to any of the major pages on the site, but the ones that are perhaps less used. That's the likes of the Fixtures & Results, Live Chat and the company's blog. Once again, everything loads quickly enough for you to barely notice, which can be important when you're hoping to place a bet in something of a hurry. Whether you want to read about the latest news, see what time the next greyhound race is that you can bet on or simply return to the homepage, everything is laid out in a way that makes it perfectly convenient to do so.
Live Betting
There isn't a Live Betting section, per se, but there are clear and obvious links to the next race that you can bet on. Neither horse nor greyhound racing tend to offer In-Play bets anyway, so there's nothing missing that you would be offered by the majority of more popular and common bookmakers.
When it comes to the football, the way that the offer bets is entirely different to anything you'll have come across before. I'll explain that in more detail in the 'Market and Odds' section shortly, but sufficed to say that you won't be able to bet live as you would with other companies. The big question is, does that matter? You're betting on a different type of thing anyway, so if you wanted to bet on the likes of who would score next then you'd be wanting to use a more traditional bookmaker to do so.
LIVE STREAMING
There's select Live Streaming for both horse and greyhound racing, which is immediately better than any of the smaller and newer bookmakers that have been released over recent years. You need to be logged in and to have placed a bet in order for the Live Stream to kick in, but as long as you've done that then you'll be able to sit and keep up with the action.
Markets, Odds and Features
When it comes to talking about market depth, you've really got to ask what it is that you want to judge them on. If you're looking for a bookmaker that will offer you coverage of the likes of golf, rugby or eSports then you're going to be disappointed. They simply don't cover them, so it's a little bit unfair to head to a bookmaker that you know only offers three sports and then roll your eyes when they don't cover other events. When it comes to the sports that they do offer, the coverage is impressive enough to keep you interested. As well as all of the usual major British horse races, there are also racecourses from the likes of France and America that you can find meetings from to bet on. In terms of the football, what you're doing is essentially 'buying in' to pots that cover accumulators on a selection of matches from the competitions like the Premier League and Champions League.

It's difficult to make a bold declaration about the odds because you have to take into account that everything is in Euros. Having done a number of checks, however, it seems as though the shorter odds are about the same as you'd get from a traditional fixed-odds bookmaker in England, doing even better in some cases. As an example, on a race on Clonmel the Irish Tote was offering odds of 11/4 (Euros) when the best you could get from Ladbrokes was 9/4. That said, in the same race the Irish Tote was offering 50/1 (Euros) on a horse that William Hill had odds of 80/1 on. In other words, if you want long odds then the Irish Tote is probably not for you. It's also worth noting that pool betting works differently to fixed-odds betting, so the odds you'll actually be paid out at can be different to those advertised.
BANKING
The main thing that you'll be wanting to know, given that it is an Irish bookmaker, is whether or not everything has to be done in Euros. The short answer is that all of your betting is done in Euros, but the system is set up to allow you to both deposit and withdraw in Pounds Sterling.
That makes life easier, though whether you'll get as good a rate as if you did that separately is something that you'll have to investigate for yourself with your bank. You can deposit using credit and debit cards and, unusually, cheques.
OTHER PRODUCTS
You can't bet on casino games or anything like that, as you can with some bookmakers out there, but what you can do is become a Tote VIP. This allows you to to get money back on wagers, get racing tickets and invites to Hospitality areas as well as be invited onto stable tours and other exclusive events. There's also a Tipster that can help you figure out which bets are the most likely to come home as winners.
About The Tote Ireland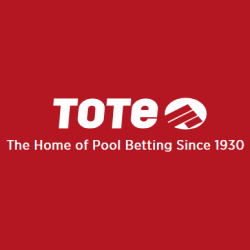 As mentioned in the introduction, Tote Ireland Limited can trace its history back to the passing of the Totalisator Act in Ireland in 1929. At that moment, mechanical pool betting became legal on the emerald isle, with the first race to take advantage of that fact happening on the twenty-first of April the following year at a course in Fairyhouse. Before the year came to an end, the Irish Tote had taken more than one hundred thousand Punts from a million ticket sales at venues like Punchestown, Galway and Curragh. Not bad when you consider that they needed to borrow twenty thousand Punts to get started in the first place!
The company started a service called Tote Account in 1932, allowing punters to place bets via telegram, believe it or not. In 1939 they introduced slot machines for the first time, with a single machine on offer for each horse. That made it much easier for bettors to place their wagers, with these new machines being an immediate hit. Within twenty-six years they had sold over sixty million tickets, or around three million tickets a year. From the moment the company was launched, they put the improvement of Irish horse racing at the top of their agenda and that is something that they continue to do to this day.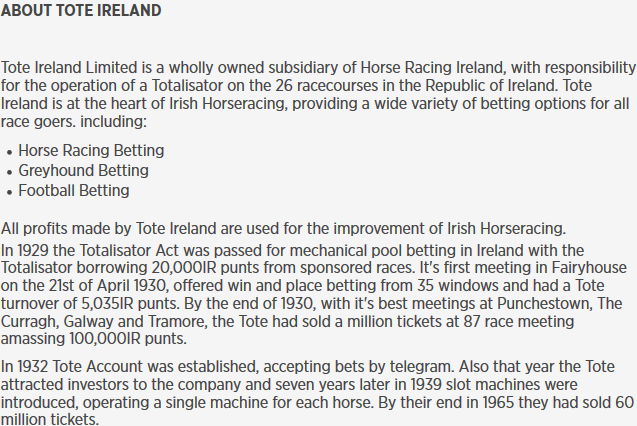 PROS
The biggest pro to the Irish Tote is the fact that they have chosen to cover a few different sports exceptionally well, rather than a large of number of sports in a mediocre fashion. The fact that you can bet on international races makes it an improvement on a lot of fixed-odds bookies, which tend to focus more specifically on British and Irish horse racing alone.
CONS
Let's be honest, plenty of people will be disappointed that you can only bet normally on horse and greyhound racing, with football covered, but not in a way that most people will recognise. That said, we know that going in, so to call it a 'con' is a bit unfair. The other obvious fact is that this is pool betting rather than fixed-odds, meaning your payouts can be more variable than is ideal.
Licence & Contact Details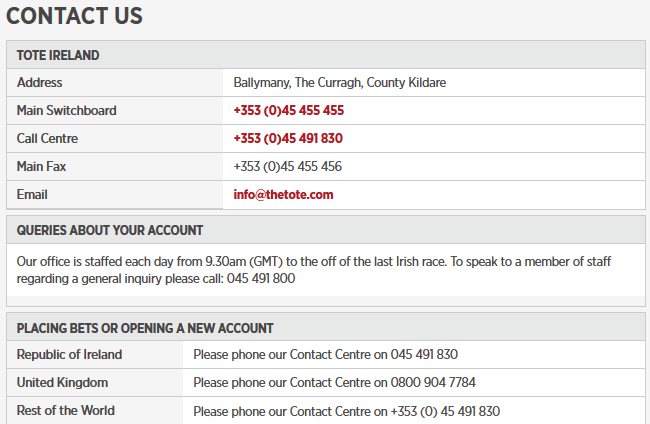 As you'll know if you've read any of my other reviews on here, I'm a big fan of a Live Chat function. Weirdly, there's one available via the mobile site but not the desktop version (or at least as far as I've been able to figure out). You can call them in several different ways, however, including via an 0800 number if you're in the UK.
If you're a social media fan then you'll be pleased to know that there's a Twitter account that you can follow, with messages embedded onto the company's homepage if you like to keep track of their most recent posts. It's worth noting, though, that they don't really interact with anyone via the account. The same is true on their Facebook page, with the company mainly using them both to post offers and interesting titbits.
Tote Ireland Limited is registered in Ireland and is licensed by the Gambling Commission. If you're interested to know the licence number then it's 39878. When it comes to getting in touch with them for something more important than can be dealt with over the phone, here's their postal address:
Tote Ireland Address: Horse Racing Ireland, Ballymany, The Curragh, Co. Kildare, The Republic Of Ireland