Mr. Green started life back in 2007 as a casino that operated exclusively online. They worked hard to garner a reputation as the 'gentleman' of betting and only made the move over towards offering a sportsbook once they felt that their clients fully trusted them to deliver.
They've been working with UK customers since they got their licence to do so back in 2015, having worked in their native Sweden prior to that. The sportsbook was opened in 2016 and I think they've really developed something special.
They are independently run and have a strong moral code which they haven't strayed from, and for which they have even won awards. They are more than just a well behaved bookie though, they are an exciting brand with a unique marketing approach who offer a superior product in many ways.
Banking: Deposits/Withdrawals
| PAYMENT METHOD | MINIMUM DEPOSIT | MINIMUM WITHDRAWAL | WITHDRAWAL TIME |
| --- | --- | --- | --- |
| Visa/Mastercard | £10 | £10 | 1-5 working days |
| PayPal | £10 | £10 | Instant (Up to 2 hours) |
| Skrill | £10 | £10 | Instant (Occasionally this may take up to 2 days) |
| Neteller | £10 | £10 | Instant (Up to 2 hours) |
| Paysafecard | £10 | £10 | Instant (Up to 2 hours) |
| Trustly | £10 | £10 | 3-5 Working days |
| Bank Wire | £10 | £10 | 1-5 Working days |
Usually withdrawal requests will be processed within 24-48 hours, after which the following timeframes apply. Also, Mr Green allow manual flushing.
Sadly, this is an area where Mr Green disappoint. Not in available methods, as you can see that is very good, but because there are withdrawal fees. It will cost you £1 to withdraw up to £100 and then 1.5% of whatever you withdraw above that amount up to a maximum of £10. There is even a 3.9% fee on deposits using Paysafecard!
This is taking liberties in my book, and I know I sound like a primary school teacher here but I'm disappointed in them.
Win caps sit at £100,000 which is a little lower than I usually like to see – some other bookies' limits are into the millions – but it won't realistically be an issue for 99.99% of us.
Live Betting Interface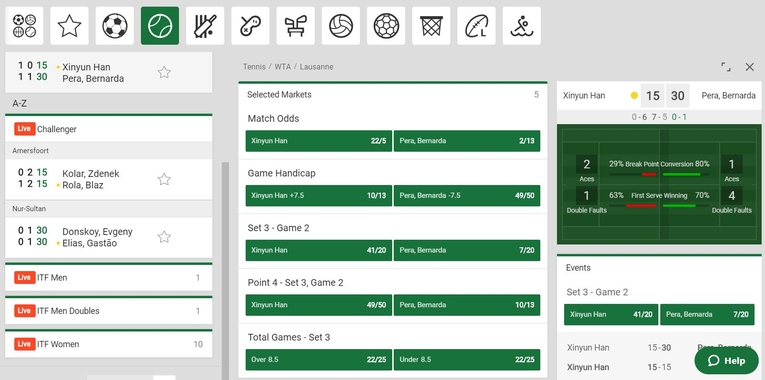 Mr. Green put top in-play events front and centre so you can find them easily from the homepage. For the rest, click the Live Betting tab which will take you to a dedicated interface listing all live events by sport and then by league within that sport. There are also icon boxes along the top. This is a good system that gives a good level of control to the user and can be approached from two directions.
Events can be favourited and there is also a link to a comprehensive stats tool at this point, which opens in a new window. Event view does highlight some stats specific to the event in question, but not many, and the match graphic is good but feels a little light on features.
Availability is strong though. At 10am on a rainy Friday morning I found 50 live games including some from the Australian Football Reserve Leagues, so no stone is left unturned.
Live streaming hasn't been included, which isn't a problem as you can stream the game from anywhere, but it does feel odd since the rest of the site is so accomplished. It's easy to forget that it's only just 3 years old.
Sports Markets and Prices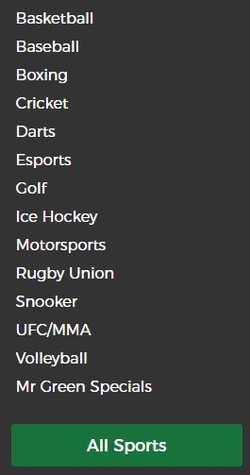 Mr. Green's depth of coverage is perfectly decent for a bookmaker that has not long offered a sportsbook service.
It covers a whole lot of sport – there are around 40 on the list – and delves into countries all over the world, but tends not to venture as deeply into them all as some rivals do; for example, you can bet on football in Bangladesh, but probably only top flight stuff, horse racing is restricted to the UK and Ireland, etc.
Anything closer to home will have better depth, and you certainly won't miss out on anything mainstream. It's good to see Mr Green showing an interest in more niche sports too like pesapallo, beach volleyball/beach soccer, and chess… if you can call chess a sport.
Mr. Green's odds are perfectly solid, often in line with the more established sportsbooks without being market leading. Combat sports, rugby, cricket, and football bettors will see the best of it.
Where they really come into their own, however, is with their regular price boosts around the likes of big horse races and Champions League games. That's when you'll find real value in the market.
About Mr Green
The marketing says that 'No single individual knows the full story of Mr. Green's origins, bar Mr Green himself'. Now far be it for me to destroy that illusion, but Mr. Green is a fictitious character, invented by the Swedish creators of the site as a personality to represent their values. What can I say – I'm a killjoy.
Mr. Green 'lives his life according to his gentlemanly philosophies' apparently, and the company he is the face of does the same. Honesty and fairness are the watchwords of Mr Green & Co AB, the parent company that is still based in Sweden, and they back this up with their actions.
The company has been winning baubles since 2009, including the likes of the IGA 2017 Gaming Operator of the Year award, the EGR 2014 Casino Brand of the Year award, and the EGR 2012 Socially Responsible Operator of the Year award. That's praise not just from their peers but also from the biggest development companies in the industry, which tells you everything you need to know about these good guys of gambling.
Desktop Site Roundup
I'm a really big fan of Mr. Green's website. It's a classy, thoroughly modern and unique take on sports betting, that still manages to keep a traditional feel overall.
It runs incredibly smoothly, with flawless transitions from one page to another and plenty of intelligent features that know when they are needed and disappear when they are not. They even make loading pages interesting by showing the current scores of certain in-play games.
You could argue that the homepage is too busy, but everything is well spaced out at least and sits in distinct sections; there's a lot to look at but it's not confusing, and the upside is that this approach also offers more quick links than usual, not only to certain sports or competitions but to specific fixtures as well.
Otherwise, navigation is as simple as using the search bar (sports, leagues, or teams) or using the A-Z which is in its usual spot. You have to hit 'All Sports' to see the full list, which results in an unnecessary and bland page load, but this is honestly the only negative I could come up with.
Pretty much everything is collapsible to help you focus on what interests you, and they also use sliders as a way to alter bets like under/over total goals, for example. This feels state-of-the-art and is also less complicated, getting rid of lots of different odds buttons.
What's So Special About Mr Green?
I honestly believe their attitude towards safety, fairness, and social responsibility earns them a lot of brownie points. It's the sort of thing that easily goes unnoticed, but it should be applauded.
For a fully independent bookie they are doing a sterling job on all fronts.
This is also a place full of innovation that thinks from their customer's point of view, so the betting experience is unique here. It's not only a well rounded bookie but a well rounded gambling site in general, since it offers many other features.
Casino – It can't go unsaid that the casino at Mr. Green is superb. If you like to game as well as bet then this is a cracking choice.
Bet Builder – This tool is built into the interface and allows the punter to create their own tailor made bet.
Fast Markets – Add an instant adrenaline shot to live betting by wagering on events occurring in the next few minutes.
Stats – The statistics tool is wonderful for those who like to do some real in depth analysis before placing their bets. It's one of the best there is.
Mr Green App Review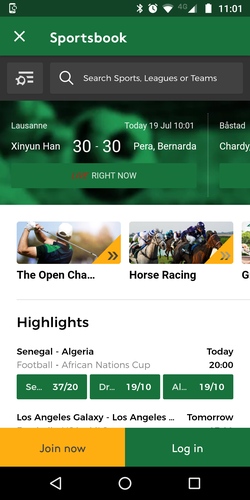 The mobile app is an interesting one. It's exactly as smooth as you'd expect considering the look of the company's homepage, essentially just being a smaller version of the same thing – it works just as well and responds just as quickly to commands.
However, unlike some casino-cum-sportsbooks that separate their wares into different apps, Mr. Green have put theirs all in one. That means that when you open it for the first time you're confronted by adverts for all sorts of slot games and the like. You can get past them quickly enough, it's just an extra step in the process and also makes the app bigger than it needs to be.
The other issue is that the layout doesn't work quite so well on mobile. It's baffling really because the desktop site works so brilliantly that you would think the same innovations would be applied to the smaller screen, but I found the sports homepage almost useless on the app. It's much easier to use the search bar or the Menu button to start your journey.
This makes finding pre-event markets much more drawn out than it needs to be, having to make a good 8 or 9 selections before you find your market. Thankfully, live betting takes half the time.
It's still a good app, it looks, feels, and performs like a quality product, but it has been let down by some odd layout choices, and could also do with a few footer menu quick links.
Licence & Contact Details
| CONTACT METHOD | AVAILABLE? | HOURS | ADDRESS |
| --- | --- | --- | --- |
| Email | Yes | 24/7 | customerservice@mrgreen.com |
| Live Chat | Yes | 24/7 | Via Help Centre |
| Phone | Yes | 24/7 | 01765 522017 |
| Twitter | Yes | – | @MrGreenSport |
While the customer service is very strong at Mr Green, it is only available to its fullest extent to existing customers. Live chat, for example, can only be accessed if you are logged in.
You can access the FAQ though which has a lot of useful information for anyone considering joining up.
The company's headquarters remain in Stockholm, but from a licensing point of view they have a base in Malta that you'll be able to write to if emailing or calling them won't do the job. It's as follows:
Level 1 Tagliaferro Business Centre, High Street, Sliema, Malta, SLM 1549.
When it comes to their UK facing work, Mr. Green is based in Malta for tax reasons. They have a remote licence courtesy of the Malta Gaming Authority and are also licensed and regulated by the UK Gambling Commission, with a licence number of 39264.