Totesport is about as close to a British institution as it's possible for a bookmaker to be. Formed in 1928 as a result of the Racecourse Betting Act, it was owned by the UK Government until 2011 when it was privatised and sold to Betfred. If you've ever heard reference to 'the Tote' at racecourses then you'll have heard people talking about what formed the origins of Totesport.
The corporation was actually the brainchild of Winston Churchill, who wanted to offer a state-controlled alternative to the off-course bookmakers that were springing up around racecourses and were entirely illegal. The Tote is based in Wigan, of all places.
These days the Tote has been overtaken by big brand bookies somewhat, but it still retains a place in the hearts of British bettors, and offers its one time unique way of betting – alongside a traditional sportsbook – to punters all over the country.
Betting Live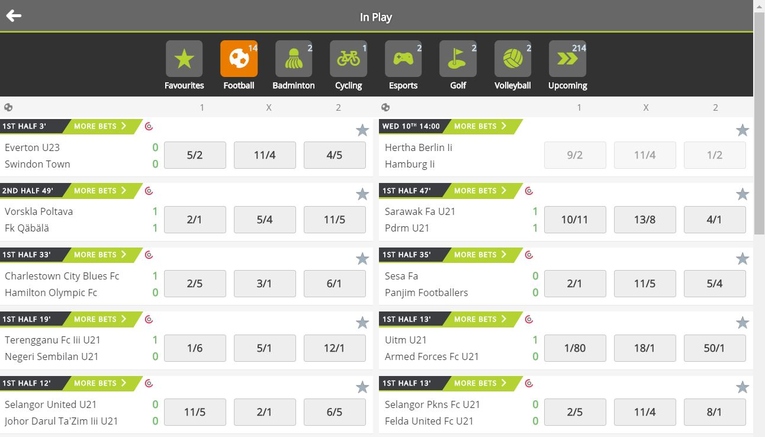 Totesport have a decent amount of live betting options, though I'm not convinced that their set-up is the best that it could be.
It's not going to challenge anyone in terms of usability, but it's very basic and in danger of being drab. Still, there will always be something to be on and when in event view the betting lines can be categorised to some degree which saves a lot of scrolling.
The main in-play interface offers events sport by sport, with easily identifiable icons displaying how many events are currently live in that sport, and an extra 'upcoming' icon serves as schedule for the day.
Cash out availability is good and readily on show, but there are no extras like stats or live streaming. However, streaming is actually done through their parent company, Betfred. That means that you can watch streams of football, basketball, tennis and more (logged in, positive balance), as well as greyhound and horse racing (£1 minimum bet).
Markets Types and Odds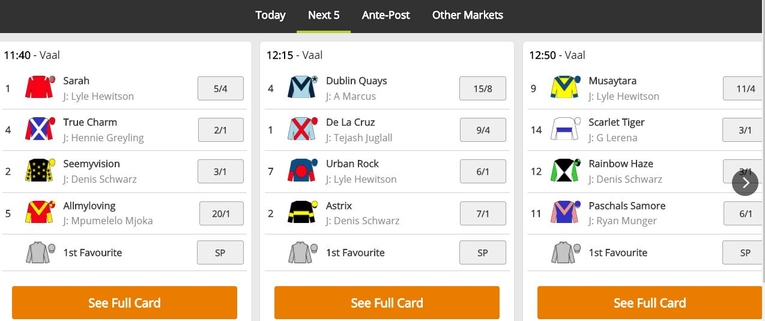 When it comes to both the market coverage and odds offered by Totesport they are middle of the road.
As you'd expect for a company that was created by the UK government, there is a definite focus on sports and events favoured by the British public. That's why you'll find the football and horse racing markets are a little deeper than the rest, and the odds on those are better than you might get with different bookies, too.
Their list contains around 25 categories, and although it's not as comprehensive as other bookies can offer it is well rounded. There's American sports, motor racing, sSports, netball, politics and TV specials – so there should be something for everyone.
Odds come in decimal, fractional, and American, and they can be bolstered with scattered price boosts and plenty of promotions. These tend to be on racing, football, and specific competitions, but the variety is good.
Main Website Info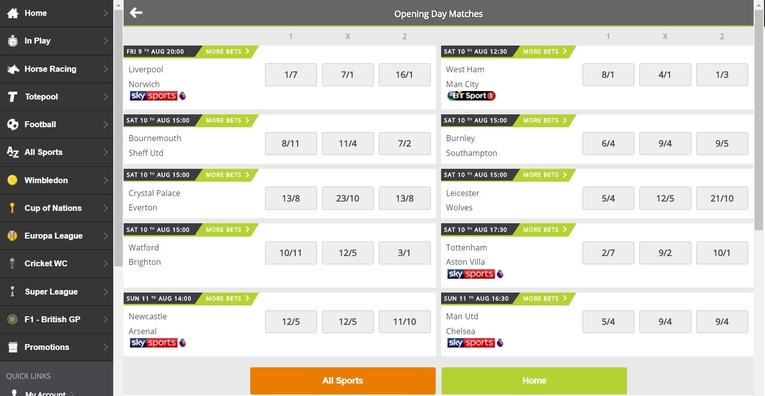 I like Totesport's desktop site a lot. I think it looks really smart and is very responsive to whatever requests you make of it. The black, white and lime green colour scheme may not be to everyone's taste but I think it's sharp and makes things like the odds stand out when you're busy on the site.
It comes across as a bit of a diluted version of bigger sportsbooks, but don't let that put you off; there is still plenty to do here, it's just been packaged differently, giving less away upfront.
In-play events by sport as well as quick links to major competitions dominate the home screen, and you can also switch to highlights or next 5 horse races. It's a neat and tidy way of presenting the most pressing fixtures, with the A-Z your route to everything else. This does mean an extra click or two but that's hardly going to ruin your day.
Each sport has its own homepage, so to speak, and these are kept tidy using a few filtration options and collapsible menu's.
Funding Your Account
There is an eclectic mix of minimums and maximums when depositing and withdrawing from Totesport. I don't understand why it's so convoluted but none of them will cause a problem to the average bettor.
| PAYMENT METHOD | MINIMUM DEPOSIT | MINIMUM WITHDRAWAL | WITHDRAWAL TIME |
| --- | --- | --- | --- |
| VISA/Mastercard | £5 | £5 | Bank Dependent |
| Paysafecard | £10 | Not Available | N/A |
| Skrill | £5 | £5 | Within 24 Hours |
| Neteller | £5.50 | £5 | Within 24 Hours |
| Paypal | £5.50 | £5 | Within 24 Hours |
| Bank Transfer | £85 | £25 | Bank Dependent |
If you bet larger stakes you might have to talk to them to make hefty deposits, but since their withdrawal terms are so fair and quick you can tell their heart is in the right place. Processing is within 48 hours but usually much quicker.
This is a good service, even if it has it's little idiosyncrasies – like a £5.50 minimum deposit using Neteller…
There aren't any fees per se, but certain unusual situations could see you being charged; you will be informed before it happens.
The Long History of Totesport
There is a rich history associated with the Tote, going back to 1928 when it was established to combat illegal off-site gambling, through the war and on to 1972 when it first opened high street shops and started handling bets on all sports, not just horse racing.
The Tote has seen more change than most in its time, but it hasn't always been the quickest on the uptake. The fixed odds sportsbook is actually a relatively new addition, but even so, horse racing remains the Tote's first love, and it was the only company eligible to operate pool betting on horse races for a very long time, only ending in 2018.
The Tote linked up with Channel 4 back in 1999 to offer the famous Scoop6. This was an offer whereby punters tried to guess the winners of six different races that were being shown on Channel 4. The first horse racing betting millionaire was created as a result of Scoop6 and on the 22nd of November 2008, when a record single-day turnover of £4million+ was recorded by the company.
Totesport has been owned by Betfred since 2011, so you'll see obvious similarities between the two bookmakers in terms of what they offer and how good their service is.
SHOPS
Totesport had around 500 shops and 4000 staff at one point, but since the merger with Betfred they have all been rebranded.
This means that, technically, you can't bet on the high street with Totesport anymore, but if you go into your local Betfred the tote pool will be available.
Explaining the Totepool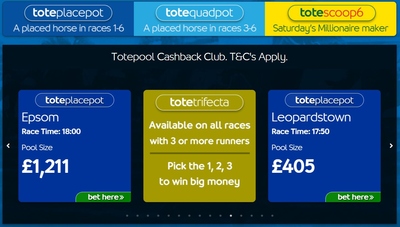 Despite all the recent legal ups and downs, the fact is that all bets of this type will go into the same pot, whichever bookie they come from. That's good news for the punter as the prize pools will be higher, and it will stay this way until at least 2025.
There are a number of different bet types but they all work in a similar way; the pot builds as people bet, and the winners get a percentage share of the pot which is calculated by how many winners there are and how much each winner staked.
This means that instead of taking a fixed price, your potential payout depends on how high the pot is. Often, this can be more lucrative than fixed odds betting, which is why it is so popular.
You can bet this way on a single race (totewin, totplace, trifecta, etc.) or across multiple races (toteplacepot, totequadpot, scoop6 etc.)
Totesport's Mobile App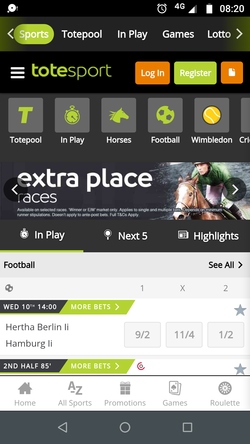 This is a well put together betting app, and the mobile optimised website is identical, so whichever you choose won't affect your experience.
There are a lot of moving parts here, and it reacts to what you do; so if you scroll down the app assumes you are on the page you want to be on and collapses the top and tail menu's, giving you more screen space to work with. If you scroll back up it figures you are ready to move on, so gives you these options back. Clever.
The menu button annoyingly takes over the whole screen when selected, but it offers many of the same options that you can find elsewhere on the app, so you should only really need to use it for help or terms etc.
Speed and responsiveness isn't an issue, it does fine without wowing the user, and the same system of scrolling and/or drop down menus is in place.
Unless betting live, you'll find that there are a good 3 or 4 menus to click through before you actually get to an event that you're after, which is convoluted but not atypical of mobile apps I suppose.
To Tote or not to Tote?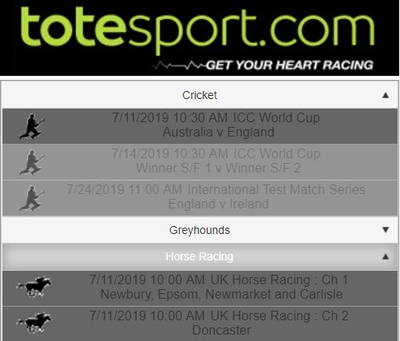 It goes without saying that horse racing enthusiasts will find a lot to love at Totesport. If you are the kind of punter that focuses mainly on racing but likes the odd flutter on big competitions like Wimbledon or the Masters, it's ideal.
It's not a fussy website either, so bettors who get irritated by overly busy bookies will be safe from any flashy and unnecessary add ons.
If you are still on the fence, maybe one or two of these extra feature's will tip the balance for you:
Totepool – The major draw. It's the original and, in my opinion, still the best.
Radio – For a really old school feel, listen to the radio service that is built into the interface and enhance live betting.
Games and Casino – Slots and casino can be a fun way to switch things up – the lighter side of betting. The games on offer are top class.
Contact Info and Legal Bits
| CONTACT METHOD | AVAILABLE? | HOURS | ADDRESS |
| --- | --- | --- | --- |
| Email | Yes | 24/7 | customercare@totesport.com |
| Live Chat | Yes | 24/7 | Via 'Help' |
| Phone | Yes | 24/7 | 0800 032 8188 |
| Twitter | Yes | – | @totesport |
The live chat is antiquated to put it politely, but the main point is that it works and is available 24/7. Support is clearly taken seriously at Totesport.
Social media, on the other hand, is a complete bust; the account has been dormant for over a year.
As you would expect, Totesport is monitored by the UK Gambling Commission and have a licence from them with the reference number 39544. They are based in Malta:
Petfre (Gibraltar) Ltd, 5.2 Waterport Place, 2 Europort Avenue, Gibraltar, GX11 1AA
If you want to write to them then there is a UK address too, although it is for the Betfred Group which the Tote belongs to:
c/o The Spectrum, 56-58 Benson Road, Birchwood, WA3 7PQ, UK.