Sport Nation is one of the newest major betting sites on the market. Originally known as Bet on Brazil and rebranded in 2017, the sportsbook is operated by Argyll Entertainment AG, a company based in Switzerland.
It's aimed squarely at a UK market and has already earned a reputation as a bookie for proper bettors, with high stake limit offers and one of the best rewards clubs around. The original site started operating in time for the 2016 European Championships and since the rebranding has gone from strength to strength.
It seems to tick all of the right boxes when it comes to market availability and the betting experience itself, but there are a few gremlins in the system elsewhere. Have a read and see what you think.
Desktop Site Usability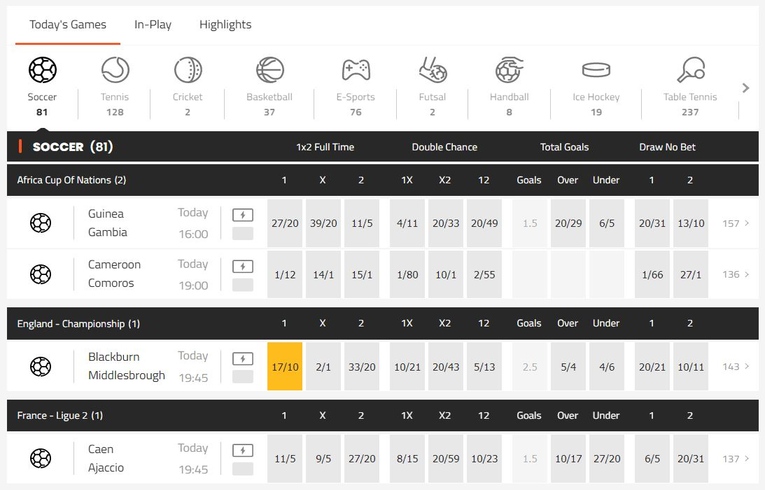 I feel as though I shouldn't like the Sport Nation website, to be honest, and yet I really do. Since the relaunch the site is miles better and no longer has Alan Brazil's face plastered everywhere – lovely as his face is and everything.
Now powered by SBtech, the site is smoother and offers three times as many markets and features, but yet they've kept the whole thing really simple and consequently it's a very user friendly experience. You can get to pretty much anywhere on the site from the homepage in one click thanks to a well thought through design and layout.
The centre of the homescreen is a mini live betting console so you can dive straight in if that's what you are there for, and everything either side is about finding pre-match events or the betslip itself. There are plenty of quick links to specific offers or popular leagues/competitions, but not so many that you don't know where to look, which gives your brain plenty of space to think through the bet you are mulling over.
Each sport has its own homepage of sorts organised by a calendar view, all leagues, and top leagues, so navigation is a simple two stage process but still offers enough filtering options to make your search flow uninterrupted.
Sport Nation Mobile App
Sport Nation have introduced a mobile app, although it is only available to iOS users. This risks alienating half of the betting population, but the brand isn't exactly old, so the fact that they have one at all is impressive, and judging by how fast they got it off the ground an Android version can't be far behind.
There is a perfectly good mobile site too, and both are essentially condensed versions of the desktop site. It has exactly the same vibe but a few different design features more fitting for a smaller screen, such as a scrolling menu bar for top sports and the search function and a 'back to top' arrow if you have been scrolling for a while (a Godsend). It's very well proportioned.
You have to go via the menu button and a page reload to view the full sports list which is a bit of a pain, but nothing so serious as to put you off altogether. Each sports' homepage operates in the same way so you are still only ever a couple of taps away from your destination.
In-play betting is a particular plus point on mobile with Sport Nation. It's the platform that deserves the credit really, but all kudos to the bookie for opting into all of the features; it's a great product with the best game visualisation in the business, lots of stats, and an interesting insightful display – just as good as you would find on the desktop site.
About The Brand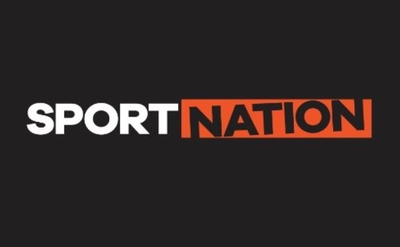 Sport Nation, the brainchild of Switzerland based firm Argyll Entertainment, is one of the youngest online bookmakers on the market. Initially launched as Bet On Brazil for Euro 2016, they very intentionally targeted a football audience using the reputation of pundit Alan Brazil as a loudmouth to do so. The presenter doesn't shy away from saying his piece, letting you know what he thinks are good odds and interesting markets via articles and even podcasts that are posted to the site.
Though Alan Brazil was the face (and voice) of the company, it was too niche for many punters. In August 2017 the brand launched under the new name of Sport Nation, and in the process moved platforms to SB Tech offering customers a far wider and deeper range of markets and features.
Despite changing their name the brand is looking to keep its focus on rewarding regular bettors. Their catchphrase is 'Don't bet on boring', and they have also titled themselves "The Cashback Bookmaker", so that should tell you all you need to know about their approach to the betting industry.
Their aim is to differentiate themselves from their competition by offering something more exciting than other bookies. You can judge for yourself whether or not they succeed. They are also setting out their stall as a site for those that like to stake a little more, with offers and rewards clubs aimed that bit higher than the £10-£25 mark of most other bookies.
Banking: Deposits/Withdrawals
| PAYMENT METHOD | MINIMUM DEPOSIT | MINIMUM WITHDRAWAL | WITHDRAWAL TIME |
| --- | --- | --- | --- |
| Visa/Mastercard | £10.00 | £20.00 | 3-5 working days |
| PayPal | £25.00 | £25.00 | 3-5 working days |
| ApplePay | £10.00 | | |
All deposits and withdrawals are free to make, and withdrawal processing times are up to 48 hours which isn't the worst I've come across. The times displayed in the table include this time.
Live Betting at Sport Nation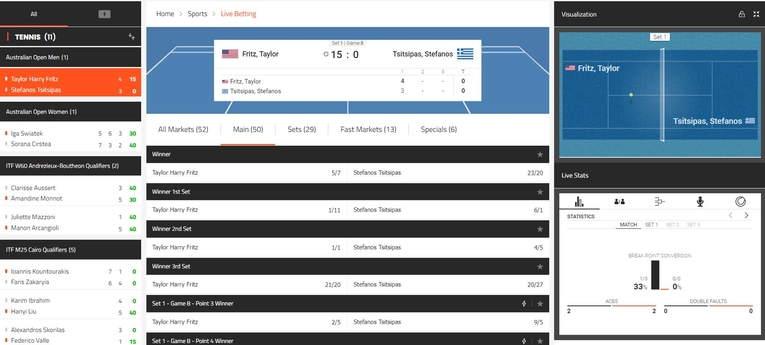 You can bet on 30 different sports live, including football, tennis, table tennis, basketball, etc. There are loads of markets to choose from here, with Sport Nation not limiting themselves to merely the top flight fixtures either. Do you fancy exploring the Latvia U19's game against Mozambique U19's? You can at Sport Nation. They cover a lot and they cover it well.
The main interface is pretty boring to be fair, but it works perfectly in terms of event selection, organised by sport, then league, with collapsible headers and info regarding how many betting lines are currently live, plus the option to 'favourite' fixtures that tickle your fancy.
Event view is the polar opposite, appearing instantly stimulating with loads of stats, a fantastic game visualisation that comes in two sizes, and lots of interesting bet types. You can also use the left hand side of the screen to flick between other live games so you can keep an eye on more than one at once.
The arrows denoting odds changes are easy to miss because they are so small, this could be improved upon, but it's really hard to fault Sport Nation here. Bet types can be separated to make finding goal markets, for example, easier, and there is also a live schedule so you can see what's next. The only thing missing is live streaming.
Odds Value and Market Types
Their market coverage is very good for such a new bookie, and much better than it was under the Bet On Brazil name. Obviously, football is their main love and they cover that in great depth with over 100 leagues from around the world at last count, but they've also got a full horse racing package as well as all the classic sports an average UK punter would want to wager on.
They don't cover absolutely everything yet but they have more than the average sportsbook with markets on specials, cycling, hurling, beach volleyball, and 30 other sports. The eSports category is very busy too, becoming a lot more prominent than it has ever been in the past. The odds on eSports are very good too.
If you're looking outside of football then the odds here are going to be quite run-of-the-mill, but when it comes to 'soccer' as they call it for some reason, you're going to find some steals. Darts and tennis don't share the same value, but the enhanced odds and loyalty free bets can be really help to boost your winnings.
Support Options and UKGC Licence
| CONTACT METHOD | AVAILABLE? | HOURS | ADDRESS |
| --- | --- | --- | --- |
| Email | Yes | Response Within 48hrs | help@sportnation.bet |
| Live Chat | Yes | 24/7 | On Site via Help |
| Phone | No | – | – |
| Twitter | Yes | – | @TeamSportNation |
As a newer site it's understandable that Sport Nation might not give you loads of options when it comes to their customer support, so I'm not too bothered by the fact that there's no phone line you can call.
It's a bit disappointing though that, although the live chat is available all day every day and gets picked up quickly, it can take quite a while from one response to the next. You get the impression the agents are dealing with a lot of queries at the same time.
If you want to write to them about anything you send it here: Argyll Entertainment, Bahnhofstrasse 10, Zug, 6300, Switzerland.
Though Argyll Entertainment are based in Switzerland they are registered in the UK and licensed by the UK Gambling Commission. Their licence number is 45143 and it was issued to them in May of 2016.
Sport Nation's Perfect Punter
This is definitely a place for the football fans to come and bet. They will find markets in any league they can name, as well as great value odds to go with them.
It's no one trick pony though, with solid horse racing package for UK/Ireland races, including some best odds guaranteed, and everything else is tailored towards your average UK punter, with plenty of promotions to jump on board with.
There are a few things I haven't been able to squeeze in so far, so here are some extra features in brief:
Fast Markets – Betting on what will happen in the next 5 minutes is a real thrill, and there are plenty of these markets to sample when betting live.
Rewards – You will be rewarded for the time you spend on the site rather than just the money you spend, and it's a fantastic program. From free bets to bonuses and cash back, and event invitations if you are really special.
Pick a Pony – It's extra's like this that can edge it for a bookie. Win prizes by entering this fun competition that pops up every now and again, where two horses are pitted against each other in each race. Choose which two will finish ahead in 7 different races to win the top prize of 20,000 reward points. Hilariously, if you manage to get every single selection wrong, you get £10 cash!
Virtuals – There's a great selection here, with football, horses, tennis, speedway, velodrome, and greyhounds, and they are very good. You can also watch an event that has already started which is unusual with virtuals.