It doesn't take a genius to work out that 32Red started life as an online casino, with the major clue to that being the company's name. 32Red was launched in 2002 and they originally had a separate sportsbook named 32Redbet. They re-launched the current sportsbook in 2014 as an integrated subsection of the 32Red website, under the banner 32Red Sport.
It's fair to say that the company's origins make this the perfect website to head to if you're looking for a top casino with an associated sportsbook. They boast over 500 casino games and also promise a player return of about 70% on those games, so they're not messing about with what they offer.
It's the sports section I'm interested in, though, and it has seen a lot of improvements and additions recently, so let's have a look at what they have got.
Markets and Odds
There was a time when the 32Red sportsbook was an obvious afterthought to the casino, but these days they give it just as much attention.
The diversity in the betting options is proof of this, and the available sports include everything from WWE Wrestling to Pesapallo. Granted, some of these categories aren't exactly drowning in markets but that says more about the sport in question than 32Red.
Mainstream sports like Football have the sort of market depth you would expect at a big name bookie, you can bet on leagues from Latvia, Jordan, etc., and American sports also feature heavily.
When it comes to odds they're just ok. They're 'safe' but that means that they're unlikely to threaten the big boys any time soon.
One area where they do excel is when it comes to their daily price boosts for horse racing. You can often get very good odds there, so do keep an eye out.
Banking: Deposits/Withdrawals
| PAYMENT METHOD | MINIMUM DEPOSIT | MINIMUM WITHDRAWAL | WITHDRAWAL TIME |
| --- | --- | --- | --- |
| Visa/Mastercard | £10.00 | £10.00 | 2-3 days |
| PayPal | £10.00 | £10.00 | 2-3 days |
| Skrill | £10.00 | £10.00 | 2-3 days |
| Neteller | £10.00 | £10.00 | 2-3 days |
| Paysafecard | £10.00 | | |
| ecoPayz | £10.00 | £10.00 | 2-3 days |
| Trustly | £10.00 | £10.00 | |
| Bank Wire | £10.00 | £100.00 | 2-3 days |
It's good to see that there are no fees at 32Red, and the list of payment options is as long as my arm so everyone is catered for.
The company state that withdrawals are processed the day after the request is made which could probably be improved upon, and they are also a bit cagey about how long your money will take to arrive after it has been processed, but they are fully regulated so there is nothing to worry about from that perspective.
There is also no maximum withdrawal. Score.
Desktop Site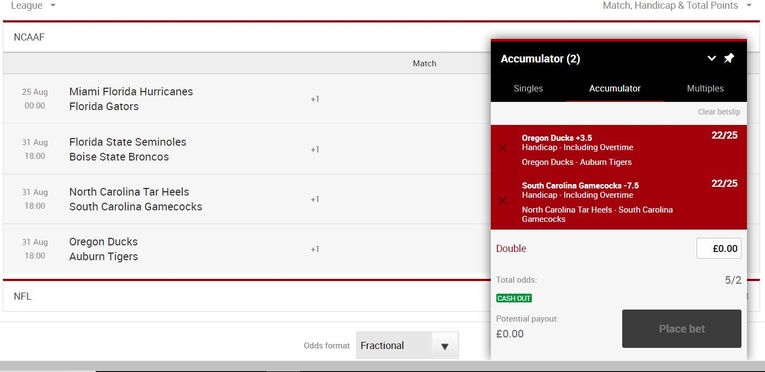 I can totally understand that the 32Red website might not be for everyone, it hasn't been graced with good looks and isn't all that exciting to use. It does something a bit different to the standard websites of the major bookies though, and if you are a portfolio bettor then a change of scenery can help.
Everything you would expect to find is there, but the general layout is where they have mixed things up. A sports list and search bar across the top (it's easy to miss the search bar, it sort of blends in), a full A-Z with market numbers down the side, and it's pot luck as to what you will find dominating the middle of the page; lots of in-play options among other things but the colour tones are so similar it just looks like floating text and numbers. It's reminiscent of the tiles from a Windows OS.
It's more effective once you leave the homepage, things are much clearer, although the betting slip does pop up in an annoying place and sometimes gets in the way.
32Red Mobile App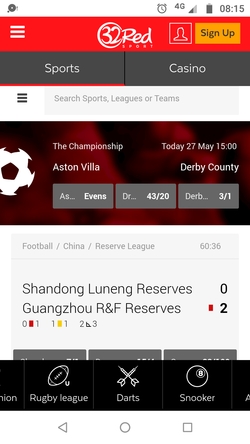 I was concerned that the 32Red app would be dominated by the company's casino offerings, so imagine my relief when I discovered that there's actually a separate app to cover their sportsbook. It is essentially a pared down version of the desktop site made suitable for a mobile device and I don't mind that, it actually tidies the homepage up and makes it easier to use. Admittedly, on a top-quality phone screen the dull greys used for the majority of the colour scheme look even worse, but the general layout is much better.
Quick links on a scrolling menu bar open the door to the most popular options, and a secondary menu opens up the full list of betting options which keeps the screen nice and clear until you need it. A separate menu deals with account, support, promotions etc.
There are no problems with operating speed and navigation is better than average thanks to the search function which is available on every screen, meaning you don't have to hit the 'back' button every ten seconds.
There are better apps out there for sure, but this one certainly won't cause you any headaches, although the drab colour scheme might make your eyelids heavy.
Live Betting
There are live betting options aplenty on 32Red, and the live betting interface is just as easy to use as the rest of the site, but again it has a slightly different approach.
It's probably going to be a love it or hate it scenario for a lot of punters, since the event view is shoved to one side of the screen to allow the A-Z and a list of the other in-play events to remain in view. This feels a bit lopsided and adds to the scrolling but you get used to it, and collapsible menus help to a point.
The built in bet builder is a nice touch that a lot of people will find useful, and of course, cash out is available.
LIVE STREAMING
Live streaming is now available at 32Red Sport. It took them a while but it is definitely a feature worth knowing about, and they are so proud of it they have given the it its own flashing menu button so you know it is there.
Ok, it's not available on quite as many matches and games as some other bookies, but you should find streams available every day and across a decent range of sports too.
About 32Red
Based in Gibraltar for tax purposes as so many online casinos are nowadays, 32Red is a British company that has earned itself brand recognition through numerous football sponsorship deals over the years. At various times they have sponsored Aston Villa, Swansea City, Crawley Town, Rangers in Scotland, and Leeds United.
The company has also spent a lot of money investing in UK horse racing, becoming an authorised vetting partner of British Racing. They sponsor Kempton Park's twilight races and are also the sponsors of the Haydock Sprint Cup. Their online casino operation is voiced by the actress Patsy Kensit. That won't help your betting decisions but is an interesting titbit of info, I thought.
32Red is actually one of the older online gambling brands in the country, having been established in 2000 and officially launched in 2002. This was the work of an ex Ladbrokes managing director, one Edward Ware. With someone like that at the helm it's no wonder they have gone on to do so well.
Licence & Contact Details
| CONTACT METHOD | AVAILABLE? | HOURS | ADDRESS |
| --- | --- | --- | --- |
| Email | Yes | 24/7 | supportuk@32red.com |
| Live Chat | Yes | 24/7 | Via Help Centre |
| Phone | Yes | 24/7 | 0808 180 3232 – Free |
| Twitter | Yes | – | @32RedSport |
No one could accuse 32Red of being difficult to get hold of. They operate every contact method available all day every day and even have dedicated Twitter handles – although the Sport one isn't very active. As in, the last post was in 2017…
32Red is a British company registered in Gibraltar. They're still licensed by the UK Gambling Commission, though so you don't need to worry, your money is as safe as it can be. Their licence number is 39430, just to reassure you.
If you're not a fan of using email and would prefer to drop them a message in the old fashioned way then their snail mail address is as follows:
32Red Limited, 401 World Trade Centre, Gibraltar, GX11 1AA.
32Red Striking Features
Whereas 32Red used to be one for casino players who liked to place the odd sports wager, the sportsbook can now stand on its own two feet and offer just as much market choice and variety as most others.
This is still a place better suited to the recreational bettor rather than the professional, however, although saying that there are a few betting features that will be attractive to everyone:
Horse Racing Price Boosts – These are a real draw if you are looking for a little extra value on your sure next thing. They occur daily so it's well worth checking in.
Bet Builder – This natty little tool is built into the interface so that you can design your bet in the way that you want, and see your price totted up instantly.
Blog – A great resource for up to date sporting news with a strong focus on Boxing thanks to 32Red's ambassadors Carl Frampton and Josh Warrington.
Cash out & Livestream – Ok I know a lot of bookies have these, but the recent addition of streaming has helped to round off the in-play package here to make it enter the same league as some of the biggest sportsbooks in the industry.